9 Meditations To Help All Zodiac Signs Get The Most Out Of Aries Season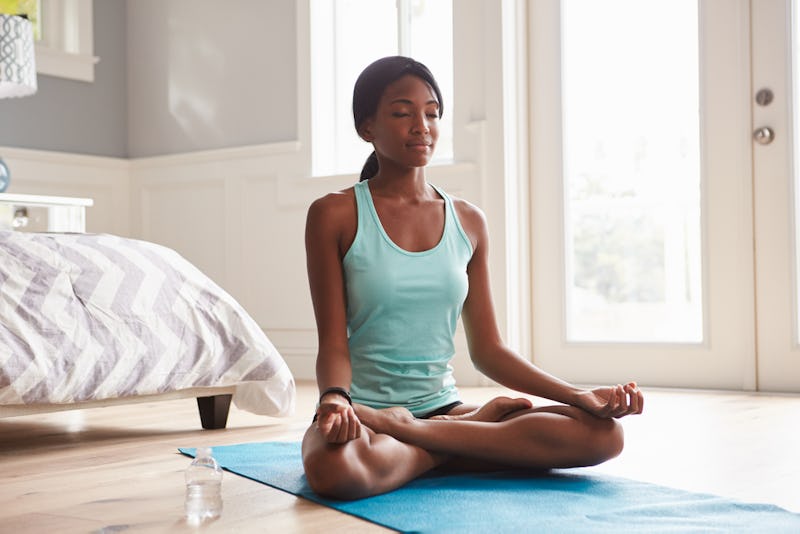 ShutterStock
For the last few weeks, you've likely been enjoying the dreamy, emotional, relaxing vibes of Pisces season. That's all about to change, though: Aries season begins on Mar. 21 until Apr. 20. Aries, of course, has a different vibe than Pisces, so you can also expect to feel different. The first sign of the zodiac, Aries is bold, powerful, and a true leader, and everyone is going to be affected during an Aries season. One way to get through this in the best frame of mind possible is to practice meditation, which is shown to soothe anxiety, help you relax, and clear your head (as well as do so many other things). Some meditations for Aries season are better than others.
The ram is the symbol of Aries, which really says something about this fiery sign. According to Horoscope.com, the ram is associated with "leadership, determination, and initiative," all qualities that an Aries shares as well. Aries is a fire sign, and has some seriously explosive energy. Aries season also coincides with the new season of spring, making it even more powerful.
During Aries season, you'll likely feel more passion and creative energy, which will allow you to move ahead with projects or change you've been thinking about. You'll feel like you have the power to go after what you want and get rid of what is no longer working for you — it can be an ambitious time. This creative energy can feel overwhelming at times, and can make you feel more impulsive than usual. For some people, it's a lot to handle, and can feel intimidating. For others, this powerful energy is much-needed and appreciated, and gives them the boost they need.
Regardless of how Aries season affects you, Horoscope.com notes that it's important to approach this season "with balanced energy and clear intentions." This is because what you do during Aries season will stick with you for the rest of the year. One of the best ways to keep yourself on track? Try one of the below meditations — or all of them: