Amber Tamblyn's Aziz Ansari Comments Start A Conversation That Can't Be Overlooked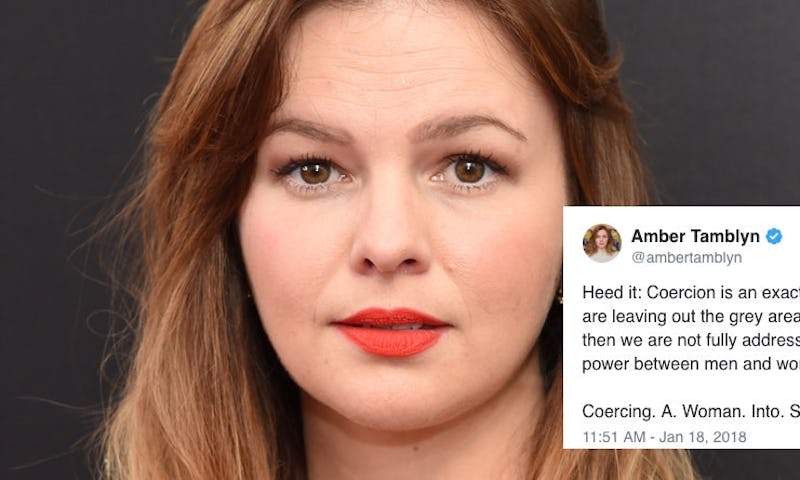 Jamie McCarthy/Getty Images Entertainment/Getty Images; Amber Tamblyn/Twitter
When it comes to a recent, polarizing sexual misconduct allegation, one celebrity is making her opinion clear. Amber Tamblyn's response to the Aziz Ansari allegations highlights an important aspect within the discussions about the #MeToo and #TimesUp movements. Although it may not be talked about as frequently, the subject of coercion deserves to be acknowledged in the greater conversations surrounding sexual assault and harassment.
On Jan. 18, the actor shared a specific message to her followers concerning coercion and how it's a "form of assault." Tamblyn tweeted:
Heed it: Coercion is an exacted, parallel form of assault. If we are leaving out the grey areas of these difficult conversations, then we are not fully addressing the enormous disparities of power between men and women.
She then ended her statement with, "Coercing. A. Woman. Into. Sex. Is. An. Abuse. Of. Power." LoveIsRespect, which is a resource that aims to prevent and end abusive relationships, defines sexual coercion as "the act of using pressure, alcohol or drugs, or force to have sexual contact with someone against his or her will." They also make clear that if there is a situation involving sexual coercion, then there is a lack of consent within the encounter.
As the Sexual Assault Prevention and Wellness Center at the University of Michigan also states on their website, "Coercion is an issue of power and control." In other words, Tamblyn's statement aligns with many other definitions of sexual coercion. Not only that, but her tweet brings up that this idea currently lies in these gray areas of sexual harassment that need to be talked about.
While Tamblyn didn't name the Ansari situation specifically in this statement, it's likely that that's what prompted her tweet. Her tweet right before that one was about the Ansari situation. And in addition to that, in the preceding days, Tamblyn has been vocal about the allegations and how they fit into the #MeToo movement.
The allegations against Ansari were first brought up by Babe.net in an article published on Jan. 13. In the article, a woman (given the pseudonym "Grace") claimed that when she went to Ansari's apartment, she felt he was forcing sexual contact even after she allegedly asked to slow down several times and signified that she was uncomfortable with the encounter. Grace claimed in the piece, "I believe I was taken advantage of by Aziz. I was not listened to and ignored. It was by far the worst experience with a man I've ever had."
In response to the article, Ansari released a statement, where he claimed that he believed the encounter to be "completely consensual" at the time. His statement continued:
The next day, I got a text from her saying that although 'it may have seemed okay,' upon further reflection, she felt uncomfortable. It was true that everything did seem okay to me, so when I heard that it was not the case for her, I was surprised and concerned. I took her words to heart and responded privately after taking the time to process what she had said.
I continue to support the movement that is happening in our culture. It is necessary and long overdue."
While there's been plenty of discussion surrounding these specific allegations, Tamblyn's tweet goes beyond whatever "right" and "wrong" there may be in this situation. Her tweet is important in that it highlights that there is a gray area involving sexual harassment cases, a grey area that may have been overlooked within these growing #MeToo and #TimesUp movements. Not only that, but her message brings up the subject of coercion, which should be part of the larger conversation surrounding gendered power dynamics and sexual misconduct.
When it comes to alleged predators like Harvey Weinstein and James Toback, who both have faced numerous accusers regarding alleged sexual assault, the line that's allegedly been crossed is clear. (Weinstein denied all allegations of non-consensual sex, while Toback denied all allegations to Los Angeles Times.) But Ansari's case may not seem as cut and dry, as the many contradicting op-eds about it would indicate. It lives in what many have deemed a "gray area," which Tamblyn mentions. And those sorts of situations, as they involve an abuse of power, are certainly worth discussing.
If society is going to actually change and evolve how it views and handles cases of sexual harassment, then, as Tamblyn notes, the conversation must wade into this difficult territory. It may be difficult to parse cases like Ansari's, but unless society does or tries to, society won't be able to evolve past the beginning stages of the #MeToo movement.
If you or someone you know has been sexually assaulted, call the National Sexual Assault Telephone Hotline at 800-656-HOPE (4673) or visit online.rainn.org.