9 NYC Bars To Keep The Pride Going After The Pride Parade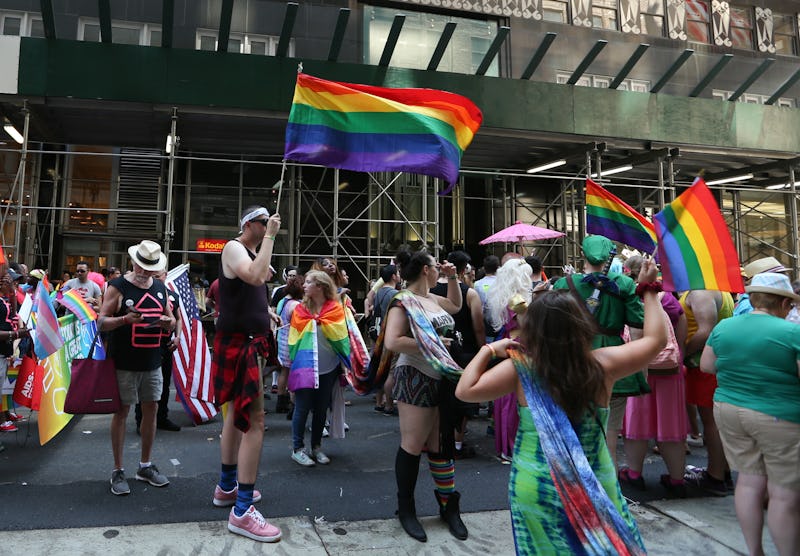 Rob Kim/Getty Images Entertainment/Getty Images
Following the rally that tops off NYC Pride, attendees lining the parade route are frequently left with some combination of the following feelings: hangry, energized, sunburnt, heart-warmed, overwhelmed, overjoyed, dehydrated, thirsting for tequila, and/or in desperate, animalistic need of air conditioning. These nine NYC bars to keep the pride going after the pride parade will hopefully mitigate some of the more unpleasant symptoms while boosting that feel-good community spirit for parade-goers.
You can expect several of them to be packed, long waits for drinks, and deafening music, but that's all part of their celebratory charm! Take advantage of the opportunity to make friends in the bathroom line, silly-dance with strangers you'll never see again, and, in a few of these cases, distract yourself from your profound inability to get a bartender's attention by watching the in-house live entertainment. As always, please remember that Pride is an event intended to center the LGBTQ+ community. So if you're celebrating as a straight, cisgender ally and the bar you're at has a line of queers outside waiting to get in, allyship best practices suggest that you give up your spot to a queer person and try a less crowded venue. Here's a list of bars to choose from.
1. The Stonewall Inn
The Stonewall Inn is the bar that started it all, lending its name to the 1969 riots which New York's annual Pride celebration commemorates. It's conveniently located right at the end of the parade route, and its dark interior could be a welcomed relief if you're starting to feel a little sun sick by mid-afternoon. Of course, it was also designated a U.S. national monument during last year's Pride month, so you get the added bonus of ~ironic patriotism~ while you cool off with a beer.
2. Cubbyhole
Just up the street from Stonewall is this tiny, still-standing-against-all-odds lesbian bar where the jukebox selection is solid, the drink specials flow cheap and sweet, and literally everyone inside is hair and/or outfit goals. Go for the forced intimacy of being smushed up against a zillion other people in a tiny space; stay for the style inspo.
3. Ginger's
If you want the vibe of Cubbyhole in a space where you can actually breathe, try Ginger's in Park Slope. Granted, it's in a separate borough from where the parade takes place, but it'll be worth it for the space to roam. The Brooklyn lesbian bar also has a backyard area, so it's a good option if you're hoping for something marginally lower key than what's happening along the parade route.
4. Nowhere Bar
Another unsuspecting location is Nowhere Bar, a dark, blissfully cool underground gay bar with a pretty mixed and laid back clientele. It's close enough to where the parade ends that it's a convenient choice to hit up next, but far enough away to break free from the crowd. Bonus: there is so much good pizza within a two-block radius.
5. The Eagle
If you're dying to hit up a more fetish-adjacent party, check out The Eagle, New York City's resident leather bar. It is, predictably, heavily gay boy populated, but if you're super desperate to show off your specially picked out Pride harness/corset/vest to an appreciative crowd, this is your spot.
6. Flaming Saddles
If the progressive ideals of Pride and the folksy charm of a country bar is where your hopes and dreams intersect, then Flaming Saddles is the bar for you. Loud, proud country music, cowboy boot-clad, hunky, and line-dancing bartenders who perform atop the bar awaits you. Take note of the "(Straight Women:) No WOOHOOing" sign and do your best not to take up space like a tone-deaf bachelorette party of one if this sign is directed at you.
7. The Duplex
So you want to keep the party going, but ideally in a sitting down fashion that doesn't require a lot of talking? Try The Duplex, a cabaret bar on the same block as Stonewall where you can sit and watch performers torch-sing their hearts out. (Plus, most people will be flocking to the more popular Marie's Crisis piano bar across the street, so you'll actually have a fighting chance at snagging a table.)
8. Henrietta Hudson
Henrietta Hudson, the lone destination lesbian bar in Manhattan besides Cubbyhole, has a more QTPOC-centered crowd that skews a little bit older than the rest. It's perfect if you're looking for festive queer fun, minus the endless loop of Katy Perry, Lady Gaga, and Miley jams.
9. Phoenix
Phoenix opened to the gay men of the East Village in 1999 and it still looks like a perfect, gay cross between Buffy club The Bronze and Charmed's P3. It has pretty witchy/vampy interiors, but its late-90s gothic nostalgia is unbeatable.
Go forth, be respectful of the myriad varieties of queer space, and celebrate Pride like you deserve to after six straight months of Trump protesting.