9 Petitions You Can Sign Right Now To Stop Trump's Family Separation Policy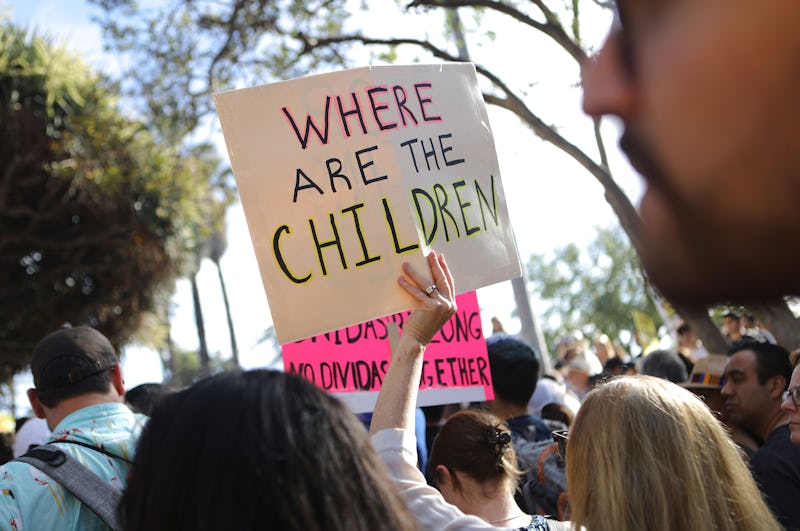 Mario Tama/Getty Images News/Getty Images
Since May, many in the United States and around the world have watched in shock as the Trump administration has implemented a policy mandating that every person caught illegally crossing the U.S.-Mexico border be prosecuted. It has resulted in thousands of children being separated from their families, and has triggered endless outrage on social media. However, hope is not lost, and there are actions you can take, such as signing petitions against Trump's family separation policy. In fact, there are quite a few going around.
Nearly 2,000 children have been separated from their families while traveling across the U.S.-Mexico border, the Department of Homeland Security (DHS) reported last week. Those separations occurred between April 19 and May 31. The separations stem from announcements made by Attorney General Jeff Sessions and the Department of Homeland Security (DHS). Within days of each other, both announced they would begin prosecuting every undocumented person caught crossing the border. Because children cannot be kept in jails, they are taken from their families and held at various detention centers.
"DHS has zero tolerance for those who break the law and will no longer exempt classes or groups of individuals from prosecution," Press Secretary Tyler Houlton said in a statement in May. "Whether you are a single adult or an adult member of a family unit, if you are apprehended you will be prosecuted and put in removal proceedings."
Similarly, Sessions announced that if a person was "smuggling a child, then we will prosecute you and that child will be separated from you as required by law."
"If you don't like that," Sessions continued, "then don't smuggle children over our border."
If you disagree with that reasoning and want to get involved, here are several petitions you can sign.