Jeff Sessions Just Vowed To Split Up Undocumented Parents & Kids If They Cross The Border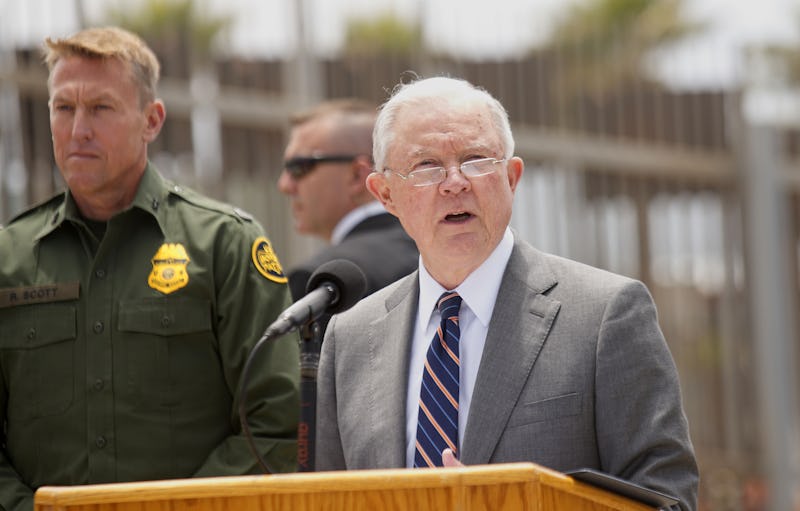 Sandy Huffaker/Getty Images News/Getty Images
On Monday, the Trump administration announced a shift in immigration policy that could have a serious impact on groups of people crossing the southwestern U.S.-Mexico border. In two separate speeches, Attorney General Jeff Sessions said undocumented immigrant families will be separated when they cross the border, and all offenders will be prosecuted.
"If you cross the Southwest border unlawfully, then we will prosecute you," Sessions said in a speech in Arizona on Monday, according to CNN. "If you smuggle illegal aliens across our border, then we will prosecute you. If you are smuggling a child, then we will prosecute you and that child will be separated from you as required by law. If you don't like that, then don't smuggle children over our border."
The Department of Homeland Security made a similar announcement about the policy shift last Friday. "If you enter our country illegally, you have broken the law and will be referred for prosecution," Press Secretary Tyler Houlton said in a statement. He continued:
DHS has zero tolerance for those who break the law and will no longer exempt classes or groups of individuals from prosecution. Whether you are a single adult or an adult member of a family unit, if you are apprehended you will be prosecuted and put in removal proceedings.
According to CNN, illegally crossing the U.S. border has historically been a misdemeanor, carrying up to six months in prison. But though it is technically punishable, being caught didn't always guarantee prosecution. Because children aren't allowed to be kept in criminal jails, families have often been released to await judicial proceedings together.
This is not the first time the Trump administration has explored implementing this policy. According to Post, a pilot version of the program ran along a small part of the border between July and November of 2017. Following the trial, the Department of Homeland Security claimed in a memo that the number of undocumented families attempting to cross within that region reportedly plunged 64 percent, the Post reports. Now, they have vowed to extend the policy to cover the entire southwestern border.
"Right now we are dealing with a massive influx of illegal aliens across our southwest border," Sessions told listeners in Arizona, according to The Washington Examiner. "In April, we saw triple the number from last April. But we're not going to stand for this. We are not going to let this country be invaded. We will not be stampeded. We will not capitulate to lawlessness."
Children who are separated from parents awaiting prosecution will be placed in government custody, Reuters reports. Separating families has long been an option, but only this past week did the Trump administration announce that it would be enforcing a "zero tolerance" policy regarding undocumented entry.
The policy does not apply to those seeking asylum, but neither does it provide special protections for them either, CNN reports. It's possible, according to the news agency, that a person who is granted asylum could still face charges for unlawful entry.
Many of those crossing the U.S.-Mexico border are fleeing violence and political instability. At the end of April, a caravan of hundreds of Central Americans arrived in Tijuana, planning to seek asylum in the United States. Most of them were from Honduras or El Salvador, two countries which have extremely high murder rates.
President Trump described the caravan as a "disgrace."
"Despite the Democrat inspired laws on Sanctuary Cities and the Border being so bad and one sided, I have instructed the Secretary of Homeland Security not to let these large Caravans of people into our Country," Trump tweeted on April 23. "It is a disgrace. We are the only Country in the World so naive! WALL."
The Trump administration has long attempted to temper immigration rates, regardless of whether that immigration is legal or not. Monday's announcement marks yet another step in that direction.