9 John Kelly Photos That Make You Wonder If He'll Really Stick With Trump Through 2020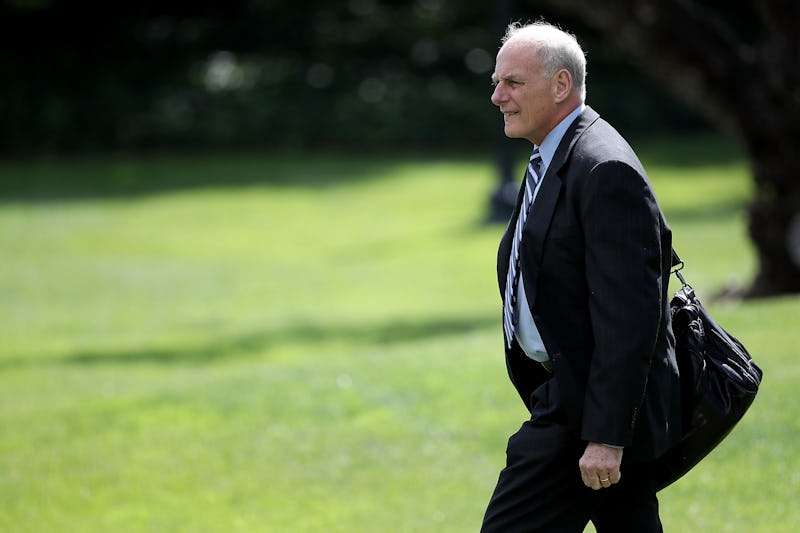 Win McNamee/Getty Images News/Getty Images
White House chiefs of staff are an integral part of any presidential administration, though their work to keep things running smoothly can sometimes go unnoticed by the general public. This is definitely not the case for current chief of staff, of course — he is quite regularly in the news. But John Kelly, who doesn't always so happy in photos, is much different than many other people who work for the administration. He's more elusive, less chummy with the press, and thus-far, largely scandal-free.
It's difficult to learn many concrete details about Kelly beyond how he functions professionally. Most of what is known about him as a person comes from unnamed White House sources, and that doesn't seem likely to change any time soon.
One thing that is clear is that the Trump presidency has been a lot of work for Kelly, whose first job in the administration was running the Department of Homeland Security. However, he was only in that position for a few months before he quickly ascended to the White House, taking on his current role as chief of staff.
Rumors have long spread about when Kelly plans to leave the White House, though none have ever been confirmed. Most recently, in fact, a report released on Tuesday suggested he could be be in it for the long run. The New York Times reported that, according to sources within the administration, Kelly has agreed to fulfill his role through 2020. Regardless, he doesn't look particularly amused in these photos.