9 'People's President' Hillary Clinton Tributes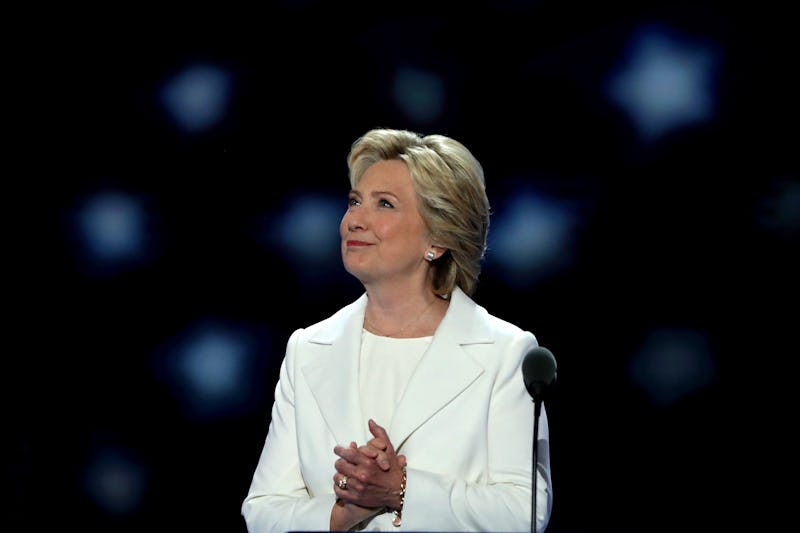 Alex Wong/Getty Images News/Getty Images
Donald Trump is officially running the White House, but an abundance of President's Day tributes honoring Hillary Clinton as the "people's president" circulated on social media on Monday. The former secretary of state won the popular vote by a margin of nearly 3 million, but lost the Electoral College vote and, thus, the presidency. Since then, some of her supporters have referred to as the "people's president." In fact, Children's Defense Fund founder Marian Wright Edelman introduced Clinton as such at the Democratic candidate's first public event following Election Day.
The "People's President" tributes dovetail on the big rallies taking place across the country to protesting Trump's first President's Day in office. "Not My President's Day" rallies are currently occurring and, in total, are expected to have thousands of demonstrators in New York City, Los Angeles, Washington D.C., Chicago, and other cities. Concerns over Trump's record-breaking disapproval ratings, increasing concerns about his campaign's ties with Russia — which Obama formally accused of tampering with the election — and his controversial policies are apparent in pots both about the "Not My President" protests and the "people's president" tweets.
However, other Clinton supporters who chose to send congratulatory messages her way also decided to highlight some of their favorite Clinton quotes and achievements to inspire others. Judging from some of these messages, support for Clinton isn't anywhere near fading.
Here are nine "people's president" tributes and what they say about the legacy of Clinton's 2016 campaign.
1. For All The "Rebel Girls"
Some emphasized Clinton's impact on advancing women's roles in public office, as well as her dedication to fighting for the rights of women and children.
2. Pure Numbers
Graphics indicating the Democrat's impressive numbers were a common theme in these tributes.
3. Perseverance — Even At The End
Even Donald Trump complimented her for her ability to fight back adn persevere during the second presidential debate:
I will say this about Hillary. She doesn't quit. She doesn't give up. I respect that. I tell it like it is. She's a fighter. I disagree with much of what she's fighting for. I do disagree with her judgment in many cases. But she does fight hard, and she doesn't quit. She doesn't give up. I consider that to be a very good trait.
4. Still With Her
The dedication hasn't waned in a lot of Clinton's voters. #StillWithHer tweets abounded online.
5. Adding POTUS 44 To The Mix
Love for President Obama was common in these messages.
6. Campaign Quotes
Clinton's campaign quotes, especially those opposing Trump's views, were go-to material.
7. Remembering The Best Of Her 2016 Run
Some displayed nostalgia for the days when President Clinton was still a possibility.
8. Getting Under Trump's Skin
Then there were those who couldn't resist trying to get at Trump's insecurities.
9. Lots Of Photoshop
The more snarky messages went didn't beat around the bush with their graphics.
While Clinton was obviously hoping to experience a very different President's Day in 2017, her supporters' loyalty should lessen the wound, even if just slightly.