'RHONY' Episodes That Every Fan Knows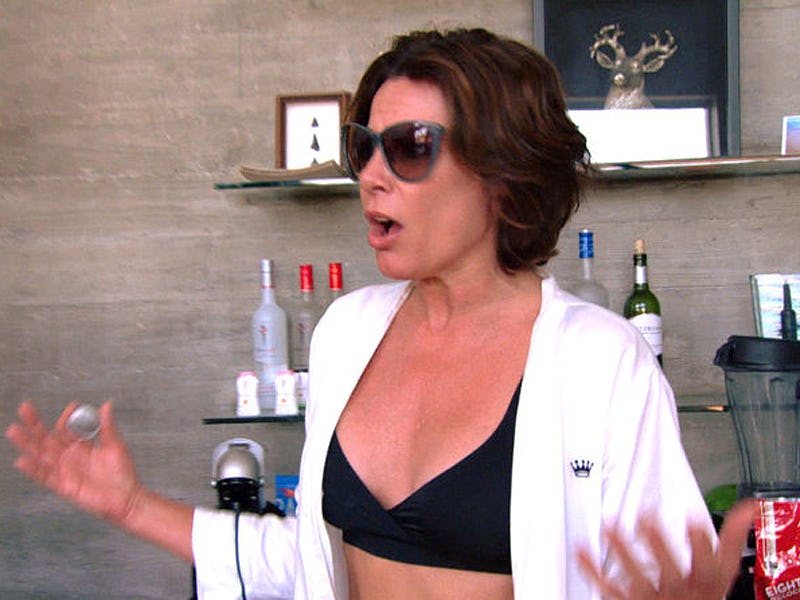 Bravo
I know that Real Housewives of New York City has changed a lot over the years, but there are some things that will stand the test of time. I'm talking about the episodes that every RHONY fan knows and loves. These are the episodes that you can just watch in isolation without the build up of watching the ones that aired before them and still thoroughly enjoy them.
RHONY has featured some straight up iconic moments that I will never get over for the rest of my life. Yes, I get that's a pretty major assertion to make, but that's how much I'm into this show. And I'm sure I'm not the only one who feels this way... right? From the best reunion walk-offs, to the most on-point insults, to the wildest arguments, to the moments that none of us will ever fully understand, Real Housewives of New York City has been nothing short of legendary when it comes to reality TV.
If you are going to marathon the show, I have some suggestions about which episodes to include. These are the Real Housewives of New York City episodes that devoted fans will never forget. Ever. (And it turns out, we have Luann D'Agostino to thank for many of them.)
1. Season 3, Episode 12 — "Sun, Sand, & Psychosis"
Nothing will ever live up to the madness that went down during this Season 3 trip now known as "Scary Island." The drama between Bethenny Frankel and Kelly Bensimon cannot be paralleled. I will never get over Bethenny telling Kelly, "Go to sleep!" after she ranted about Al Sharpton and jelly beans for no reason. It made zero sense and I loved it. All of this craziness went down during a trip with the most ridiculous premise: a celebration of Ramona Singer's "renewal," which is an basically an annual "change" at this point that never seems to actually take place. Nevertheless, these Ramona reincarnations always entertain.
2. Season 6, Episode 20 — "The Last Leg"
Aviva Drescher throwing her prosthetic leg during the middle of an argument is something I can never unsee — and I'm not just talking about the fact that I have rewound and replayed this moment a million times. The Season 6 finale is forever etched in my mind. Aviva is no longer on the show, but that leg toss will live on forever. Not only that, but Luann and Sonja were still dealing with the Harry Dubin drama in this episode. The whole thing was just a mess and there was zero resolve between the cast mates.
3. Season 2, Episode 7 — "Kelly Vs. Bethenny"
Kelly really had no idea who she was messing with during her Season 2 fight with Bethenny. These two didn't get along from the jump, but their enemy status was cemented when Bethenny jokingly said, "Evidently, she's Madonna." Personally, I feel like Kelly overreacted to that whole thing and channeled it into the iconic showdown they had at Brass Monkey. The fact that she had the audacity to tell Bethenny that she is above her is one of the most absurd things I've ever watched. Bethenny is the Queen B for a reason. The lead up and the aftermath of this confrontation made this an unforgettable episode.
4. Season 8, Episode 19 — "Tomfoolery"
The final Miami episode from Season 8 was just off the rails. I went from feeling bad for Luann because her now-husband Tom D'Agostino was caught kissing someone else to being vicariously embarrassed by the fact that she seemed to care more about how it looked to the outside world. On top of that, we also got Bethenny's crying and dramatic request for a drink after sharing the news with Luann. The episode was just the perfect storm of drama.
5. Season 5, Episode 13 — "Pirate Booty Call"
Luann has been such an interesting character to watch. On one hand, she was all about the etiquette of being a Connecticut-born countess, but at the same time she was on the prowl in her dating life. In Season 5, she appeared to have an affair with a man who became known as "the pirate." But in an interview with Miami New Times, Luann explained that it was a misunderstanding. "If Ramona [Singer] had asked you how you got home, and you had gotten a ride home with a Johnny Depp lookalike, what would you have said? For some reason, immediately I just said, 'Oh, I got a ride home with my Italian friends!'" Luann continued, "Little did I know that they had set me up to have dinner with him that night. So when I realized that he was coming, I panicked, and then I made the call to him that everyone saw. It was a comedy of errors, basically. The cover up was worse than the crime." It definitely looked suspicious on the show, to put it mildly, but Luann denied that any cheating occurred.
6. Season 7, Episode 15 — "Don't Be All, Like, Uncool"
Heather Thomson was not feeling it when Luann brought a man back to the crib during the Season 7 group trip. Luann didn't really care though and she accused Heather of being "uncool" — which she totally was, if you ask me. This was one of the most iconic episodes in RHONY history. We also got another very memorable scene from the same episode with Ramona Singer refusing to get out of bed and just blaming everything from the night before on Luann.
7 & 8. Season 8, Episodes 9 & 10 - December: Berkshires County & Unhappy Holidays
I don't blame Sonja Morgan for being upset that she wasn't invited to Dorinda Medley's Christmas party in the Berkshires. It seemed like a miserable trip, but the drama was definitely entertaining. From Bethenny and Luann arguing about guys, to Luann (kind of) apologizing to Carole for the insults she threw her way, to Dorinda yelling "I made it nice," each scene was more legendary than the one before it.
9. Season 3, Episode 5 — "Hot Off The Press"
It seems like the Bethenny and Jill Zarin's friendship was a lifetime ago. Once the show got to Season 3, Bethenny was really hitting her stride both personally and professionally, and Jill was miffed that they weren't hanging as much. Bethenny told Jill to "get a hobby" and with that, their friendship was finished. Jill thought she was making a power move by gunning for Bethenny, but the entire dynamic of the show shifted and the cast split up to take sides in this feud.
If you are a longtime Real Housewives of New York City viewer, then you know that these are the most pivotal episodes of the series. And if you're on my level obsession, I'm sure there's a RHONY marathon in your near future.