Angela Bassett Totally Deserves This Role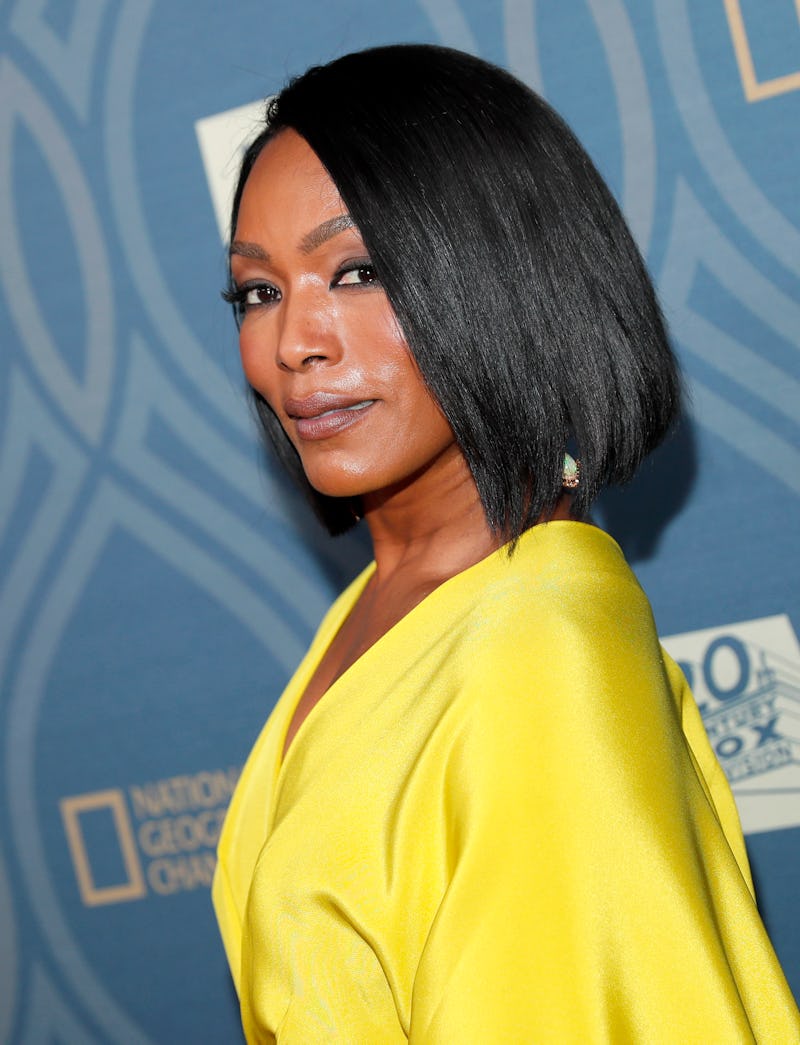 Rich Polk/Getty Images Entertainment/Getty Images
The incredible actor Angela Bassett made her TV debut in the '80s. It's now 2017. So, I can't help but wonder why Bassett doesn't have her own TV show yet. Luckily, Ryan Murphy is at it again, answering my prayers. On Friday, Variety revealed the long-overdue news that Bassett will reportedly star in Murphy's new show, if it does get picked up by Fox. According to Variety, the announcement is expected to happen at the network's upfronts next week. While fans have seen Bassett perform in countless projects, both on the big and small screen, the 58-year-old's TV work has primarily consisted of ensemble casts, and it's about time she served as the lead.
Murphy will reportedly be joining forces with his TV partner-in-crime Brad Falchuck (who worked with Murphy on Scream Queens, American Horror Story, American Crime Story, and Nip/Tuck). And they've apparently tapped Bassett's shoulder to star in this new Fox series called 911, a procedural drama about 911 operators, similar to ER. And they sure have the right leading lady, in my opinion.
Not only does Bassett have experience with emergency room drama (since appearing on ER Season 15 as Cate), but she's worked with Murphy before, starring in AHS seasons Coven, Freak Show, Hotel, and Roanoke. Here are even more reasons why this casting is long overdue.
1. She's Paid Her Dues
Bassett has been at the acting game for years. She made her TV debut as Leonie Peach on Ryan's Hope in 1987. In addition to AHS and ER, she's appeared on Equal Justice and fan-favorite films like Malcom X (1992) and How Stella Got Her Groove Back (1998). TV is more than ready for this.
2. Her One-Liner Delivery Is Everything
Revisit the epic line, "She done messed with the wrong witch," from her role as Marie Laveau in AHS: Coven. If her character needs to check someone pranking 911 or creating problems for the operators, she'll do it flawlessly.
3. She Can Serve Attitude
911 operators mean business, and Bassett will surely bring her no-BS attitude fans have seen her convey on screen to this role. Hopefully she'll play someone in charge of the operators so fans can really see her running the show.
4. She's No Stranger To Drama
As seen through her police officer character Monet in AHS: Roanoke, Bassett can expertly look scared sh*tless if need be.
5. She Slays Every Role
From portraying Rosa Parks to Tina Turner to Katherine Jackson, Bassett fully commits to every role she takes on. The fact that it's taken this long for the actor to possibly star as the lead in a TV show proves her talents may not be fully appreciated as they should be.
6. She'll Further Help Move Representation Forward
Women like Tracee Ellis Ross (Black-ish), Kerry Washintgon (Scandal), and Viola Davis (How To Get Away With Murder), have been game-changers in representing WOC on screen. Davis and Ross' awards for their roles (Emmy and Golden Globe, respectively) prove it.
7. The Possibility For Amazing Award Speeches
Maybe I'm getting ahead of myself, but Bassett is overdue for an award win. Her last one was the Golden Globe in 1994 for her performance as Tina Turner in What's Love Got to Do With it. Her tearful acceptance speech was heartfelt and incredible. In 2002, she was nominated for an Oscar for her role in TV movie The Rosa Parks Story (2002), and also an Emmy for Marie Laveau in Coven.
8. Bassett & Murphy Make Magic Together
The Emmy nomination speaks for itself, as Bassett's role as cunning witch Marie Laveau was arguably the best, most quotable character of Coven and the AHS franchise overall. Murphy knows how to write the ideal amount of quick wit and drama for the star, who obviously plays her characters to perfection.
9. It's Another Chance For Her To Direct
Representation needs to move forward behind the scenes as well, namely with more female directors, writers, and producers. Bassett directed episode 6 of AHS: Roanoke in 2016 (and Lifetime's Whitney Houston biopic), so the chances of her directing episodes in 911 are pretty likely.
Better late than never, right? And I'm so ready.