'Scream Queens' Has An Uncertain Future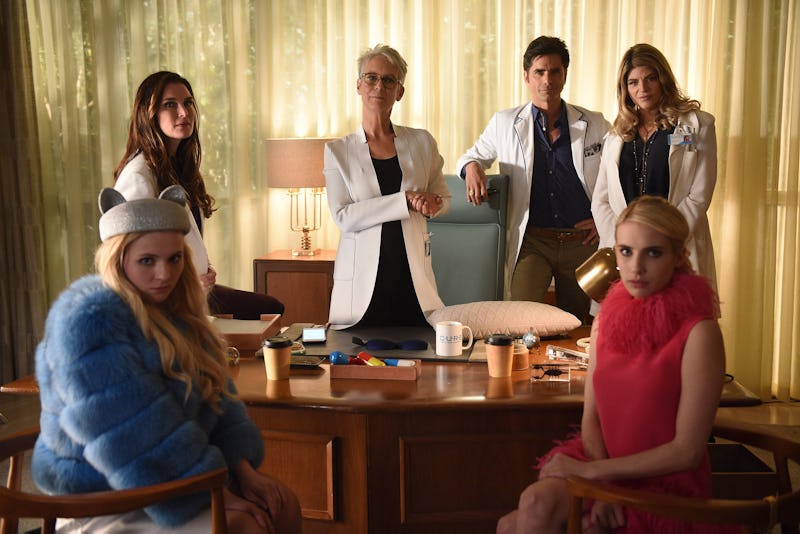 In the penultimate episode of Scream Queens, one Green Meanie got the axe (R.I.P., Wes) and the remaining members of the team, Dr. Cassidy Cascade and Nurse Hoffel, vowed to carry out their plan to exact revenge upon the Chanels. We'll find out whether or not they succeed in the Scream Queens Season 2 finale, but right now I'm infinitely more excited about the return of the one and only Denise Hemphill (yes, you read that correctly — everyone's favorite special agent survived Wes' murder attempt). Based on social media reactions to this season, I'm not the only viewer who isn't especially invested in the mystery aspect — and I was sorely disappointed that MVPs like Chad Radwell and Denise got precious little screentime. So, with low ratings and a sophomore slump, will Scream Queens return for Season 3?
Fox has not yet reported whether the series will be renewed or cancelled, but it doesn't look like Scream Queens has a bright future. TravelersToday.com reports that rumors of cancellation are swirling — the outlet points out that the show averages approximately one million viewers each week, making it Fox's lowest-rated series. However, others are hopeful that Lea Michele could potentially save the show thanks to her amazing performance as Hester, the show's resident sociopath. (OK, there's more than one resident sociopath on Scream Queens — but Michele's character is a standout.)
Although the series boasts an impressive cast, ScreenerTV.com makes the extremely valid point that Chanel's "shtick has worn extremely thin" and Dean Munsch is far less amusing in Season 2 than she was during the show's freshman season. Hester, on the other hand, didn't truly get the chance to shine until the end of Season 1 and she's been the most consistently hilarious character in Season 2. Who was responsible for organizing the amazing Green Meanie Summit? Hester, of course. Still, I'd argue that she was robbed of screentime this time around as well (although not nearly as much as Zayday, Chad, and Denise).
If and when Scream Queens does return for Season 3, showrunners would be wise to listen to the critics and viewers who think the plot should place Hester front and center. Of course, a new season is a major "if" because a renewal would be a significant gamble on Fox's part — they're surely aware that the series could potentially be doomed to low ratings once again.
But, if they choose to give the show another chance, I think a few other aspects of Scream Queens would need to be adjusted. For example, it would need to amp up its mystery game in order to hold my attention for a full season — the Green Meanie plotline borrowed way too many elements from the Red Devil of Season 1 and, unless there's a seriously shocking twist in the finale, the identities and motives of the villains were exposed far too early in the season. In short, viewers should have at least 10 unanswered questions when we tune into the finale — but that's not the case this season.
As of right now, a third season seems highly unlikely — but, who knows? Maybe Ryan Murphy will give Hester her own spin-off — because it's clear that even the most underwhelmed viewers would love to see more of this character.
Images: Michael Becker/FOX (2)