9 Signs Your Dog May Be Getting Dementia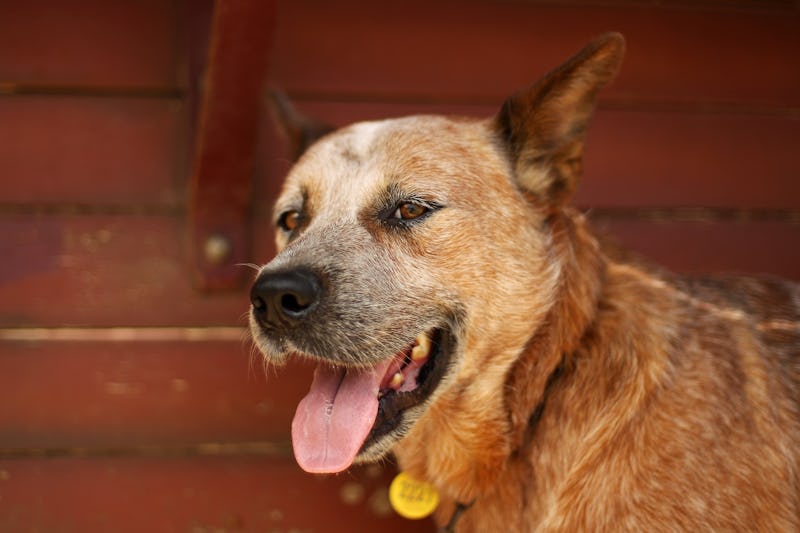 Mark Kolbe/Getty Images News/Getty Images
If you have a dog, you probably hate thinking about negative things, such as the signs your dog may be getting dementia. But part of being a good pet owner is acknowledging that our pets do get sick, and they do age. And the more we can learn about all of the above, the better we can take care of them.
Dog dementia, otherwise known as Canine Cognitive Dysfunction Syndrome (CCDS), is very similar to Alzheimer's disease in humans. If your dog has it, they may start to show signs of confusion, anxiety, listlessness, and other neurological-based problems. But usually not until they're older.
"Age of onset can vary greatly based on individual breed characteristics, however we commonly see signs of CCDS in dogs 11 years and older," Dr. Emily Wilson, of Fuzzy Pet Health, tells Bustle. "Subtle initial clinical signs can be noted as early as seven years of age in some dogs."
The good thing is, if you notice signs of dementia, there are ways to help your dog feel better and stave off worsening symptoms. "One of the best things is regular environmental enrichment and mental stimulation," Dr. Wilson says. "This can include food puzzles or some simple low stress training to help engage their minds on a daily basis. Regular low-impact exercise is also really important and it will also help maintain a healthy weight as well as mental stimulation." There are also special diets, natural supplements, and medications your vet can recommend, if need be.
If you're worried about your dog's health, notice these changes, or want to know more, make an appointment with a veterinarian. Here are some of the signs of dog dementia to watch out for, as your dog gets older.