9 Signs Your Hot And Heavy Relationship Will Fizzle Out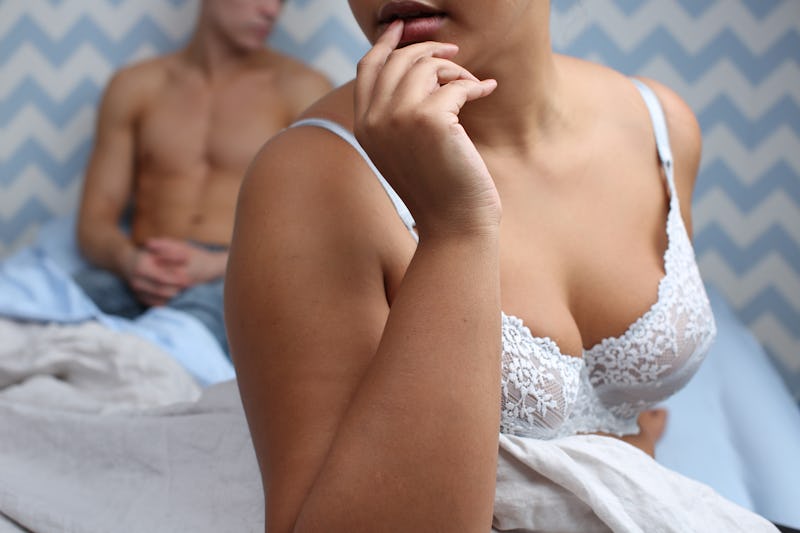 Ashley Batz/Bustle
You may be familiar with — possibly even living — the following scenario: You met someone and immediately, the sparks flew. Indeed, the sparks sprayed all over the place, like those lawn fireworks you have to sprint away from to avoid setting yourself on fire. Maybe you plunged pretty quickly into the sex period, wherein you two couldn't keep your hands off each other or your butts out of bed. Those days were fun, but now it turns out you've been seeing one another for months and, oops, maybe you missed that moment where you figure out if an actual connection can or will form. You don't have much to talk about when your mouths aren't glued together, or maybe you find yourself pretty annoyed with this person pretty much all the time. Sounds like your hot and heavy new relationship fizzled.
Incredible physical connection aside, a lot of this fizzling may have to do with expectations: The ones we set for ourselves and for one another. If expectations and reality don't align, but the sex fog obscures that inescapable fact, we might find ourselves sitting on the rubble of a whirlwind romance, wondering what the heck just happened.
"If you jump in too quickly, and even you know this seems to be going too fast, you might be headed for heartbreak," Stef Safran, a matchmaker based in Chicago, tells Bustle. "It takes time to get to know someone, and a good 'feeling' isn't enough to make you go full force without thinking about the future. If you start assuming the person you've just met is special and doesn't have 'flaws' like the last person you dated, sooner or later ... the honeymoon period will end."
In the beginning, people may present a varnished version of themselves — or, their partners may be enamored enough to overlook the cracks. "People in couples often avoid communicating in ways that would reveal the partner, the relationship, or ... themselves in their fallibly human (and legitimately disappointing) state," Mark Borg, PhD, a New York City-based psychologist, tells Bustle. We avoid showing the cards we imagine would make people want to stop playing, or we make our own assumptions about people without having all the information — either way, it means we sometimes build relationships on false foundations. Those have a tendency to tumble down.
So when is a hot and heavy honeymoon phase destined for imminent doom? Here are nine signs your new relationship may soon fizzle out, according to love experts.