9 Masks Models Swear By During Fashion Week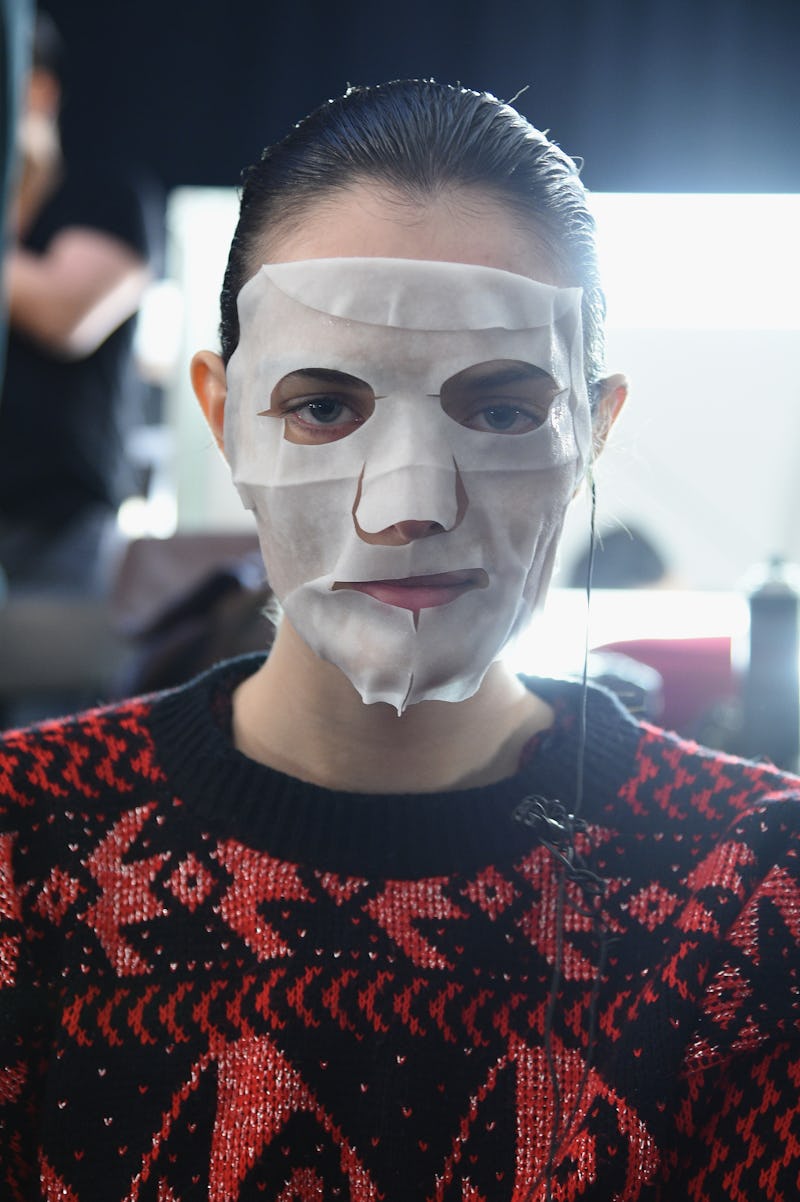 Andrew H. Walker/Getty Images Entertainment/Getty Images
Even though it may seem like supermodels wake up every morning with flawless, glowing skin, the reality is that it requires a lot more than just genetics to get them looking runway ready during fashion week. Skincare is just as important for the Kendalls, Bellas and Gigis of the world as it is for the rest of us, and just like us they rely on masks to give their faces a little extra oomph before a big event. So what masks do models use backstage during fashion week?
These days, fashion week is just as much about the beauty as it is about the clothing. With so much incredible makeup art happening on the runway, it's crucial that models' faces are smooth, blank canvases on which makeup artists can work their magic. Between the bright overhead lights and flashing photo bulbs, models' skin is in high-definition the minute they step out into the catwalk, which mens that any flaws are immediately visible both on camera and IRL. As amazing as makeup is, there's only so much it can cover, which is why proper prep is critical in the weeks, and even the hours, leading up to a show.
In honor of fashion week (and because the supermodels clearly have this whole "taking care of their skin" thing pretty much down pat), here are nine face masks that models swear by during fashion week.
Sisley Radiant Glow Express Mask, $96, Sisley Paris
At $96 a pop, this legendary go-to mask is just as luxurious as it seems. It's so good, in fact, supermodel Jourdan Dunn calls it her "skin care survival secret."
SK-II Facial Treatment Mask, $135, Sephora
SK-II's sheet masks are the secret behind all the models' glows at the Victoria Beckham show. Before the #squad stepped onto last season's catwalk, makeup artist Pat McGrath made these masks pretty much mandatory.Not only are they heaven for your skin, but they also make for some pretty great Instagram selfies.
Good Genes All-In-One Lactic Acid Treatment, $158, Sephora
As the brainchild of veteran fashion week makeup artist Sunday Reilly, it's no wonder that her namesake skincare line has become a fixture during backstage prep. It can be used as a treatment, or as a serum layer during your nighttime routine.
Neutrogena Hydroboost Mask, $19, Amazon
This fabric face mask covers your entire face and half of your neck with hydrating moisture, making it a favorite among models like Elizabeth Davison. It's so full of serum you're bound to have some leftover in the end, which you can pat into your skin for a little extra juice.
GlamGlow Supermud Clearing Treatment, $69, Sephora
Editors and supermodels (like Ella Richards) swear by GlamGlow's Supermud, which is clinically formulated to cure skincare problems from discoloration to ingrown hairs. Plus, it is really, really fun to apply.
Charotte Tilbury Goddess Skin Clay Mask, $55, Nordstrom
Considering Charlotte Tilbury counts many supermodels among her best friends (she even named one of her lipsticks after Kate Moss), it's no surprise that her skincare products run rampant backstage at shows. And this mask, apparently, is the secret behind Gigi Hadid's legendary glow.
Green Tea Mask, $6, Sephora
During fashion week, models are on the go non-stop (remember that video of Kendall Jenner shaving her legs in the car?), and sheet masks are a lot easier to deal with than messy, muddy ones. Model Leomie Anderson touts this one as a personal fave (and it's actually one of Kylie Jenner's faves, too!)
Hydrating+ Face Mask, $28, Sephora
The very first step in the backstage beauty prep process at Nicholas K's FW17 fashion show began with a 10-minute treatment with Karuna's Hydrating+ Face Mask for each model. It provided a smooth, healthy canvas for makeup application, and helped keep their skin hydrated throughout the show.
Pure 24K Mask, $299, Mimi Luzon
Even though it's not technically fashion week, models backstage at the VS show this year went bananas over this gold mask from Mimi Luzon. Partly because of how amazing it was for their skin, partly for the Instagram selfies.