9 'True Detective' Reddit Theories, From The Hoyts To That Creepy Pumpkin Lady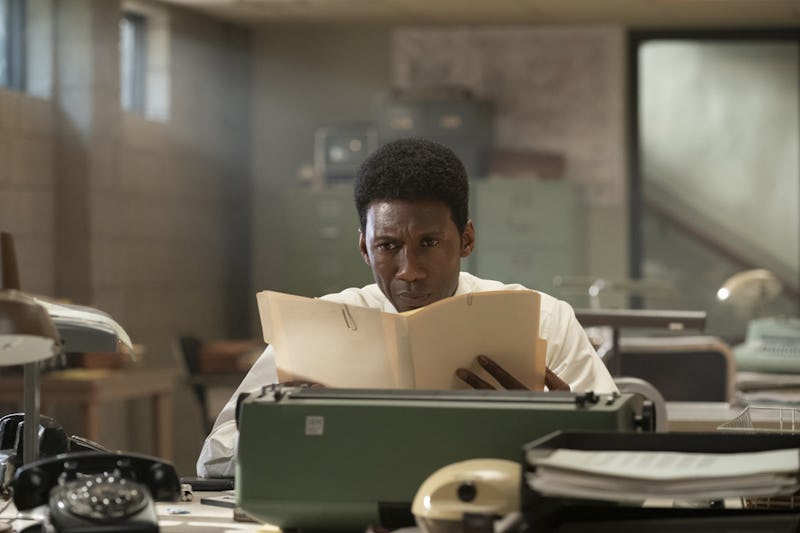 Warrick Page
Spoilers ahead for True Detective Season 3, Episode 7 Half of the fun of True Detective is doing your own sleuthing on the side — pausing the episode and looking around the screen for stealthy clues. That's basically the whole point of TV reddit, where diehard fans of shows like Westworld and Riverdale try to parse minute details and predict what it means for upcoming episodes. The True Detective Reddit theories are no exception — fans have been enthusiastically theorizing about the show since Season 3 premiered. And after the quick peek of the actual Mr. Hoyt last week, fans are working more furiously than ever to figure out what's what.
Episode 7 was a doozy in several ways — for one, it looks like Season 1 might actually be connected to the Purcell case, at least tangentially. Although Redditor dreadfuldiego pointed out that in a previous episode, journalist Elisa Montgomery (Sarah Gadon) had an old article about Rust Cohle and Marty Hart pulled up on her computer, it's called out in this episode.
Furthermore, audiences now know that not only did Tom Purcell seemingly (emphasis on seemingly) kill himself in 1990, but Roland and Hays killed Harris James in 1990, which is when Elisa says he went missing. And since there's only one more week, there's only so much time for these theories to be either thoroughly debunked or confirmed, but while there's still time, here are nine convincing True Detective fan theories that could just turn out to be canon.