9 Unexpected Signs Of Hormonal Imbalance In Young People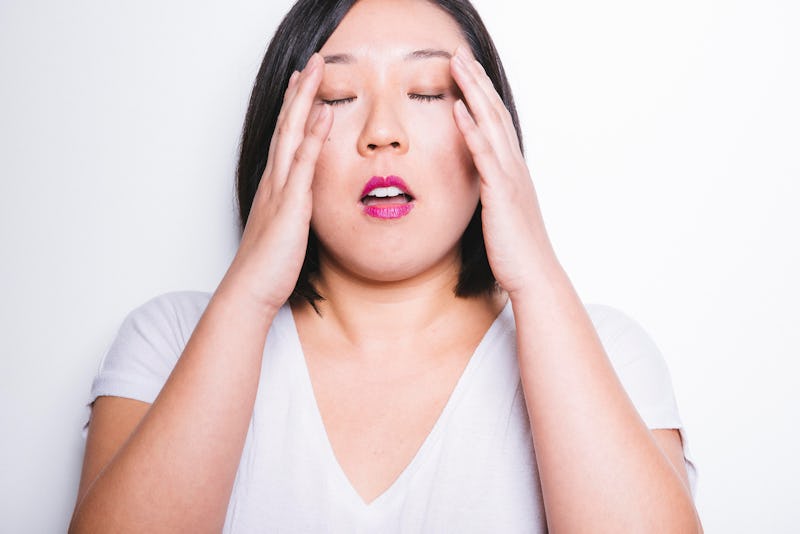 BDG Media, Inc.
When your hormones are balanced, it means all the body's little chemical messengers are working in harmony to keep your health on track. But once there's too much or not enough of a hormone — either due to too much stress, an underlying health concern, etc. — that's when you might experience signs of a hormonal imbalance.
While it may not seem like a big deal, your hormones really do play a large role in the daily goings on of your body, and shouldn't be ignored. "Most everyone thinks of hormones just as in sex hormones; for example testosterone for men and estrogen and progesterone for women," Dr. Donna Sergi, a Nutrition Response Practitioner and Holistic Chiropractor, tells Bustle. "But hormones control every aspect of body function — from digestion, healing from wounds, bowel movements, sleeping, heartbeat, mood, [and] focus, to name a few."
Many people also think of hormones as they relate to aging, such as when menopause hits and symptoms like hot flashes appear. But these symptoms can occur in younger women, too. Even if you're in your 20s or 30s, you can still experience hormonal imbalances, and feel downright crumby as result. The good news, though, is that hormonal imbalances can be treated, especially if the underlying cause is addressed.
If you notice any of these unexpected signs and symptoms, it may be a good idea to talk with your primary care doctor or OB/GYN. They can figure out which hormones are imbalanced and why, and from there create a game plan to help you feel better.