9 Ways Republicans Viciously Attacked Women's Health In 2017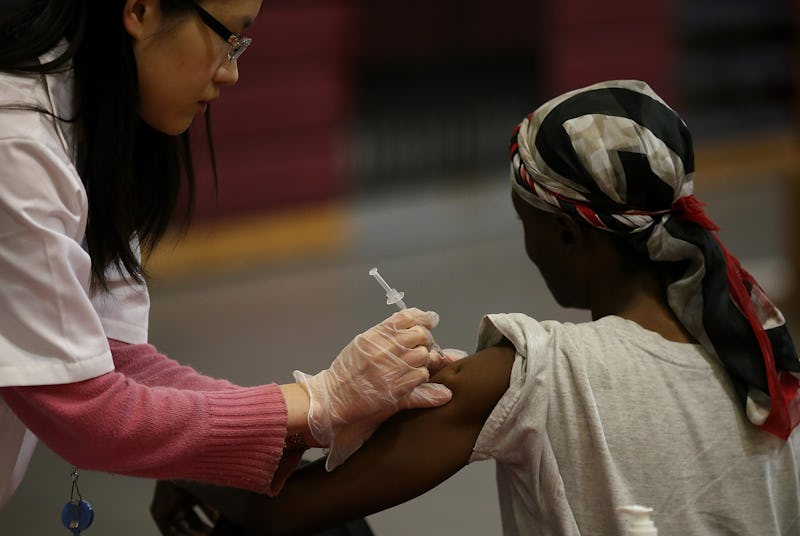 Justin Sullivan/Getty Images News/Getty Images
2017 isn't yet over, but we've already seen a whirlwind of developments concerning politics, economy, culture, and more. Among them, the issue of public health — particularly women's health — has been on the receiving end of controversial and painful measures from Donald Trump's administration. One way to understand the potential devastation that may be caused by the steps taken by Trump's presidency regarding women's health is to examine a list of the ways women's health has been attacked in 2017.
Through different means of eliminating funding to different agencies, threatening to defund certain non-profit organizations, and other incidents, women's health became even more endangered this year. The significance of upholding and securing women's health is not merely tied to women alone: A stable system that ensures the protection and flourishing of women's well-being is a system that realizes how incredibly intrinsic a woman's health is to the betterment of society.
A poorly-maintained system that neglects the needs of women on the frontier of health is a system that contributes to the erosion of families, the instability of female labor force, the weakening of mental health among women, and a whole lot more.
It is not wrong or far-fetched to say that by attacking a woman's health, one is attacking the future of a society. Here is how 2017 has been a less-than-optimal year for women's health.
1. The United States Cuts Funding For UNFPA
In April, the United States eliminated funding for the United Nations Population Fund, which is an agency that centers its efforts on improving reproductive health and helping families with planning their futures.
According to Reuters, the State Department reportedly claimed that the elimination of funding was because the UNFPA "supports, or participates in the management of, a program of coercive abortion or involuntary sterilization" in China. The UNFPA responded to the allegation by describing it as "erroneous." The damage that this elimination of monetary help can carry on to women's reproductive health care, resulting in higher mortality rates and unintended pregnancies.
2. Trivializing The Significance Of Title X
In March, vice president Mike Pence cast a tie-breaking vote on the issue of the Barack Obama-era regulation which does not allow states to interfere in the medical procedures of health care providers for arbitrary or political reasons. The rule came under Title X and is critical for the reproductive health of women from the lower income strata of society. The undermining of Title X can lead to denying poor women the basic right to a safe and affordable abortion.
3. Attempting To Defund Planned Parenthood
Planned Parenthood was probably the most lampooned non-profit organization this year. In various attempts, including the Republican party's efforts to replace and repeal Obamacare, Planned Parenthood was perennially mentioned as far as defunding it for a whole year was concerned.
A common misconception among conservatives is that the non-profit organization receives federal funding for performing abortions. This is simply false. Under the Hyde Amendment, Planned Parenthood is completely and entirely barred from receiving federal funding. By defunding Planned Parenthood, the Republican party will facilitate a nationwide health disaster by taking away the financial means that make STD testing, cancer screening, maternity care, and more possible.
4. The Expansion Of The Global Gag Rule
In January, Trump signed an executive order to expand the global gag rule. In simple terms, Trump disallowed any further funding from the United States meant for organizations that provide counseling to women on the issues of reproductive health care. In order to receive funding from the United States, organizations will have to openly declare that they do not provide any counseling on abortion-related issues or abortion advocacy.
By removing funding from such agencies, millions upon millions of women and girls can be exposed to unintended pregnancies, diseases, and a quagmire of other health issues.
5. Slashed Funding For Teen Pregnancy Prevention Grants
In a shocking move, Trump's administration assessed several teen pregnancy prevention grants as ineffective and has decided to go forward with cutting more than $200 million in funding. This could have a disastrous impact on the lives of young people who need more educational and resource-based help to understand the risks of teen pregnancies. Without funding, such programs become hollow and disposable.
6. Cuts To Programs Addressing Violence Against Women
Back in January, Trump's administration worked on moving toward "dramatic cuts" to programs centered on addressing and helping women facing domestic violence. Without funding for such programs, the collective state of mental health among women exposed to domestic violence will deteriorate. Monetary assistance for such programs is critical as they help women heal, rehabilitate, and live life without fear.
7. Increased Targeted Regulation Of Abortion Providers
Although this is not new and has been going on for years now, the targeted regulation of abortion providers has received more support under this administration due to the Republican party's rhetoric against Planned Parenthood. Such language legitimizes violence against abortion providers. By limiting access to safe and affordable abortion, such an environment compels women to take much more expensive and dangerous routes to accessing abortion.
8. Not Letting Medical Residents Train In Abortion Training
Republican member of the Wisconsin State Assembly, Andre Jacque, proposed a bill that would disallow medical residents at the University of Wisconsin from training in abortion. Such a bill could exacerbate the lack of accredited OB-GYN training and only worsen access to medical help for pregnant women or women seeking help for their reproductive health care.
Without properly trained and accredited professionals to address female reproductive health, women stand to lose a crucial amount.
9. Senate Republicans To Defund Planned Parenthood In "Skinny Repeal"
In a scaled-down version of the Obamacare repeal plan, Senate Republicans intend on defunding Planned Parenthood for one year. This defunding is stipulated as part of the bill's "skinny repeal" provision. As mentioned before, defunding women's health care provider for a full year will impact millions and millions of women who need Planned Parenthood for primary reproductive health care.
Without healthy and secure women, the prospect of a stable country is significantly diminished. If these programs are defunded and women-oriented organizations are slashed, not only will women's health become a precarious thing but the future of society is also at stake.