9 Statistics About How Gun Violence Affects Kids & Teens That Will Make Your Jaw Drop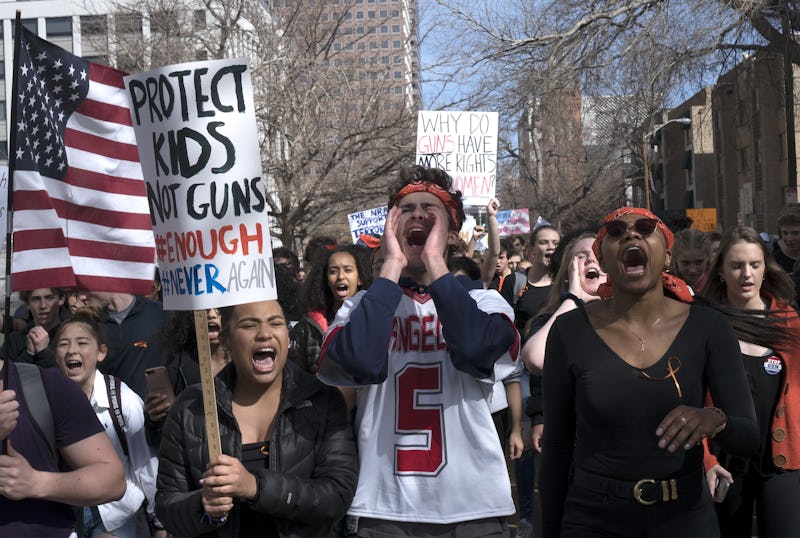 Ross Taylor/Getty Images News/Getty Images
Gun violence has been at the forefront of American political discourse since Feb. 14th, when a gunman killed 17 people at Marjory Stoneman Douglas High School in Parkland, Florida. The conversation has focused especially on gun violence among teenagers and children, and several recent studies illustrate the alarming extent to which American kids are killed and injured by firearms.
In that sense, it's fitting that most visible faces of the movement for stronger gun laws are, at least at the moment, young people. After the Parkland shooting, several survivors from Stoneman Douglas turned their sites to activism. In a little over a month, these student activists have done everything from grill pro-gun lawmakers at town halls, to organize national protest marches, to appear on the cover of TIME. And they've been crucial in sustaining national momentum and focus on gun violence in general and child gun deaths in particular.
"We're the mass shooting generation," Cameron Kasky, one of the Parkland survivors, told 60 Minutes. "I was born months after Columbine. I'm 17 years old and we've had 17 years of mass shootings."
Unfortunately, Kasky is right. Guns are one of the biggest threats to the lives of American children, and the proof is in the statistics.