Barrettes Are Taking Over Instagram & '90s Babies Are Loving It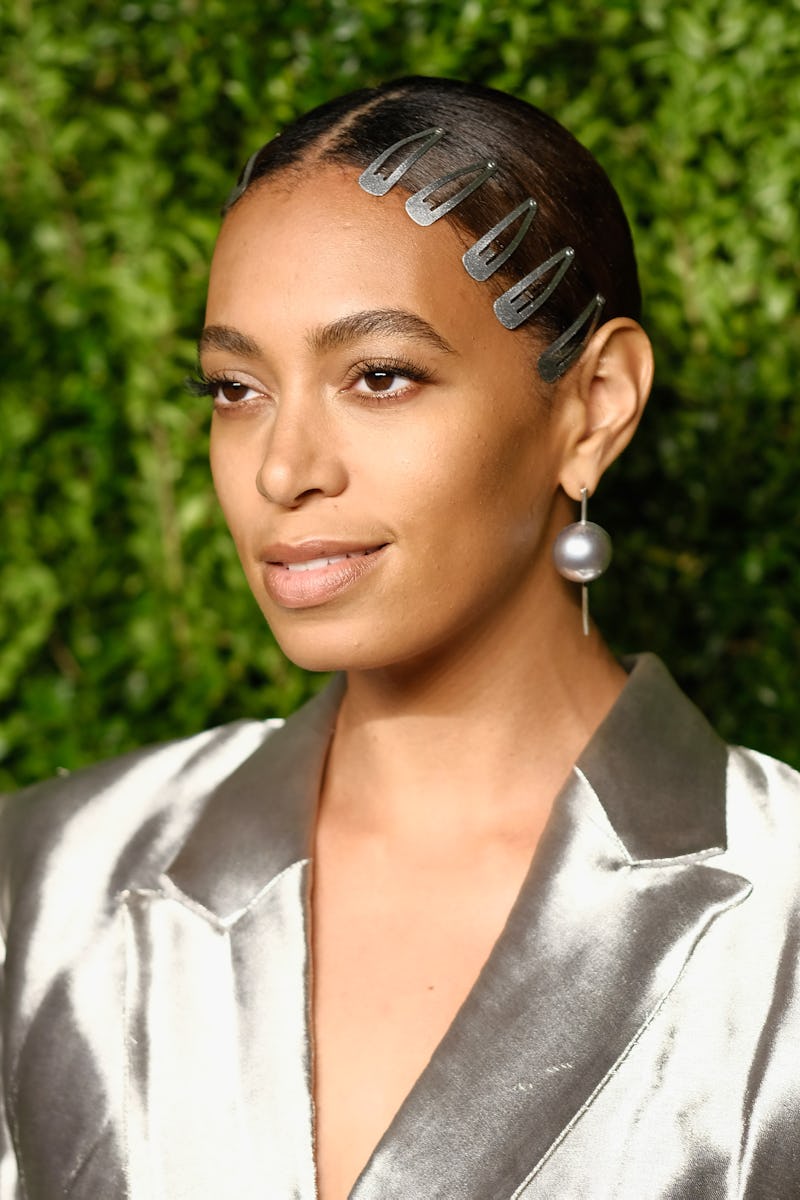 Dimitrios Kambouris/Getty Images Entertainment/Getty Images
Even though the '90s happened nearly 30 years ago, the styles from that era are holding strong in 2018. From chokers coming back in a big way, to platform shoes facing something of a resurrection, to Clueless-like aesthetics taking over runways, the world is stuck in a time machine, and we're all very much into it. But that same nostalgic approach has moved into hair styles, too, where accessories from our childhood are popping back up in chic reiterations. And that includes '90s snap clip barrettes.
But these barrettes aren't an anomaly in the fashion world — a whole slew of throwback looks are making their way back into the mainstream. Alexander Wang brought back the claw clip that was a favorite among businesswomen, just this time it came in a gunmetal grey and looked impossibly stylish when it raked back wet, gelled hair. Then models like Ashley Graham and Gigi Hadid walked down the Prabal Gurung show wearing zigzag headbands, giving people major Spice Girls vibes. Large statement scrunchies have also been making their rounds, appearing on the heads of celebs like Selena Gomez (topping off a high fishtail braid), and Bella Hadid (who paired it with tiny '90s frames at that). And now snap clip barrettes are having their moment, too.
Throwing you straight back into middle school, these snap clips will bring a fun, teenage-like flourish to your look. According to Elle, it all started with Solange in 2016, when she showed up to the CFDA Awards wearing a chrome suit and a solid row of metallic barrettes on each side of her head to match. As per usual, the artist was ahead of her time and it took us two years to catch up.
But now that we have, the look is being embraced in a huge way. Everyone from celebs to influencers to fashion lovers are experimenting with the style. Kristen Noel Crawley, founder of the Insta-famous beauty brand KNC Beauty, wore them to the Super Bowl and gave them a sporty twist with her tracksuit and boots.
Bella Hadid took the barrette into a more edgy direction by clustering a bunch of them in a messy pattern around her hairline, giving her utilitarian outfit a punk twist.
And while these aren't snap clips per say, Hadid also wore decorative pins with her bob in a very '90s way, which could easily be replicated with barrettes.
Model Elsa Hosk wore her hair similarly, where she did the iconic '90s center part, and then pinned back her hair with chic black snap clips on either side. If you're worried the look will make you look too much like a middle-schooler, notice how Hosk pinned her clips a little lower and closer to the ear, rather than higher up on her head and closer to the center part, like Hadid did. The lower you clip, the more sophisticated it looks.
Negin Mirsalehi also wore her hair much in the same way, creating a center part and clipping in two metallic snap clips on either side of her head. She wore her hair like that to the Alberta Ferretti show during Paris Fashion Week, so it was a high-fashion event instead of an off-duty style. Which means the look can be high-end or low-end, depending how you style it. And being the founder of Gisou Hair, the bee-based hair company, Mirsalehi knows hair and what's trending.
Then Chloe Moretz shook up the formula a little and added a series of clips to her middle parted hair, but just to one side. She also let her hair fall over the clips, giving it a more relaxed vibe.
It's really fun to see these throwback clips trending — and even better, if you don't have any leftover from your childhood, they're super cheap at any drugstore. It's a total win.