A Blogger Is Rescuing Mosul Libraries, On Book At A Time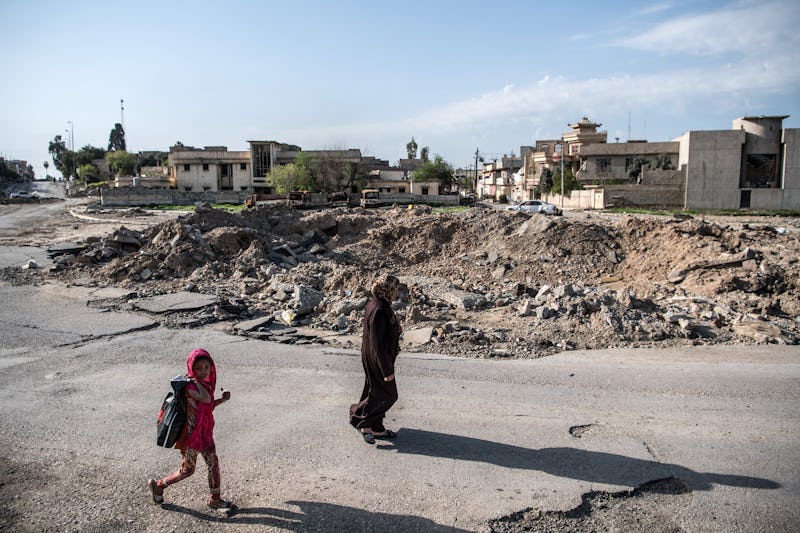 Carl Court/Getty Images News/Getty Images
In 2014, ISIS ransacked the city of Mosul, Iraq, burning down the library in its prestigious university and forcing professors to re-write textbooks in a way that was sympathetic to the new regime. Now, an anonymous blogger is rescuing the Mosul libraries that ISIS destroyed, one book at a time, as reported by Buzzfeed.
ISIS' three-year-long occupation of Mosul, Iraq may have come to an end this summer, as Iraqi forces reportedly reclaimed the city's mosque from the imposed caliphate. But the damage caused by the Islamic State remains, a fact that the Iraqi blogger known as "Mosul Eye" recognizes. Mosul Eye claims to have been a professor at the University of Mosul before the ISIS takeover, and today they use their blog to update the rest of the world on life in Mosul, as well as to call for rebuilding efforts around the city.
One of those rebuilding projects is focused on the Central Library of the University of Mosul. In May, the Mosul Eye Festival — which featured art exhibits and music concerts — encouraged celebrants to bring books with them to help restock the library's shelves. According to BuzzFeed, Mosul Eye and a team of volunteers were able to rescue about 2,000 of the library's "hundreds of thousands of books" after the area was liberated by government forces.
Now, Mosul Eye has launched a campaign to collect 200,000 books for the libraries of Mosul. Joined by groups from the U.S., Europe, and elsewhere, Mosul Eye has received roughly 10,000 books to date. The activists hope to reopen Mosul's libraries in early 2018.