Potential Explosive Devices Were Found In Hillary Clinton's & Obama's Mail — UPDATE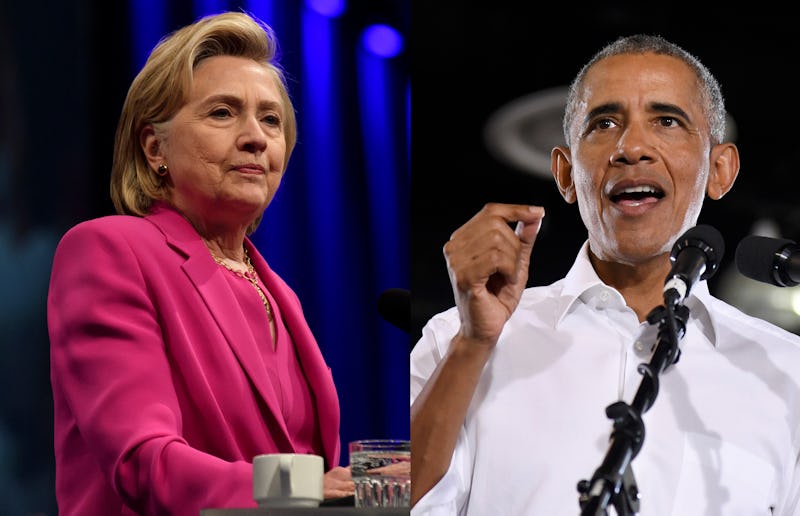 Jeff Swensen/Getty Images News/Getty Images and Ethan Miller/Getty Images News/Getty Images
On Wednesday, New York law enforcement reported that a bomb was found by Hillary and Bill Clinton's home in Chappaqua, according to the Associated Press. Officials believe it may be similar to an explosive device found in George Soros' mailbox on Monday, per NBC New York.
Secret Service announced that both the Clintons and former President Barack Obama received explosive devices and that they were discovered while technicians screened the former officials' mail, as is normal procedure.
"The U.S. Secret Service has intercepted two suspicious packages addressed to Secret Service protectees," read a statement released by the agency on Wednesday:
Late on October 23, 2018, the Secret Service recovered a single package addressed to Former First Lady Hillary Clinton in Westchester County, New York. Early this morning, October 24, 2018, a second package addressed to the residence of Former President Barack Obama was intercepted by Secret Service personnel in Washington, DC. The packages were immediately identified during routine mail screening procedures as potential explosive devices and were appropriately handled as such. The protectees did not receive the packages nor were they at risk of receiving them.
Bustle reached out to the FBI and New Castle Police Department for comment.
The New York Times reports that officials believe that the bombs sent to the Clintons and Obama were, in fact, similar to the Soros device, and that the connection is being "strongly considered." On Monday, a Soros employee found a suspicious package in the boss' mailbox, removed it from the scene, and alerted police. Officials told NBC New York that it was similar to a pipe bomb and had explosive powder inside. It seems to have been hand-delivered by someone, according to The New York Times. The incident is currently under investigation.
As are these two new incidents. "The Secret Service has initiated a full scope criminal investigation that will leverage all available federal, state, and local resources to determine the source of the packages and identify those responsible," read Wednesday's statement.
White House Press Secretary Sarah Huckabee Sanders released a statement on behalf of the Trump administration on Wednesday responding to the threats. "We condemn the attempted violent attacks recently made against President Obama, President Clinton, Secretary Clinton, and other public figures," she said. "These terrorizing acts are despicable, and anyone responsible will be held accountable to the fullest extent of the law." She also called the perpetrators "cowards."
CNN reports that a suspicious package was also allegedly sent to the White House on Wednesday. Shortly after the media outlet began reporting the news, it apparently received a similar bundle and had to evacuate its office building in New York City, according to CNBC. CNN said that the New York Police Department is investigating the package and that it was sent through the mail, according to Talking Points Memo.
This week's episode does not mark the first time that Obama has gotten suspicious mail. A Texas woman sent explosive devices to him in October of 2016, and in 2013 he received a letter containing ricin, a toxic substance.