A California Women's March Was Reportedly Canceled Because It Lacked Diversity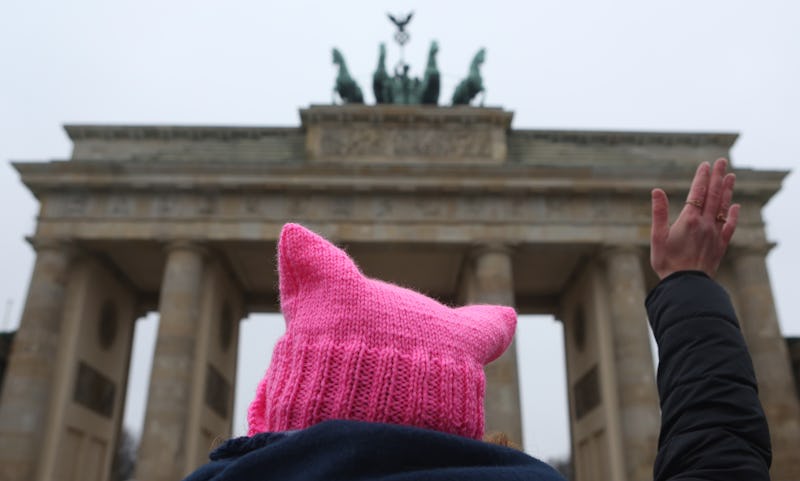 Adam Berry/Getty Images News/Getty Images
On the eve of the national march's third anniversary, a Eureka, California Women's March was canceled for lack of diversity, according to a statement released by its organizers. The cancelation comes as the national Women's March remains embroiled in criticism for its ties to groups accused of anti-Semitism, homophobia, and sexism.
"Up to this point, the participants have been overwhelmingly white, lacking representation from several perspectives in our community," the Eureka march organizers said in a statement shared to the group's Facebook page. "Instead of pushing forward with crucial voices absent, the organizing team will take time for more outreach."
The march was originally scheduled for Jan. 19, and was slated to coincide with a series of Women's Marches planned around both the United States and the world. But organizers said in their statement that the event was off and that they were exploring options for hosting a related event in March, in conjunction with International Women's Day.
"The local organizers are continuing to meet and discuss how to broaden representation in the organizing committee to create an event that represents and supports peoples who live here in Humboldt," organizers wrote, referencing Humboldt County, where Eureka, California, is located.
The group, as first reported by The Washington Post, is not listed on the official Women's March website, and may therefore not be an official chapter of the larger organization. The decision to cancel the event came "after many conversations between local social-change organizers and supporters of the march," according to the Facebook statement.
The national Women's March organization has faced criticism over the last year for its ties to Louis Farrakhan, head of the Nation of Islam. The Southern Poverty Law Center lists the organization as a hate group.
Issues began last February, when Farrakhan gave a Saviour's Day speech in which he praised Women's March co-president Tamika Mallory, who also attended the event. In the same speech, Farrakhan also declared Jews to be his enemy, according to multiple reports from the time. But after the speech and ensuing controversy, Mallory defended her association with Nation of Islam, and also declined to denounce Farrakhan.
After a while, Women's March leadership denounced Farrakhan's views in a statement, but stopped short of denouncing Farrakhan, himself, which prompted another round of criticism. "We don't denounce or write off people or communities," Rachel O'Leary Carmona, chief operating officer of the Women's March, told The Daily Beast back in November. "We denounce, and fight, evil and discriminatory ideas and policies. Not articulating that clearly and quickly has really hurt people and we deeply regret that."
In a November Facebook post, Women's March founder Teresa Shook called for the group's leaders to step down, "to let others lead who can restore faith in the Movement and its original intent." Shook's statement appeared to prompt yet another public response from the organization.
The next day, Women's March National Organizer Linda Sarsour posted a new statement, writing that "every member of our movement matters to us — including our incredible Jewish and LGBTQ members. We are deeply sorry for the harm we have caused, but we see you, we love you, and we are fighting with you."
How the tumultuous last year will impact the group's growth in the future is not yet clear. But for the time being, many marches are still scheduled to take place in January 2019.