This School's Bathroom Policy Means Students With Periods Are Bleeding Through Their Pants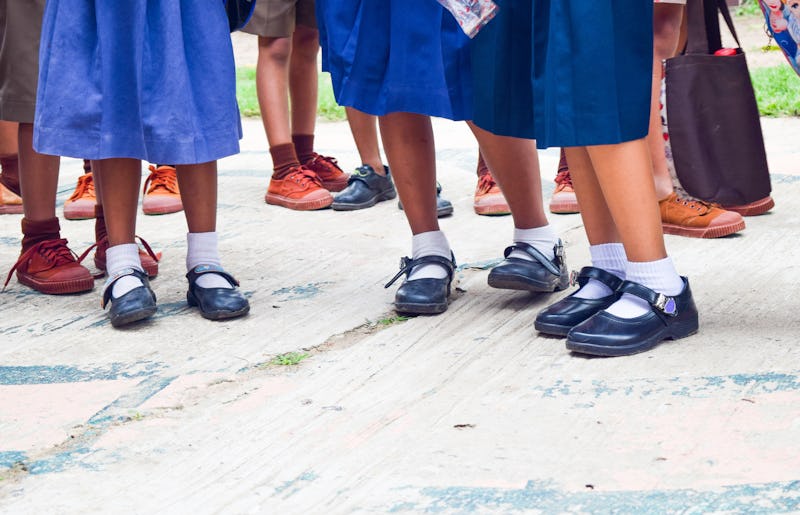 apichart609/Fotolia
Teachers and students from a Chicago-area charter school network are speaking out about what they claim are "overzealous" disciplinary measures that disproportionately target minority students. The story was first reported by WUIS, an Illinois NPR affiliate station on April 3, and a follow up report, published on April 30, highlights new allegations: namely, that students on their periods bleed through their pants because of a strict bathroom policy, as an anonymous student texted NPR. Regarding the April 3 story, the president of the Noble Network of Charter Schools said in an email reportedly sent to staff members that a number of the allegations are "exaggerated or plainly false," NPR Illinois reported in its follow up. Bustle has reached out to Noble for comment regarding the new allegations, and we will update this story when we receive a response.
Update: Constance Jones Brewer, the President of the Noble Network of Charter Schools, tells Bustle via an email sent on May 1 that "Noble absolutely accommodates our students during menstruation, including bathroom trips whenever the student needs one. This is the same accommodation as high schools everywhere, and I would tolerate nothing less from my organization. [...] We also know that stains are still not 100% preventable for factors that are private to each student, but when they happen, our schools provide supportive solutions as quickly as possible. This includes, at the student's discretion, the option to borrow clean uniform items from the main office, or the choice to wear a covering, at which point staff are notified that the student is not out of dress code and should be accommodated accordingly."
Earlier: Noble has 18 schools in the Chicago area and 12,000 students — according to NPR Illinois, about 10 percent of Chicago students attend a Noble charter school. The new report claims that students aren't able to use the bathroom without bathroom escorts, and they get in trouble if they leave a classroom alone, according to the follow-up article. In practice, this policy reportedly means that menstruating students are unable to access the bathroom frequently enough to prevent leaks through their clothing.
"We have (bathroom) escorts, and they rarely come so we end up walking out (of class) and that gets us in trouble," the student reportedly texted the NPR reporter. "But who wants to walk around knowing there's blood on them? It can still stain the seats. They just need to be more understanding."
Further, the reporting notes, students aren't allowed to wear dark pants at many Noble schools, and if they bleed through their light-colored khaki pants, they may tie sweaters around their waists to hide the stains at certain campuses. But because this is technically goes against the school's dress code, according to the report, administrators send an email to that campus' staff with the name of the student who's been allowed to wear a sweater so that they don't receive demerits — effectively alerting the staff that a student is menstruating.
The school network disputes the claims made in the original article, published on April 3. An email written by Noble Network of Charter Schools president Constance Jones Brewer and shared by NPR Illinois says some aspects of the story were "misrepresented" and the article "draws negative conclusions [...] from a very small number of interviews." Brewer also acknowledged that it's important to "look inward" in moments like these.
However, it's also important to be reflective in this moment. [...] On the rare occasions where our student code of conduct has been applied overzealously, we've worked with school leaders and staff members to correct those issues and make sure we stay centered on what matters most — great results for our students. [...] We cannot ignore moments when we fall short of what our students deserve; instead, we must continue to hold ourselves accountable to the highest standards, stay reflective, and always improve.
In a statement emailed to Bustle on May 1, President Brewer disputed the reporting in the April 30 story, saying, "We at Noble are used to being publicly attacked due to the unfortunate political and emotional debate around charter schools, even as we send 90 percent of our student population, overwhelmingly students of color, to college every year. It breaks my heart to spend time addressing these debates, but I also know it's necessary in order to protect the people who are giving their all to our students and families. This latest article from the Springfield, IL NPR affiliate is completely beyond the pale. It takes one anecdote from among our 12,000 students and 10,000 alumni to allege a school policy that simply doesn't exist."
According to the news station, the dress code requires "light khakis, plain black leather belts, black leather dress shoes, and school-branded polo-style shirts that must be tucked in." Ann Baltzer, a former chemistry teacher at a Noble school, told NPR Illinois for the April 3 article that she was expected to enforce policies that emphasized discipline and obedience. According to NPR,
One of the policies that made her most uncomfortable was demanding 'level zero,' or complete silence, in the hallways during passing period, which she says teachers could activate by yelling 'hands up.'
"Teachers were applauded if you had the ability to shut down the hallway," Baltzer says. "We had no awareness that it would be inappropriate to shout 'hands up' at a hallway full of black children. And so we had white teachers shouting 'Hands up' and kids putting their hands up and going silent."
A recent study found that Black students are often disproportionately affected by dress code rules, and this story is a reminder that students of color often face undue stress when it comes to treatment in schools. Providing a safe environment for children to learn includes making sure no student feels discriminated against, whether because of their hairstyle, or if they are menstruating.
Update: This story was updated on May 2 to include comment from the Noble Network of Charter Schools.