Netflix Just Announced 'A Christmas Prince' Sequel Is Happening & Fans Are SO Excited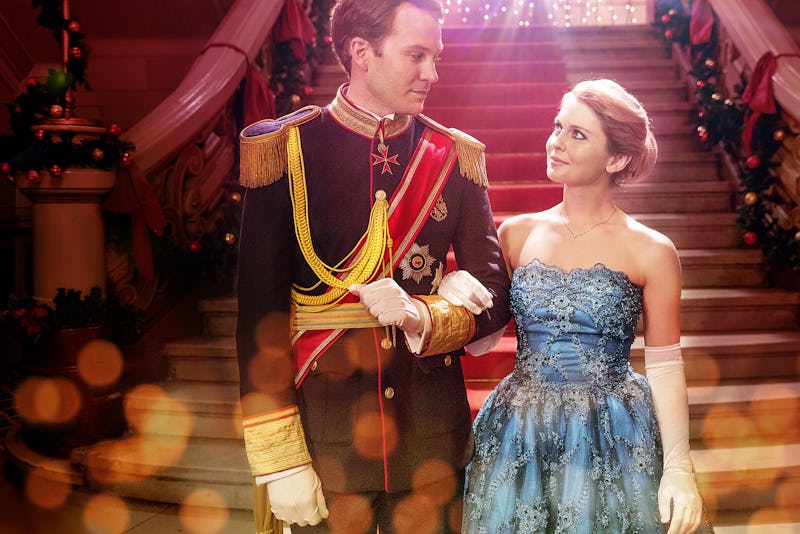 Netflix
On Friday, May 18 (AKA the day before the royal wedding), Netflix announced A Christmas Prince sequel is happening. The follow-up to the fan favorite holiday film will center around the wedding of Ms. Amber Moore and His Royal Highness Prince Richard of Aldovia, according to Netflix's announcement via Twitter. And fans are officially invited to tune in for the occasion when the Christmas Prince sequel premieres later this year, according to The Hollywood Reporter.
As reported by THR, the sequel, titled A Christmas Prince: The Royal Wedding, will pick up a year after the first film left off when Amber (Rose McIver) helped Richard (Ben Lamb) secure the crown in the fictional land of Aldovia. In the first film, Amber, a journalist (sorry, "journalist"), accidentally fell in love with the prince she was trying to get scoop on. Now, the two are set to walk down the aisle, but Amber experiences cold feet when she doubts how ready she is to be a queen. Meanwhile, Richard deals with a political crisis threatening the future of the kingdom, and, wait for it, the holiday season. Can you say drama?
After A Christmas Prince was released in November 2017, the Hallmark-like movie developed an instant cult following. Was it so bad that it was remarkably good? So shamelessly cheesy that no made-for-TV film could even compare? So predictable it was comforting? There's no rhyme or reason to explain the obsession, but regardless, fans were, and still are, obsessed.
The excitement is so real that fans have basically forgotten there's an actual royal wedding tomorrow.
The hype has caused them to clear their schedules when this releases months from now.
Just an hour after the announcement was made, THR released the first teaser trailer (below). The teaser shows Amber sitting with Richard's family and watching the televised wedding of Prince Harry and Meghan Markle. Obviously, Amber reflects on her own upcoming royal nuptials.
The self-aware promo then nods to aspects of the first film that had fans talking last year, and will likely get them buzzing again. For example, Amber is frantically typing notes on her laptop (which became a running joke on social media), including, "Must NOT become a meme" (which, of course, happened with the screenshot of her ridiculous notes in the last movie).
When Meghan arrives, Amber mutters, "I hope I can be half as graceful as her when it's my turn." She proceeds to write down more crucial notes, "wedding" and "converse," before asking Richard if he can imagine how it feels having the whole world watch your wedding (even though it will be watching hers). When he reminds her of that, she's left looking out into space in a contemplative state. Both cheesiness and predictability are amped up a notch in The Royal Wedding, which is exactly why fans should be pumped for its arrival.
Aside from being the talk of the town on Twitter, A Christmas Prince also got attention when its own network, Netflix, called out a handful of devoted fans. A few weeks after the film's release, Netflix shamelessly tweeted at anonymous users, saying, "To the 53 people who've watched A Christmas Prince every day for the past 18 days: Who hurt you?" The drama continued in real life when competitor network, Lifetime, tweeted about it (while poking fun at their own soapy material), saying, "If Netflix doesn't want you, there's always room on our couch! And if Christmas Princes aren't your thing, we've got meet cutes, serial killers, queenpins, and babysitters gone bad. We're not here to judge!"
Fans are already devoting themselves to the sequel, and no amount of judgement could possibly get in their way.