A Dinosaur Posed In This House Listing's Pictures & They Are Truly Iconic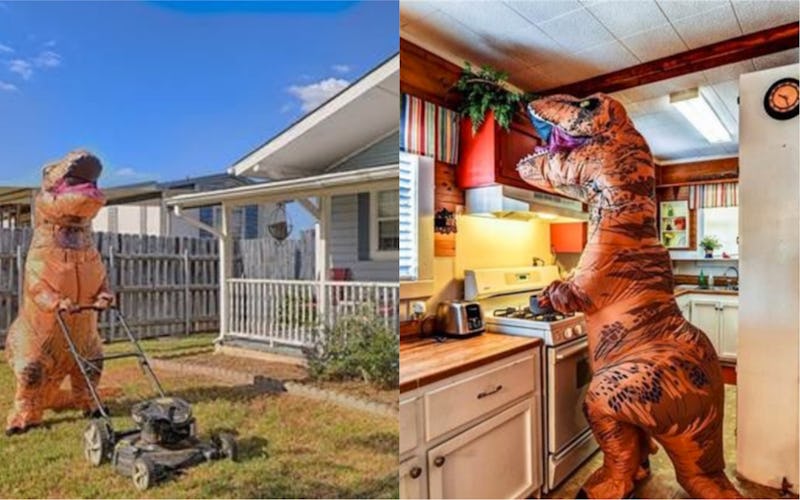 Courtesy of Realtor
Perusing home listings online can definitely inspire and motivate us to keep saving for that down payment, and house browsing is also super exciting when we're actually ready to buy a place. We're looking for all the things we hope for in a home — something affordable with plentiful light, a fab layout, decent outdoor space. And … maybe a dinosaur. Per Delish, the real estate listing starring a dinosaur for this adorable single-family home in in Granbury, Texas is admittedly pretty special, and it's also probably the most hilarious thing you'll see all day.
Realtor Casey Lewis told a Houston ABC affiliate that the now-viral listing has been viewed more than 10 million times globally, and for good reason. Listed at Realtor.com, this charming 1980 ranch-style home looks like the perfect starter and fixer upper. Priced at $89,900, this 2 bedroom, 1 bath house is 796 square feet, and is as cute as could be. And as sweet as the lovely little house is, there's an added feature that really ups that proverbial je ne sais quoi. Also, the listing is funny as hell. And given that a sale is now pending on this charming abode, Lewis was clearly on to something here.
Observe the following, dear readers:
Such a charming yet simple room, no? And who doesn't want to shack up with a tyrannosaurus, amirite? I especially appreciate those sneakers.
Or:
If you're anything like me, assessing the kitchen is the real make-or-break moment when choosing a new residence — I need plenty of counter space. Also, the gas range, and all that natural light is super winning. As is this charming dinner companion.
And consider...
How's that water pressure, buddy — pretty good? And those are some pretty high ceilings to be able to accommodate your rather ginormous yet appealing dinosaur head. Looks like a keeper.
And then this happened:
As did this.
According to Forbes, this little Texas home with the resident T-Rex rests just a short jaunt away from Dinosaur Valley State Park near Fort Worth, where you can check out some real-deal dinosaur tracks along the Paluxy River with the kids. And the listing went viral immediately while the home sold in under two days, so clearly dinosaurs have selling power — and humor definitely does. According to Forbes, the realtor told Realtor.com that the listing has been "featured on local news, shared hundreds of times on social media, and I've received calls from all over the country asking for information about the property."
There's no doubt that this is some pretty amusing marketing strategy, because humor is everything and, apparently, dinosaurs are hilarious. Or maybe realtors dressed in dinosaur suits with sneakers on are hilarious, either way, this works. Who knew? I mean, this goes above and beyond baking an aromatic batch of cookies or a loaf of bread in order to entice prospective buyers, so props to Lewis for some ingenious and original marketing strategy — well played, sir.