A Detroit Doctor Has Been Charged With Performing FGM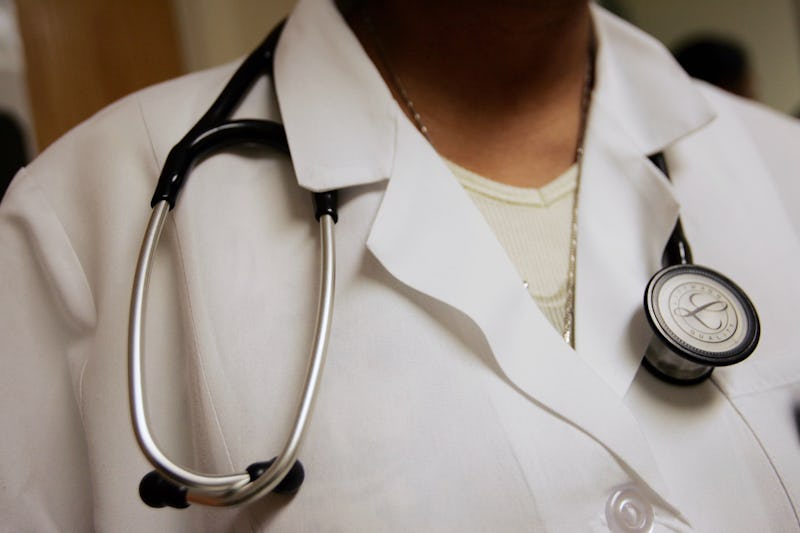 Joe Raedle/Getty Images News/Getty Images
The Department of Justice has charged a Michigan doctor with allegedly performing female genitalia mutilation (FGM) on girls ages 6 to 8, papers filed Wednesday with the U.S. District Court for the Eastern District of Michigan revealed. Jumana Nagarwala, a Detroit emergency room physician, was charged with performing FGM on minor girls out of a medical office in Livonia, Michigan, between 2005 and 2017, a press release from the Department of Justice said. Her attorney has declined to comment on the case, but the complaint states that Nagarwala denies she ever performed FGM. It is believed this is the first charge brought forth under the legal statute that criminalizes FGM.
The Department of Justice alleges Nagarwala performed FGM on at least two 7-year-old girls at a Livonia clinic following an FBI investigation. According to the criminal complaint filed, one of the minor girls allegedly told investigators she had been brought to Nagarwala for a procedure "to get the germs out." The girl went on to say Nagarwala had "pinched" her on the "place she goes pee." The parents of a second girl confirmed to FBI investigators that they had taken their daughter to Nagarwala for what they reportedly called "cleansing" of extra skin, court papers revealed.
A spokesperson with the Henry Ford Health System, where Dr. Nagarwala reportedly worked, told media that "the alleged criminal activity did not occur at any Henry Ford facility. We would never support or condone anything related to this practice."
"According to the complaint, despite her oath to care for her patients, Dr. Nagarwala is alleged to have performed horrifying acts of brutality on the most vulnerable victims," Acting Assistant Attorney General Kenneth A. Blanco said in a press release put out by the Department of Justice. "The Department of Justice is committed to stopping female genital mutilation in this country, and will use the full power of the law to ensure that no girls suffer such physical and emotional abuse."
According to the complaint filed with the U.S. District Court for the Eastern District of Michigan, the FBI has identified an undisclosed number of other children "who may have been victimized by Nagarwala between 2005 and 2017." In interviews with the parents of potentially victimized girls, two parents reportedly confirmed that "Nagarwala had performed procedures on their daughters' genitals"; other parents either denied Nagarwala had performed FGM on their child or denied having knowledge of such a procedure.
FGM is illegal under Title 18 of United State Code Section 116, which prohibits "knowingly circumcis[ing], excis[ing], or infibulat[ing] the whole or any part of the labia majora or labia minora or clitoris of another person who has not attained the age of 18 years." According to current law, FGM is punishable by up to five years in prison.
"Female genital mutilation constitutes a particularly brutal form of violence against women and girls," Acting U.S. Attorney Daniel Lemisch said in a DOJ statement. "The practice has no place in modern society and those who perform FGM on minors will be held accountable under federal law."
According to the Department of Justice, Nagarwala was arrested Wednesday. She appeared in court Thursday, where she was advised of her rights by a judge, and will be held in jail until she is scheduled to appear in court again Monday, The Huffington Post reported. A judge will reportedly determine then if Nagarwala should be held in jail until her trail.
FGM is classified as "a violation of the human rights of girls and women" with "no health benefits" by the World Health Organization.