A Dragon Ball Z x Adidas Collab May Be Coming, So Your Wishes Have Been Granted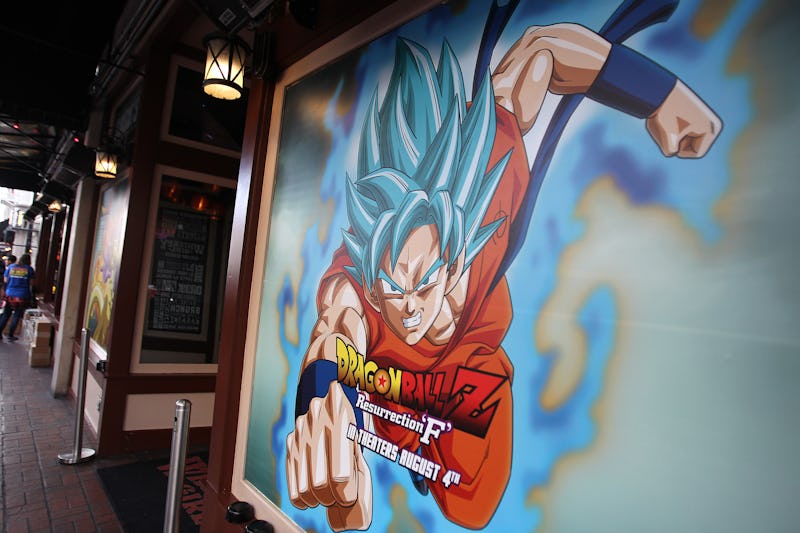 Tommaso Boddi/Getty Images Entertainment/Getty Images
It might have been over 20 years since the Z Warriors went on adventure, but it looks like they'll have something new to wear for their next one. According to Yeezy Mafia, Adidas and Dragon Ball Z might be teaming up for a shoe collab. If you were wondering is the '90s will ever go out of style, this should clear things up. Although not many details are known just yet, the initial deets are getting people pretty darn excited.
Before I start diving into how incredible the shoes will be, it's worth mentioning that neither Adidas nor Dragon Ball Z have actually announced the collab just yet. Yeezy Mafia posted a photo of the Dragon Ball Z group wearing Christmas clothes on the holiday, saying that an Adidas collab will be coming.
If Yeezy Mafia's tweet is true, there will be seven different styles included in the line. You know, one for each Dragon Ball. While the exact designs aren't being shown just yet, there's a good chance that fans will want to collect every single one. I can't promise that buying them all will have all your wishes granted, but you'll have one heck of a closet.
According to the tweet, Adidas Originals x Dragon Ball Z will be available in Fall 2018. So even if this collab is happening, you have a while to wait.
Like I said, nothing has been officially announced just yet. The show was first created in 1989 and ran until 1996. With an eight year run, it's no surprise that the Japanese animated series has a major cult following. Whether the new of a collab is true or not, that hasn't stopped people form weighing in about it.
People are taking to Twitter to share their feelings about the possible line of kicks. While the response is overwhelmingly positive, a lot of people are skeptical about it. That being said, some have already sketched out the deisgn of what they think the shoe will be like.
Needless to say, people are all over the place about the collab. Here's some of the best reactions, so you can choose what side you're on.
The operative word here is "if." No one, besides the apparent leaked info in the tweet, has been announced just yet. It's a good thing people are being skeptical. Wouldn't want anyone to get his or her hopes up.
Other people are full on screaming with joy about the collab. Rumored or not, this deserves a big smile.
If Adidas isn't doing a Dragon Ball Z collab, they might want to put it on the map. The line would immediately draw people to the brand who didn't buy before.
There's no possible way that this is true, but it shows how excited people are about the possibility. The colors would make quite the '90s throwback.
The idea is a pretty great one. Collecting all seven shoes wouldn't help you protect the world, but it would give you the ultimate sneaker collection.
It's unclear exactly where this photo has come from, but it does show how excited people are about the idea of seven different shoes mocked after the seven different balls.
Like all great collabs, people didn't even know that they needed it in their life until the moment it was thrown into the universe.
Some people are focussed on the fact that this collab, even if true, wouldn't be out for another, well, 300 sleeps or so.
Skeptical, but people are here for it. Fingers crossed that they're somewhat affordable, because people already want all of them and it hasn't even been officially announced yet.
If this ins how excited people are about the idea, I can't wait to how they react as Fall 2018 gets closer.