A New 'Fantastic Beasts' Audiobook Is Coming Out & It's Narrated By An Actor From The Movie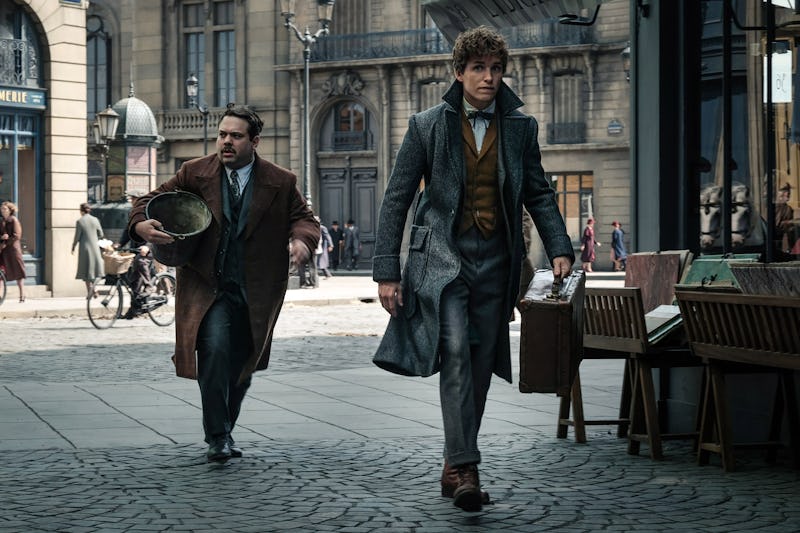 Jaap Buitendijk/ Warner Bros. Pictures
There's nothing Harry Potter fans love more than nerding out about all the behind-the-scenes work that has gone into making the series. So hold onto your broomsticks, Potterheads, because a brand new original non-fiction Harry Potter audiobook is coming out this November: Fantastic Beasts: The Crimes of Grindelwald – Makers, Mysteries, and Magic. With this exciting new audiobook, you'll get to listen in on all the secrets of the making of the newest Fantastic Beasts film, no Extendable Ears required. Bet
Fantastic Beasts: The Crimes of Grindelwald – Makers, Mysteries, and Magic is narrated by Dan Fogler (who plays Jacob Kowalski), and features insights from some of your favorite Fantastic Beasts actors, including Eddie Redmayne (Newt Scamander), Jude Law (Albus Dumbledore), Zoë Kravitz (Leta Lestrange), and Ezra Miller (Credence). Plus, you'll get to hear from members of the filmmaking team, including director David Yates, producer David Heyman, production designer Stuart Craig, graphic designers MinaLima — as well as a wide range of people who contributed to the film, from prop designers to extras, The audiobook was recorded during filming at Leavesden Studios, so it's practically like you're right there on set.
"This whole experience has been an adventure for me and I'm really excited for fans to come along for the ride," Fogler said in a press release provided to Bustle. "We made an exclusive, all-access audiobook that takes you to places that no microphone has been before. If you've ever wanted to know what it takes to make not just an epic movie but one set in the Wizarding World, this is a must-listen! It covers everything from props, costumes, and acting... to wands and Nifflers!"
Through this audiobook, readers have the chance to learn all about how the Fantastic Beasts crew created a magical version of 1927 Paris on a studio backlot in outer London, from how they designed the wands to all the hidden details and artistic references included in every shot. If there were a Hogwarts class on movie-making magic, this would be it.
"This genre-bending production is truly an audio first, blending Dan Fogler's warm comic performance with real-life documentary recordings captured on the set of one of the most anticipated films of 2018," said Senior Commissioning Audio Editor at Pottermore Publishing, Ravina Bajwa. "We are thrilled to be working with the Audible Originals team who have brought creative flair and expertise in original audio storytelling, in order to create a one-of-a-kind sensory experience of life on a film set."
The audiobook is being released exclusively by Audible on November 16th to coincide with the movie's theatrical release. But if you want to up your Potter game, you can pre-order it now so it will be ready for you to listen to the second you get out of the theater.