Florida's Secretary Of State Officially Ordered A Recount For Three Major Races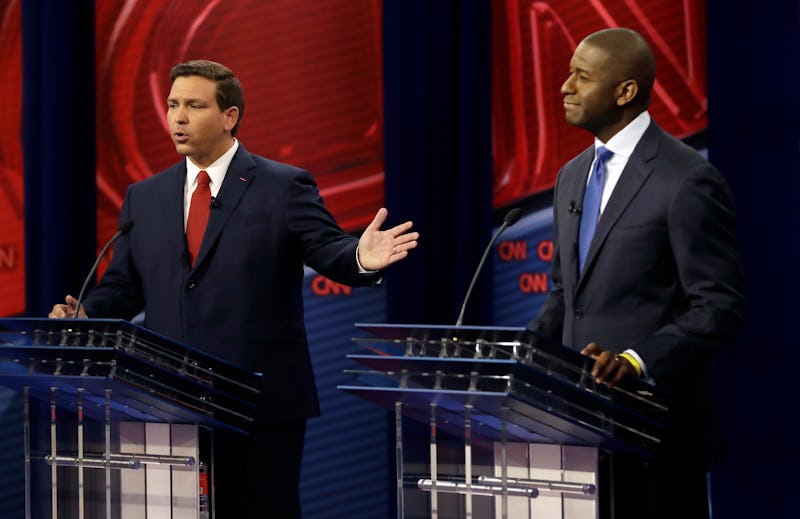 Pool/Getty Images News/Getty Images
After days of contentious quarreling over slow counts and razor-thin margins, a recount has been ordered in Florida. Ken Detzner, Florida's secretary of state, ordered machine recounts on Saturday for three statewide election races, the Associated Press was among the first to report. County election officials will now begin recounting votes to confirm the results of Florida's U.S. Senate race, gubernatorial race, and agricultural commissioner race.
According to CNN, unofficial results reported from all of Florida's 67 counties showed narrow margins in two key races as well as a razor-thin margin in the state's race for agriculture commissioner. In the race for Florida's U.S. Senate seat, unofficial results gave Republican Gov. Rick Scott a 0.15 percent lead (that translates to roughly 12,500 votes) over Democratic Senate incumbent Bill Nelson. In the state's gubernatorial race, Republican Ron DeSantis held a .41 percent lead (equalling roughly 34,000 votes) over Democrat and Tallahassee Mayor Andrew Gillum. And in the state's election for its next agriculture commissioner, Democrat Nikki Fried held a .06 percent lead (which translates to something like 5,300 votes, according to CNN) over Republican Matt Caldwell.
Under Florida state law, a machine recount is mandatory when the margin between candidates is reported to be at or below 0.5 percentage points.
If the results of any of the recounts ordered Saturday are reported to have a margin at or below .25 percent, a second recount, this time done by hand, will be ordered, The Orlando Sentinel reported. And if a second recount is needed, Florida will not see election results until Nov. 18, according to the Sentinel.
Scott's campaign urged Nelson to concede and opt out of a recount shortly after the state's unofficial results were announced. "It's time for Senator Nelson to accept reality and spare the state of the Florida the time, expense, and discord of a recount," CNN reported Scott spokesman Chris Hartline said.
Nelson, however, ignored that call, releasing a statement welcoming the recount shortly after it was ordered by Florida's secretary of state. "Since Tuesday, the gap [between me and Scott] has shrunk from roughly 60,000 votes to about 12,500 — the margin has reduced by 78 percent and is now roughly .15 percent," Nelson said in a statement Saturday. "We have every expectation the recount will be full and fair and will continue taking action to ensure every vote is counted without interference or efforts to undermine the democratic process."
The Senate incumbent also expressed hope that the recount would reverse his opponent's narrow lead. "We believe when every legal ballot is counted we'll win this election," Nelson said.
As votes continued to be counted in Broward and Palm Beach on Thursday, Scott alleged there was "rampant" election fraud but refrained from providing any evidence to support his claim. He called for an investigation and accused liberal activists and lawyers of attempting to steal the election. President Donald Trump has echoed Scott's accusations and appeared to imply that Broward County election officials were falsifying votes for Democrats.
"Rick Scott was up by 50,000+ votes on Election Day, now they 'found' many votes and he is only up 15,000 votes," Trump tweeted Friday. "'The Broward Effect.' How come they never find Republican votes?"
County election officials all across Florida will have until 3 p.m. local time Thursday to conduct a machine recount.