This Florida Senate Race Is Getting Even More Heated Days After The Election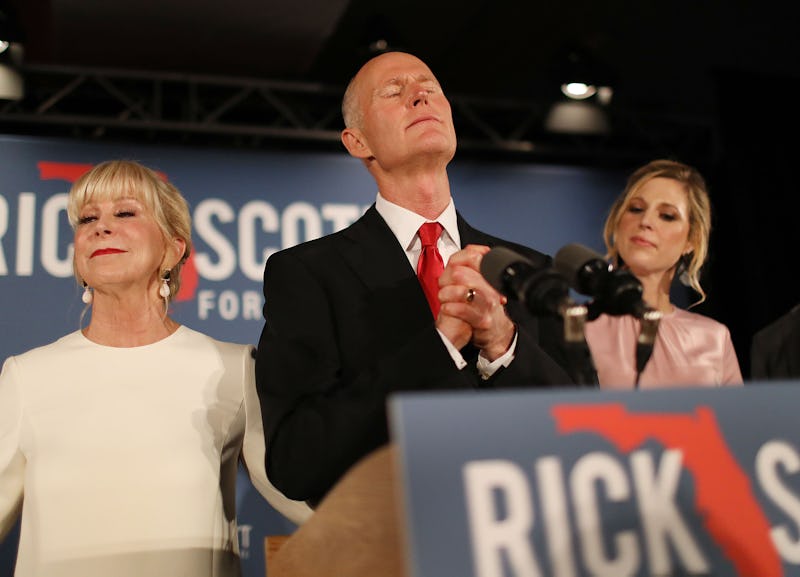 Joe Raedle/Getty Images News/Getty Images
For most states, the 2018 midterm elections are over. Ballots were cast, votes were counted, and winners have been named. In Florida, however, votes are still being counted days after polls closed. What's more, a key Florida race may be barreling toward a recount as the state's Republican candidate for Senate alleged "rampant fraud," filed a lawsuit, and called for an investigation when his lead shrank. Now, even President Donald Trump and Sen. Marco Rubio are weighing in on this update to the Florida Senate race.
"Law Enforcement is looking into another big corruption scandal having to do with Election Fraud in #Broward and Palm Beach," President Trump tweeted Thursday, adding, "Florida voted for Rick Scott!"
While the president didn't provide evidence to support his claims of corruption or election fraud, he's sort of right about one thing — some of Florida did vote for Republican Gov. Rick Scott.
In Florida's Senate race, Scott holds a 0.18 percent lead over Democrat and Senate incumbent Bill Nelson as of Friday morning, according to the Tampa Bay Times. But Scott's lead boils down to just over 15,000 votes, Steve Bousquet at the Times reports. Meanwhile, early and mail-in ballots are reportedly still being counted in Broward County, which leans strongly Democratic. What's more, mailed ballots were reportedly still being counted in Palm Beach County as of late Thursday — another more Democratic area. And as those counties report in over the past few days, Scott's lead has shrunk.
On Thursday night, Scott called for an investigation, alleging liberal activists and lawyers were attempting to steal the election.
"Every Floridian should be concerned there may be rampant fraud happening in Palm Beach and Broward counties," Scott said in a televised statement that fell short of offering explicit evidence to support his claim, a local ABC News affiliate reported. "Every day since the election, the left-wing activists in Broward County have been coming up with more and more ballots out of nowhere. We all know what is going on."
Scott went on to imply that Broward County officials were falsifying votes in an effort to give the election to Democrats.
"Their goal is to mysteriously keep finding more votes until the election turns out the way they want," he said. "Tonight, I am asking the Florida Department of Law Enforcement to investigate this immediately. No ragtag group of liberal activists or lawyers from D.C. will be allowed to steal this election from the voters of this great state."
He and the National Republicans Senatorial Committee have filed a lawsuit against Broward County Supervisor of Elections Brenda Snipes and Palm Beach Supervisor of Elections Susan Bucher, alleging they violated federal and state laws in not providing information to officials, NBC News reported.
When pressed by Local 10 News reporter Jeff Weinsier as to why it's taken Broward County so long to count votes, Snipes pushed back on criticism comparing Broward to other counties. She said her office was counting "five pages or six pages for each of the people who voted" and that "other counties didn't have 600,000 votes out there."
"We ran 22 sites, we ran 14 days, we ran 12 hours, we had a big vote by mail," she said, per Local 10 News. "So don't try to turn it around to make it seem like I'm making comedy out of this."
Bustle reached out to both the Broward County Supervisor of Elections office and the Palm Beach County Supervisor of Elections office for comment.
Nelson, Scott's opponent in Florida's Senate race, called the move desperate and politically motivated. "The goal here is to see that all the votes in Florida are counted and counted accurately," he tweeted on Thursday evening. "Rick Scott's action appears to be politically motivated and borne out of desperation."
This isn't the first time Snipes has found herself at the center of an election controversy. Earlier this year, a judge ruled that she violated federal and state laws in 2016 when she authorized the destruction of ballots too soon, according to The Sun Sentinel.
Sen. Marco Rubio has also appeared to imply Democrats are attempting to meddle with Florida's election results in an ongoing Twitter thread he started Tuesday. "Now democrat lawyers are descending on #Florida," he tweeted Thursday. "They have been very clear they aren't here to make sure every vote is counted. — They are here to change the results of election; & — #Broward is where they plan to do it."
The Republican senator criticized the county for failing to complete its early voting counting in the same timeframe as other counties.
Yet, Florida's Senate race isn't the only race happening in the state in which winners are being decided by incredibly thin margins — leading to speculation that there may be multiple recounts in the state. In the state's race for governor, Republican Ron DeSantis leads Democrat Andrew Gillum by 0.44 percent, as of late Thursday according to the Tampa Bay Times. In the race for the state's role of agriculture commissioner, Democrat Nikki Fried holds a lead of just 0.04 percent over Republican Matt Caldwell as of late Thursday, the Times reported. Victories don't get much closer than that.