A Former Nazi Guard Was Deported After Living In NYC For Decades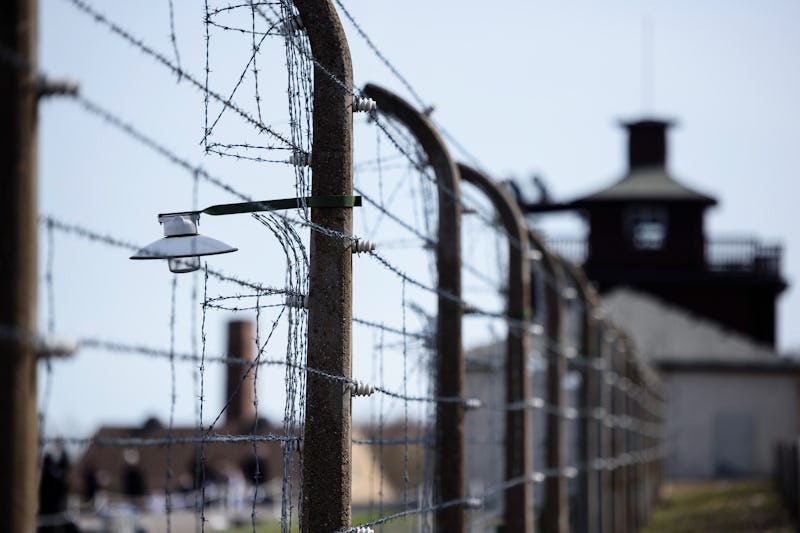 Jens Schlueter/Getty Images News/Getty Images
Jakiw Palij, a 95-year-old former Nazi concentration camp guard, was deported by the United States to Germany, the Justice Department confirmed on Tuesday, Aug. 21. Decades after lying to U.S. immigration officials in order to enter the country and gain citizenship shortly after World War II, Palij reportedly admitted to the Justice Department in 2001 that he worked at the Trawniki Labor Camp in German-occupied Poland in 1943, the site of one of the largest mass killings of the Holocaust. Two years later, his U.S. citizenship was revoked and a judge ordered his deportation.
"The United States will never be a safe haven for those who have participated in atrocities, war crimes, and human rights abuses," Attorney General Sessions said in a statement released on Tuesday. "Jakiw Palij lied about his Nazi past to immigrate to this country and then fraudulently become an American citizen. He had no right to citizenship or to even be in this country."
After living in New York City for decades, Palij was sent back to Germany by U.S. Immigration and Customs Enforcement this week. He claimed in court filings that he and other young Polish men were coerced into working in the Nazi camp, CNN reports. The U.S. government maintained that lying about his Nazi past was grounds for removal — but until now, no European countries wanted to take him.
Palij was essentially allowed to stay in the United States for so long because of a diplomatic struggle over which country should take responsibility for his actions. Poland and Ukraine refused to take Palij because they believed it was Germany's responsibility, while Germany said his alleged crimes took place on foreign soil, The Guardian reports.
Born in a part of Poland that's now in Ukraine, Palij arrived to the United States in 1949. He "concealed his Nazi service" by telling U.S. immigration officials that he was working on his father's farm and then in a German factory during the war, according to the Justice Department's statement.
But in 2001, he apparently admitted that he had trained at the Trawniki Labor Camp. Roughly 6,000 Jewish prisoners were shot to death at Trawniki on Nov. 3, 1943, the same year Palij told investigators he worked at the concentration camp.
"By helping to prevent the escape of these prisoners during his service at Trawniki, Palij played an indispensable role in ensuring that they later met their tragic fate at the hands of the Nazis," the Justice Department's statement reads.
Eli Rosenbaum, dubbed the Justice Department's resident Nazi hunter, and his team worked on Palij's case for years. He was ultimately the 68th Nazi removed from the United States, according to the Justice Department, as well as the Office of Human Rights and Special Prosecutions' only active case from World War II.
Another alleged former Nazi guard, John Demjanjuk, was deported by the United States to Germany in 2009, where he was found guilty of taking part in the murders of 28,000 people at a concentration camp in German-occupied Poland. Demjanjuk died at a nursing home in Germany in 2012.
"Nazi war criminals and human rights violators have no safe haven on our shores," said Homeland Security Secretary Kirstjen Nielsen in the Justice Department's statement.