A Teacher Raised So Much Money For A Gay Valedictorian Kicked Out By His Parents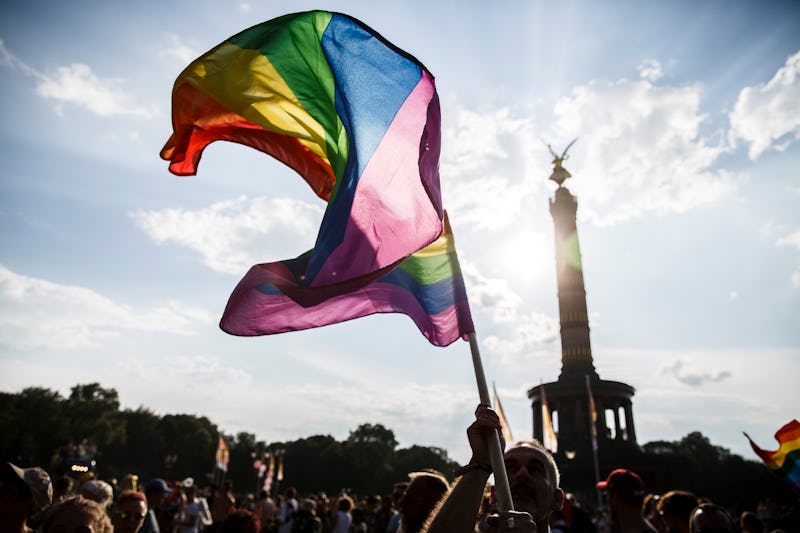 Carsten Koall/Getty Images News/Getty Images
Most everyone knows that college tuition isn't something you can scrap together with the change in your piggy bank. It's expensive. Florida teen Seth Owen found this out the hard way when his parents rejected him for being gay and wouldn't pay for his tuition to Georgetown University. Luckily for Owen, he had another adult in his corner. One of his high school teachers raised over $100,000 to help the gay valedictorian achieve his dream of attending college.
Owen is a self-proclaimed "nerd," he told NBC News. The 18-year-old Floridian said he'd worked his whole life to get into a good school. After being accepted at Georgetown University, he thought all his hard work was paying off — until he hit a barrier. His financial aid package was based on his parents' income and their expected contribution to his tuition. Because of that, Georgetown determined he owed the college $20,000 to attend for the first semester, The Belleville News-Democrat reported.
But Owen's parents weren't going to support him. The teen had moved out of his parent's home in February because they didn't accept him being gay and were pushing their Southern Baptist church on him. Owen told NBC News that his parents' church made offensive statements about LGBTQ community members and transgender people. He tried to compromise with his parents and asked if he could attend a different church, but they said no, giving him an ultimatum: He attend their church or leave home.
"The worst part was I was packing my bags, and I was walking out the door, and I was hoping that my mom would stand in my way," Owen told NBC News. "I was hoping that she would say 'I love my child more than I love my religion."
But Owen had another adult looking out for him. Jane Martin, his biology teacher and a mentor of his, set up a GoFundMe page on Owen's behalf back in June to help him patch together enough money for the tuition.
"Earlier this year — after a year of attempted conversion therapy — Seth's parents gave him an ultimatum. He would either continue to attend the church that outwardly attacked him and his sexual orientation or he would need to leave home. For his own well-being and safety, Seth chose the latter," she wrote on the page originally, according to the Belleville newspaper.
Although Martin originally set the goal of the initial $20,000 it would take for Owen to attend Georgetown for the semester, the GoFundMe page raised nearly six times its goal — nearly $116,940 as of Thursday afternoon.
Martin and Owen posted on the crowd-funding page this week to express their gratitude for the community support of Owen's cause. "I simply cannot say thank you to you all enough," Owen wrote on the page. "My dreams have come true because of you all."
He also noted that though he received an outpouring of support, there are still many marginalized members of the LGBTQ community his corner of Florida and the rest of America.
"Your passionate response to my situation reassures me that Jacksonville (and our country) will not tolerate injustices towards the LGBTQ+ community," Owen wrote. "Since this story became public, I have had numerous people reach out to me and say that they are going through similar situations. Unfortunately, this is still a problem in Jacksonville (and across the country) for many people, not just me. So, I ask that you all continue to be allies in whatever capacity, not just for the LGBTQ+ community, but for all marginalized groups."
But Owen wants to do more than just say thank you. He told the local news station WJXT that when he grows up, he wants to be a defense attorney for teenagers like himself.