The FDA Just Approved A Generic, Potentially Cheaper Version Of The EpiPen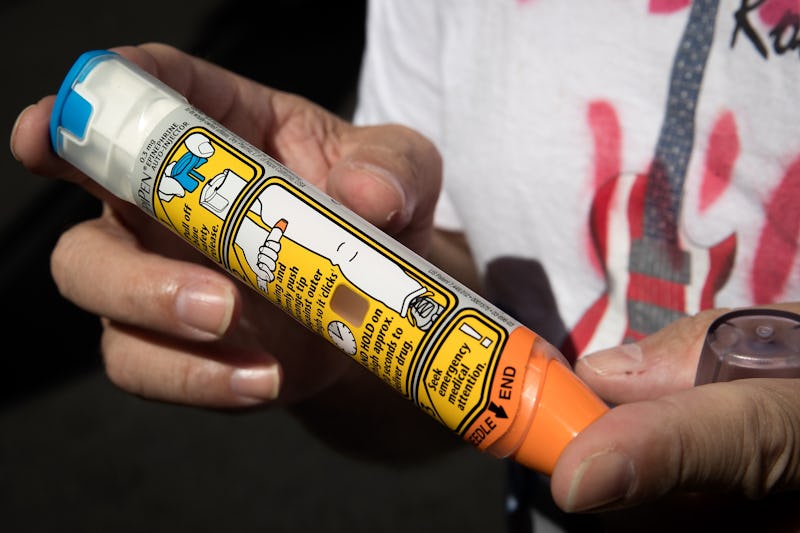 Drew Angerer/Getty Images News/Getty Images
People with severe allergies could see some financial relief soon. A generic EpiPen was just approved by the FDA, and it could make this lifesaving medication cheaper and more accessible. The EpiPen is an auto-injector that injects the hormone epinephrine into the thigh to treat allergic reactions, like bee stings or nut allergies, on an emergency basis. It can be a lifesaving device because it quickly reduces the swelling in a person's airway, reports The New York Times. But the device has been less-than-accessible in recent years after Mylan purchased the rights to it in 2007, raising the price from less than $100 to more than $600 for a set of two injections, says The Times.
Now there's hope for a cheaper option. According to Time magazine, on Thursday the FDA approved the Teva Pharmaceutical Industries Ltd.'s generic EpiPen and EpiPen Jr. for sale. "This approval means patients living with severe allergies who require constant access to lifesaving epinephrine should have a lower-cost option, as well as another approved product to help protect against potential drug shortages," FDA Commissioner Scott Gottlieb said in a statement to Time. This comes after Teva Pharmaceutical's application for a generic EpiPen was originally rejected by the FDA in early 2016, right before Mylan's price increase made headlines, says CNBC.
How much money will the generic save? There's no telling just yet. NPR reported that Teva Pharmaceuticals has not announced how much it plans to charge for their version of the EpiPen, so it remains to be seen whether we'll see any cost-savings. Dr. Aaron Kesselheim with Brigham and Women's Hospital in Boston told NPR that "it isn't until you get more like four or five interchangeable generics on the market that prices fall by 50 percent or more. But, again, that's just an average number, so we'll see in this case."
NBC News reported that Mylan has created alternatives to the EpiPen in the past, including the Adrenaclick and the Auvi-Q, which are cheaper versions of their own EpiPen. But CNBC says they're not technically considered generics. And just because they were alternatives didn't make them any more accessible. Mylan faced shortages of the Adrenaclick, and many insurance policies don't cover the Auvi-Q, says The New York Times. Mylan then introduced its own authorized generic in 2016, says CNBC, but it still cost $300 for a two-pack. But, according to CNBC, Teva Pharmaceutical's version is the first direct generic copy of the EpiPen to get approval by the FDA.
According to The New York Times, Gottlieb talked during his Senate confirmation hearing about his plans to speed the approval of some generic products to lower drug costs. Gottlieb told The Times he was happy with the timing of the FDA's approval of the EpiPen generic. "It's a very important approval in advance of back-to-school season, when parents go out and buy these products."
But given that it's already back-to-school season, it's doubtful we'll see Teva's generic EpiPens hit pharmacies by the time school starts. Currently, a timeline for the product's release is unavailable, as is the projected cost. However, the fact that a generic option is coming is a big step in making a much-needed lifesaving drug much more accessible to the people who need it most.