A GOP Rep. Dismissed Alexandria Ocasio-Cortez As "This Girl" & She Set The Record Straight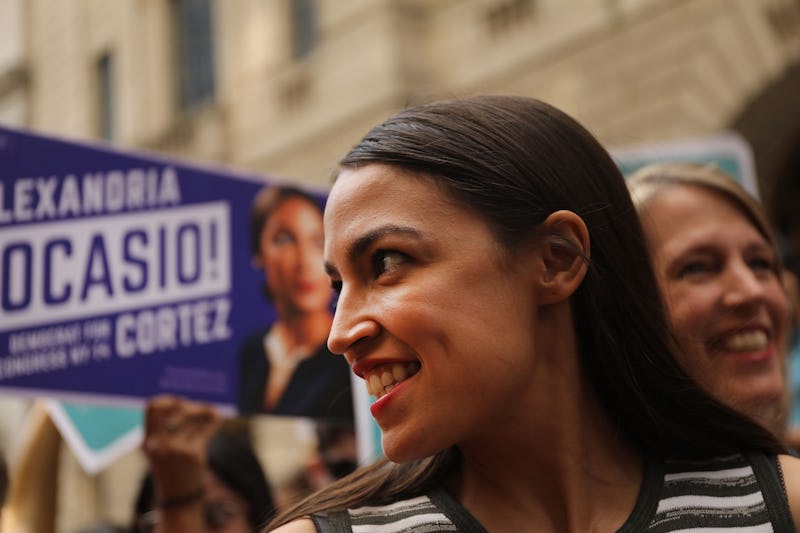 Spencer Platt/Getty Images News/Getty Images
It seems that many older, more established politicians just don't know what to do with newcomers to their field, especially when those newcomers are young women. Such appears to be the case for one Floridian politician who was caught on video disparaging a new Democratic breakout star from New York. In a video clip obtained by HuffPo, the GOP Rep. dismissed Alexandria Ocasio-Cortez as "this girl," prompting a swift rebuff from Ocasio-Cortez, herself.
"You look at this girl Ocasio-Cortez or whatever she is, I mean, she's in a totally different universe," Florida congressman Ron DeSantis said in the clip, which HuffPo reports was captured at a campaign event. "It's basically socialism wrapped in ignorance."
Though he is a congressman, DeSantis is currently running for the Floridian governorship. His website brags that he is endorsed by Donald Trump.
During his campaign event, DeSantis took a swipe at comments Ocasio-Cortez made about the Israeli-Palestinian conflict during an interview with PBS, wherein she described Israel's "occupation" of Palestine. Though she did use that word, she corrected herself several moments later, clarifying that she meant "the settlements that are increasing in some of these areas and places where Palestinians are experiencing difficulty in access to their housing and homes," the Independent reports.
"There's never been a Palestinian state. You're just repeating these canned, left-wing talking points, and you're somehow the savior of the Democratic Party? Good Lord," DeSantis said. "She has no clue what she's talking about."
When Ocasio-Cortez caught wind of what DeSantis had said about her, she responded on Twitter. Not holding back, the young newcomer told him exactly "whatever" she was.
"Rep DeSantis, it seems you're confused as to 'whatever I am,'" she wrote. "I am a Puerto Rican woman. It's strange you don't know what that is, given that ~75,000 Puerto Ricans have relocated to Florida in the 10 mos since María. But I'm sure these new FL voters appreciate your comments!"
A spokesperson for DeSantis tolled HuffPo that DeSantis was referring to "expanding on the importance of education." According to the spokesperson, DeSantis wants the Constitution to be more thoroughly taught in order to "prevent more socialists like Ocasio-Cortez calling for 'free' everything."
Ocasio-Cortez burst into the political mainstream in June, when she ousted Rep. Joe Crowley, a long-time Democratic mainstay who many expected to become speaker of the House if Democrats take back Congress in November. Ocasio-Cortez beat Crowley during a primary, and because she is running in a reliably Democratic district, she is widely expected to win in the general election. If she takes office, she will be the youngest woman ever elected to Congress.
She has made waves not only because she is a young woman, but also because she is notably left of the Democratic establishment. Her left-of-typical political standings have prompted debate and discussion among Democrats and Republicans alike, many of whom are stuck on her membership in the Democratic Socialists of America. But regardless of the hesitation, it appears many voters are embracing her ideals, especially if her success thus far is any indication.