A 'Gossip Girl' Reunion Isn't Out Of The Realm Of Possibility, So Ready Your Headbands
Scott Wintrow/Getty Images Entertainment/Getty Images
Get ready to dive back into the Upper East Side because a new Vanity Fair article came out in honor of Gossip Girl's tenth anniversary, and it gives fans behind-the-scenes info about the extravagant, privileged, and brunch-filled world that left TV screens back in 2012. This fall marks one decade since the CW show premiered, and the newly released article features commentary from the creators and the show's biggest stars about the start of the series, life on set, and the possibility of a Gossip Girl reunion or revival.
The show's creators and show runners, Josh Schwartz and Stephanie Savage, expressed their interest in returning to the show, and told Vanity Fair that they "could be persuaded [to revisit the world of Gossip Girl] if there were new stories to tell." Kelly Rutherford, who played Lily van der Woodsen, said she was "completely on board" if a revival were to happen, and Wallace Shawn, who played Blair's stepdad, Cyrus, said that he "would jump at it."
We know that two of the parents would be down for a reunion, but what about the kids? Leighton Meester, aka Queen B, employed the typical never say never approach that many actors use when confronted with the inevitable reboot question added that she could be down "if everyone was into it and if the timing was right..."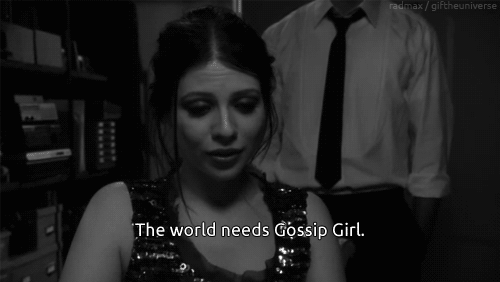 Serena van der Woodsen herself, Blake Lively, also expressed interest in the possibility of a reboot, and said, "Of course I'm open to anything that's good, that's interesting, and that sort of feels necessary... I imagine we would all [consider it]. I can't speak for everyone else, but we all owe so much to this show, and I think that it would be silly to not acknowledge that."
The other cast members who were interviewed for the piece didn't share what they think of a reunion. Notably, Penn Badgley declined to be interviewed for the article, and based on his past words about the show, it wouldn't be a surprise if he wasn't interested. As Refinery 29 notes, Ed Westwick said earlier this year in an interview with Radio Times that he didn't think enough time had passed yet. But, Sebastian Stan, who played Carter Baizen, told E! News he was in and thought he could get Jessica Szohr and Chace Crawford on board.
The first episode of Gossip Girl premiered way back in 2007 in a world very different from the one we live in now: Social media was still in its infancy, the Sidekick was the go-to phone, and Blake Lively was known only as the girl from the Sisterhood of the Traveling Pants movie. Fast-forward to today and while the iPhone may have replaced the Sidekick, the one thing that hasn't changed is the strong fanbase surrounding the show (even if people think it went off the rails at the end), especially since, asVanity Fair notes, the show streaming online has led to a new generation of viewers.
Plus, the revival of old TV shows is very in right now; the Full House revamp Fuller House is already two seasons deep, the highly-anticipated Will and Grace reboot is set to debut this fall, and Gilmore Girls received a highly-anticipated reboot in late 2016. The environment is perfect for a Gossip Girl revival and several fans of the show have expressed their desires for a reunion:
Gossip Girl seriously needs to make a reunion series. I need Serena and Blair back in my life.😩

— Shauna Mackey (@Mackey_Shauna) August 28, 2017
It's almost been 10 years since Gossip Girl first aired its time for a reunion :')

— j (@jala_carter3) July 18, 2017
There 100% needs to be Gossip Girl reunion season 😩

— ellie (@EllieJackson31) June 29, 2017
The list of rebooted fan-favorite TV shows grows longer each day, but could we see Gossip Girl added next? The 10-year anniversary is bringing the show back into the spotlight and with some of the cast members and creators expressing interest in returning to the Upper East Side, it could really happen.