Hidden Valley Ranch Just Launched A Merch Line So You Can Dress-ing In Style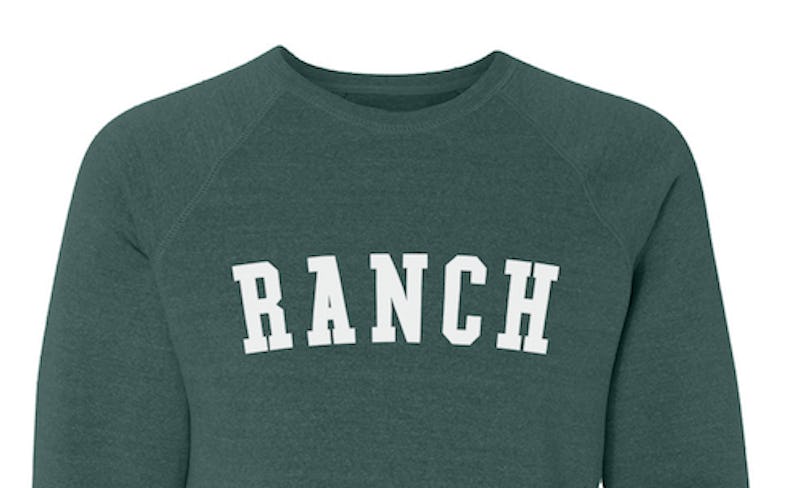 Courtesy Hidden Valley Ranch
Two of the biggest parts of the holiday season are dressing up and chowing down — and this is the perfect attire for both. Hidden Valley Ranch has a new merch line filled with sweatshirts, socks, and even some holiday items. That's right. You can have your dressing and wear it too — without having stains all down your clothing.
This year has been one for the most unexpected of merch. There's been the instantly infamous snake rings from Taylor Swift and even a "Finger Lickin' Good" necklace from KFC. Now, even the condiments are getting involved in the merch madness. With the newest extension of the Hidden Valley Ranch OUTlet, the brand's not holding back in the slightest.
The clothing section of the merch line is completely wearable. There's the simple, sweet, and to the point "Ranch" sweatshirt that will quickly be a personal fave. There's also slippers, socks, and a throw blanket available starting Nov. 6 on the Hidden Valley website.
But if you're looking to get in the holiday spirit, the "ugly" holiday sweater is the one for you. The red sweatshirt is made to look like an embroidered holiday sweater starring a bottle of Hidden Valley Ranch on the front.
"The Hidden Valley Ranch sweater was really inspired by our fans. We see them on social media creating their own Hidden Valley themed fashion — from accessories to costumes and more," Jacqueline Klein, brand leadership for The Hidden Valley Food Products Company, tells Bustle. "So with the upcoming season, we wanted to provide a festive sweater to help ranch lovers get in the holiday spirit."
On top of all that, there's also some incredible home wear items. There's everything you could possibly need for a ranch-filled holiday. I'm talking jeweled ornaments, a $50 studded bottle of dressing, and even a three-tier fountain so that your condiment can be fancy af.
The clothing, however, is definitely the star of the Ranch OUTlet Collection. Here's a look at all the wearable designs, so you can get your holiday shopping in order. Whether you're adding them to your wish list or stocking up for another ranch lover in your life, you can't go wrong.
1. Ranch Sweatshirt
Minimalist yet trendy all at the same time. It's just one word, but the color scheme makes it clear that it's Hidden Valley. Some people wear their school colors. Other sport their favorite dressing.
2. Patterned Socks
These socks are so on-trend that I don't know why someone didn't think of this sooner. It's the perfect way for anyone to get involved with the line while still being subtle about their love of ranch.
3. Slippers
What better way to stay warm than with a bottle of ranch? You know, on your feet. I don't know. But I do know that these are the best gift for a dressing lover.
4. Graphic Socks
I'm not sure if this is a play on Drake's album or not. Either way, there's no better way to send a subtle hint of needing snacks while you're launging around the house.
5. Ranch Christmas Sweater
This is without a doubt the biggest hit of the Ranch OUTlet Collection. Everyone needs a good holiday sweater, and now you can wear your love for the dressing on your sleeve without making a mess.
6. Throw Blanket
No matter how you love to eat your dressing, odds are it's on this blanket. Plus you can cuddle up with your favorite foods.
7. Ranch Fountain
This isn not a drill. You can have a fountain of ranch at your next holiday party. Praise.
Bottom line: It's a ranch world. You're just living in it.