A High-End 'Candysmith' On Why You Should Eat…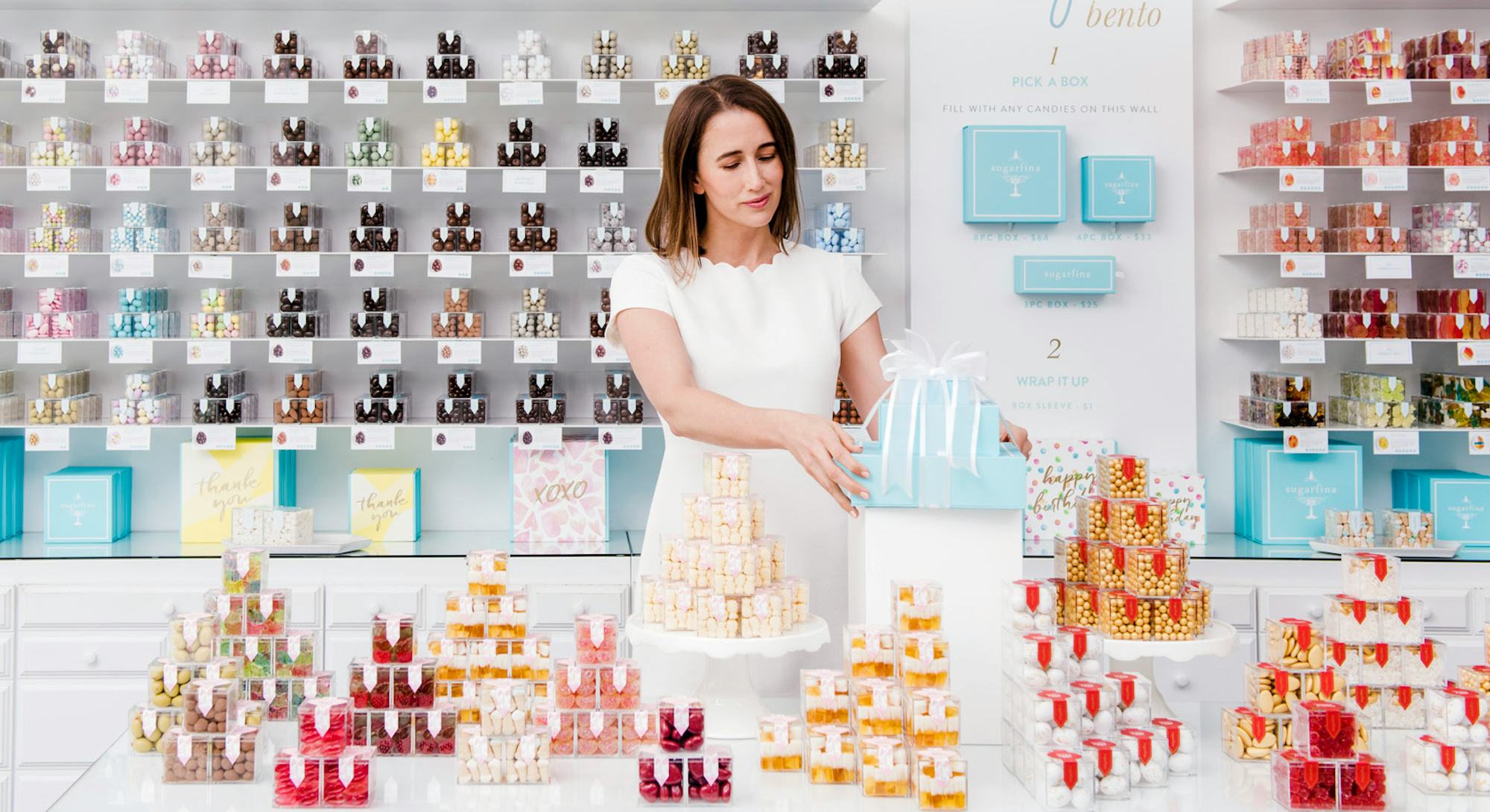 When I went through my first major breakup, my best friend showed up at my apartment with everything necessary to heal a broken heart: wine, chick flicks, and grown-up candy that offered hilarious words of wisdom. It was Sugarfina's Love Bites Bento Box. And let me tell you, as a newly single lady, there was nothing more satisfying than eating delicious sweets that also happened to be pig-shaped, "men are pigs"-themed gummies.
Enter Rosie O'Neill, the brains behind the best breakup gift ever, and the chicest candy shop in the world. Sugarfina, a modern-day, high-end Candy Land for adults is, ironically enough, based on a love story. Rosie and her now-fiancé Josh Resnick developed the idea after watching Willy Wonka & The Chocolate Factory on their third date. They wanted to bring the magical feeling from the movie to life after realizing the candy industry lacked one thing: a shop for grown-ups. So after a few years of treating it as a back-burner project, they quit their day jobs and launched Sugarfina, a luxury candy boutique.
In collaboration with Juicy Couture's Viva La Juicy Sucré fragrance, we got the chance to hang out with Rosie at Sugarfina's flagship store in Beverly Hills. Just like her shop, Viva La Juicy Sucré is perfect for a girl who loves to indulge her sweet tooth. This scent is a delicious combination of floral and sweet –– and it even comes in cupcake-shaped base. Inspired by the fragrance, we learned the ins and outs of Rosie's candy empire, and why she always eats dessert first.
BUSTLE: Aside from Willy Wonka & The Chocolate Factory, what else inspired you to start Sugarfina?
Rosie O'Neill: "Traveling! Josh and I travel all the time and we would go to these little towns and villages and discover these really cool candies that were only sold in that region of the world. We'd meet with the candy makers who used recipes that had been passed down from generations of candy makers. Eventually, we convinced them to sell to us in the United States and we'd repackage them in our pretty little cubes and boxes. Now that we're bigger, we come up with a lot of our own recipes and have them make it for us."
BUSTLE: Are there any specific countries that you look to for specific types of candy?
Rosie O'Neill: "Yes! Germany really is the best place for gummy bears, and we have some really great chocolate makers there, too. And we recently started making chocolate bars right outside of Paris. Our licorice-based candies are sourced from Scandinavian countries, and a lot of our fruit-flavored candies come from Greece and Italy. They have amazing fruits growing in that region like black cherries and blood oranges."
BUSTLE: How did you establish the brand's visual aesthetic?
Rosie O'Neill: "The blue in the store and in the packaging was inspired by David Hockney's swimming pool series. I actually matched it to one of the pools in his paintings because it's this crisp, fresh, perfect shade of blue. And because our candy is so colorful, I wanted the other dominant color to be white. That way you're focused on the candy and not so much on a Disneyland kind of design."
BUSTLE: You worked at Barbie prior to launching Sugarfina. Did that influence the visual aesthetic?
Rosie O'Neill: "Absolutely. I learned a lot about packaging, how people shop, and how they think. It was a really good training ground. And you eat with your eyes first. It taught me to think about visually inspiring someone before they even get to the product."
BUSTLE: What's been your biggest OMG moment?
Rosie O'Neill: "Last summer when we introduced and sold out an entire year's worth of Whispering Angel Rosé All Day Gummy Bears in two hours. We were air lifting containers of candy over from Germany, and every time we'd restock, we'd sell out again. We even had a 10,000-person waiting list!"
BUSTLE: Is that your best-selling candy?
Rosie O'Neill: "Our Dom Pérignon Champagne Bears, which are totally exclusive to Sugarfina, are actually our best-seller. And then pretty much anything cocktail-based like our Rosé All Day, Peach Bellini, Bourbon Bears, and Scotch Cordials. I think there is this emotional and powerful feeling when you do a mashup of something that is a grown up indulgence with something that's kind of a kid-at-heart thing."
BUSTLE: How did you come up with the bento box concept?
Rosie O'Neill: "We take a lot of inspiration from Japan. I loved the idea of a bento box because it really gives you that personalization factor. You have the ability to customize and design your own box and mix and match candy based on what you like. It's pristine and pretty and you don't have to shovel through a giant two-pound bag of candy."
BUSTLE: Has social media played a part in Sugarfina's success?
Rosie O'Neill: "Yes, Instagram in particular has been really great for us. It's such a visual product so it kind of lends itself to that type of format. And people go crazy styling the candy when they buy it. It's fun for us because it inspires us and gives us new visual ideas.
Photos: Julia Stotz; Hair & Makeup: Jen Winning; Art Direction: Jenna Wexler/Bustle
This post is sponsored by Juicy Couture Fragrances.