Disney Just Announced A 'High School Musical' TV Show So Get Ready To Return To East High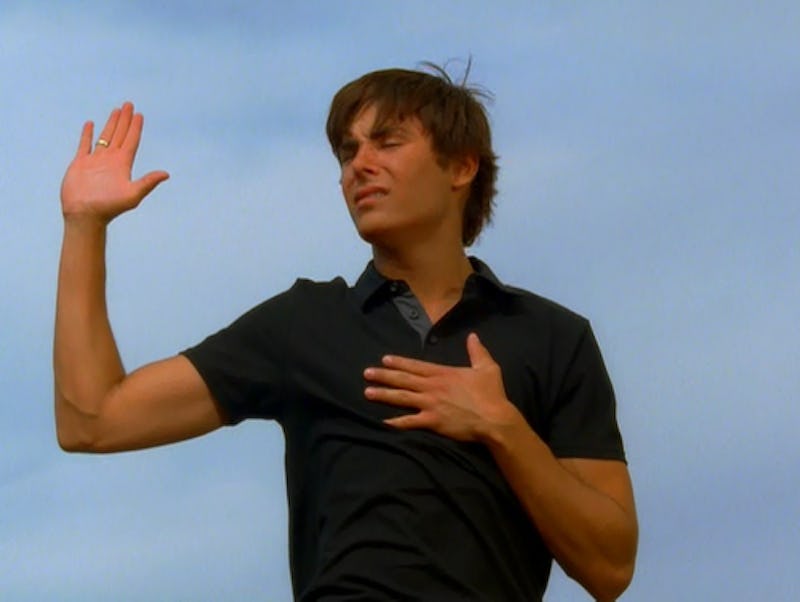 Disney Channel
Get your head in the game, High School Musical fans, because the Wildcats are about to be back in the house. On Thursday Disney announced a High School Musical television series that will premiere on their new streaming service launching in 2019, according to Variety. The first question of course is: Will Zac Efron's Troy Bolton, Vanessa Hudgens' Gabriella Montez, and the rest of the original class from East High be coming back? There aren't many details yet, but HSM has a huge following, so you can bet on it (bet on it) that fans will be tuning in, including those nostalgic for the biggest DCOM (Disney Channel Original Movie, duh) of all time.
The original High School Musical premiered a whopping 11 years ago and jumpstarted the careers of Zac Efron, now 30, and Vanessa Hudgens, now 28. It was followed by High School Musical 2 in 2007 and High School Musical 3: Senior Year in 2008, which premiered in theaters unlike the first two movies. It's one of the biggest Disney Channel franchises ever, so Disney's smart to capitalize on Wildcat fandom and launch a television series.
There have been rumors about a High School Musical 4 movie forever, and it's unclear whether the movie will come out before the show or how the two will tie together, if at all. Fans have been hoping for more Wildcat melodrama, though, and they went nuts and then were sorely disappointed when a fake trailer for HSM4 made the rounds on Facebook in August. The imagined HSM4 was called Once A Wildcat, and caught up with Troy, Gabriella, Sharpay, Ryan, Chad, and Taylor 10 years later before their reunion. Fans on Twitter were crushed when they realized it was fake:
Even though the trailer was fake, there will be a High School Musical 4, eventually; sadly, though, it won't feature Efron, Hudgens, Ashley Tisdale, Lucas Grabeel, or the rest of their pals. E! reported in 2016 that Disney announced a casting call for five new characters: a soccer player and the "bad boy" that she falls for, a soccer player/dancer; a cheerleader; a former queen bee; and a jock/theater kid, who is Ryan and Sharpay's cousin. That opens the door for Grabeel and Tisdale to return for the movie, if and when it ever happens.
But the originals are pretty unlikely to come back for the movie or the TV show. Hudgens told E! News earlier this year that she wouldn't be coming back for a movie, even though she's "still a teenager at heart." Tisdale also said no to reprising Sharpay, telling New You in 2016 that there was "magic there at the time," but she wouldn't want to try to recreate it. And way back in 2008 with the premiere of HSM 3, Efron told MTV News he was ready to say goodbye and "go out with a bang."
But fans can take comfort in the fact that even though they're not coming back for a movie or a show, the original cast is still super close. They came together in 2016 for the 10-year reunion of the DCOM at a Los Angeles (except for Efron, who couldn't be there, but sent some heartfelt messages on video). They took plenty of selfies together to commemorate the event, which Grabeel and Monique Coleman posted on their Instagram accounts. They even showed off their class rings.
Coleman captioned her adorable group selfie: "Spent the morning with these babes reminiscing about the movie that changed all of our lives!"
So, even though they're (probably) not coming back to East High for the new show, it is true what Troy Bolton said in his graduation speech: Once a Wildcat, always a Wildcat.