Yes, A 'Hocus Pocus' Remake Is Coming To The Disney Channel To Put A Spell On You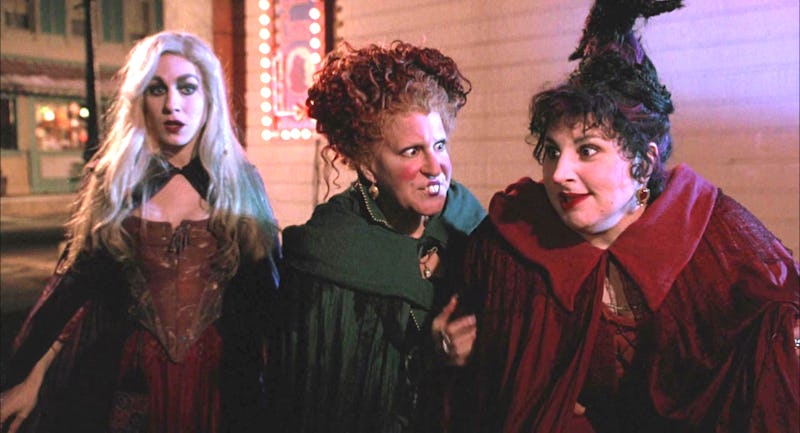 Buena Vista Pictures
This is no trick, and it's definitely a treat: a Hocus Pocus TV movie remake has been greenlit at the Disney Channel. The all-new movie, air date unknown, will be a "reimagining" of the cult classic that first spooked audiences in 1993. The updated version of Hocus Pocus will be written by Scarlett Lacey, a writer and producer best known for her work on dishy E! soap The Royals. David Kirschner, a producer on the original Hocus Pocus film, is set to produce. But, unfortunately, that's as much of the original flavor as fans can expect.
According to Deadline, the film will have an entirely new cast and a new director. That means Kenny Ortega, the man behind the original Hocus Pocus, the High School Musical franchise, and other massive Disney successes, is not going to be involved. Which seems a little strange. After all, he's an Emmy Award-winning director and choreographer; he even directed Michael Jackson's This is It concerts. Since the TV movie is still "in the early stages," as per Deadline, perhaps there's still time to bring in the original director.
This raises a major question, though: why is this even happening? The comedy-horror film was written for and released in theaters only 24 years ago. But it's a classic for a reason; it's scary, funny, frustrating, sexually frustrating — and more than a little outdated. Charmingly outdated, but still. So, is it wrong to remake Hocus Pocus as a Disney TV movie? Is it okay to have hope for its success? Of course it is.
The original film was produced by Walt Disney Pictures and distributed by Buena Vista Pictures, whose early logo you may recall from the intro to episodes of Winnie the Pooh. So, while the film handled some more "adult" subject matter, including the sexual activity (or lack thereof) of its main characters, it's always been somewhat kid-friendly. In fact, if you're going to watch a film in mixed company on Halloween, it's difficult to find one that's better than Hocus Pocus. Furthermore, while the Disney Channel can be synonymous with cheese, it's also churned out some decently spooky seasonal fare over the years. Anyone who says they watched Halloweentown II: Kalabar's Revenge without wincing the first time is not to be believed.
With a woman writing the film, the original production company, and a producer from the film's first version on board, it's unlikely that the flick will bomb. So many tune in to watch Hocus Pocus on Disney or Freeform every year; there's no way Disney would let someone tarnish the film's legacy.
On the other hand, what's Hocus Pocus without Kathy Najimy's goofiness, Sarah Jessica Parker's vanity, or Bette Midler in general? Can a haunting rendition of "I Put A Spell On You" be the same without her? Will the "Come Little Children" song be as creepy as the original, if remade for a Disney channel audience? It's not crazy to worry about these things. (Whether Max Dennison — or the equivalent of his character — will keep rocking a tie-dye T-shirt is also crucial.)
Beyond the writer, one producer, and the fact that it's happening, there's very little detail about the remake. Hopefully, the closer the world inches to All Hallow's Eve, the more information Disney Channel be able to reveal. And, despite their plan for an all-new cast, it would be a fun throwback to summon the Hocus Pocus stars of yore for cameo roles. After all, just because they're not starring in it doesn't mean they can't direct the new cast in making the remake as great for old fans as it will be for new ones.