A House Ban On Headwear Might Be Lifted As Congress Welcomes Its First Muslim Women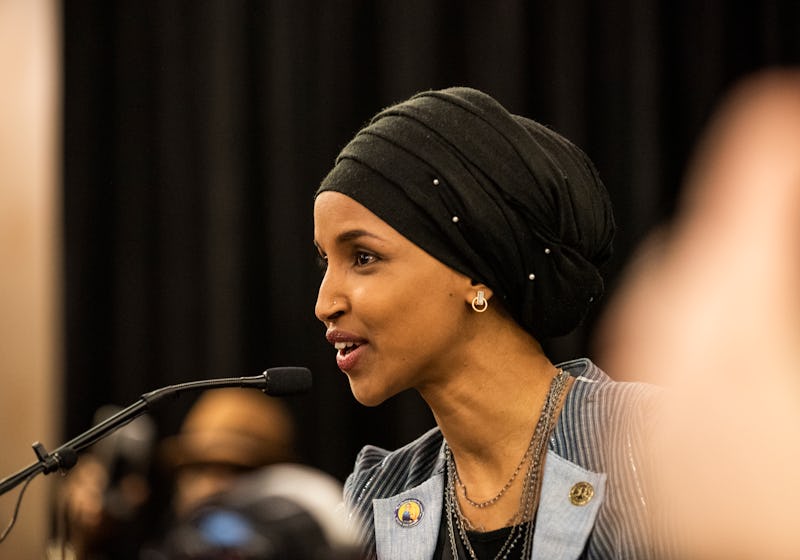 Stephen Maturen/Getty Images News/Getty Images
Since September 1837, a House ban on head coverings has prohibited any person from wearing hats, headscarves, or any other type of headwear on the floor while the House was in session. But as Congress prepares for its first ever Muslim women representatives, one of whom wears a headscarf, a group of Democrats are working to implement a religious exception to the rule.
Democrats won back their majority in the House in November's midterm elections. After their victory, they unveiled a draft list of proposed rule changes, including one change that would lift the headwear ban with regard to religious head coverings, including headscarves, according to multiple reports. The proposed headwear rule change was written by Rep. Nancy Pelosi, Rules Committee ranking Democrat Rep. Jim McGovern, and congresswoman-elect Ilhan Omar, who wears a headscarf, according to The Washington Post.
The draft document, published by the Post, describes the rules package as a proposal that "emphasizes diversity and provides an opportunity for all Americans to be included in this institution" including "ensuring Members and staff are permitted religious expression."
The rule change proposed by Pelosi, McGovern, and Omar specifically says they would seek to "clarify in the rules that religious headwear is permitted to be worn in the House chamber."
Omar tweeted about the proposed change on Saturday. "No one puts a scarf on my head but me. It's my choice—one protected by the first amendment," she wrote. "And this is not the last ban I'm going to work to lift."
During the midterm elections, Omar beat Republican Jennifer Zielinski in Minnesota in a race to represent the state's 5th Congressional District. Come January, she will fill Rep. Keith Ellison's seat. Previously, in 2016, she was elected a Democratic–Farmer–Labor Party member of the Minnesota House of Representatives, at which point she became the first Somali-American, Muslim legislator in the United States.
Omar joins Michigan' 13th Congressional District victor, Rashida Tlaib, who beat Detroit City Council President Brenda Jones, as the first Muslim women ever elected to Congress. On the campaign trail, she framed her bid for office as an opportunity to combat Trump administration policies, according to The Detroit News.
"This is the time that we get to vote out hate," she said several weeks ago, "and the way we do it is by electing people like us into places where we make decisions right now, to push back."
Trump's rhetoric regarding Islam and Muslims has long attracted ire. In December of 2015, for example, the Trump campaign posted a press release to its website which said that "Donald J. Trump is calling for a total and complete shutdown of Muslims entering the United States until our country's representatives can figure out what is going on." That press release was later removed from the website, and the page currently displays an "'error" message.
The president has been criticized many times over, however, for making similar statements or implementing related executive orders. This was especially true after he limited travel from several predominantly-Muslim countries, a move often referred to as his "travel ban" or his "Muslim ban," which faced widespread protest and several legal battles.
As for the proposed rule changes, they will be on deck for January, when the newest session Congress is scheduled to begin. At that point, House members will likely vote in favor of many, if not all, of the proposed alterations, given the Democratic majority. And if and when House members do decide to implement a religious exemption from the headwear ban, they will be sending a message of both tolerance and support for freedom of expression.