Judge Resigns Following "Knees Together" Comment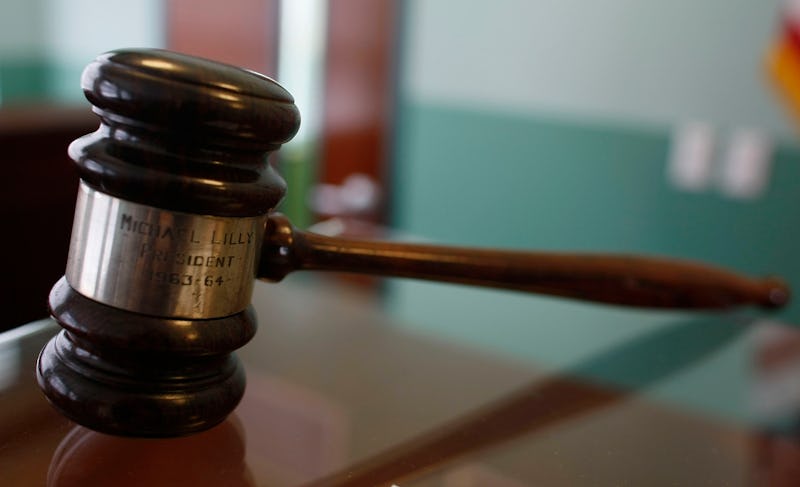 Joe Raedle/Getty Images News/Getty Images
Three years after he asked an alleged victim of sexual assault why she didn't keep her knees together to avoid being raped while presiding over the woman's trial, Canadian Federal Court Justice Robin Camp has resigned following an investigation by a disciplinary council. The Canadian Judicial Council recommended Judge Camp be removed from the bench earlier this week after concluding his comments epitomized victim blaming and negative stereotypes about women. What makes this story so infuriating, however, is that Camp's resignation took three years – and the threat of removal – despite the blatant bias of his remarks.
"We find that the Judge's conduct... was so manifestly and profoundly destructive of the concept of impartiality, integrity and independence of the judicial role that public confidence is sufficiently undermined to render the Judge incapable of executing the judicial office," the Canadian Judicial Council said in a report on their probe into Judge Camp's comments. The council found Camp "relied on discredited myths and stereotypes about women and victim-blaming during the trial and in his Reasons for Judgment" and "made comments or asked questions evidencing an antipathy toward laws designed to protect vulnerable witnesses, promote equality, and bring integrity to sexual assault trials."
In September 2014, Judge Camp, then a provincial court judge, acquitted a man accused of raping a 19-year-old woman over a bathroom sink at a house party. Throughout the trial he referred to the woman as "the accused" and suggested she could have avoided being raped. "The accused hasn't explained why she allowed the sex to happen if she didn't want it," a transcript of the trial shows Judge Camp said at one point.
Camp went further to imply the woman didn't do enough to deter her alleged attacker. "Why couldn't you just keep your knees together?" he asked the woman. Camp also asked why the woman didn't skew her pelvis or lower her bottom into the sink to avoid being penetrated. At one point Judge Camp told the accuser "some sex and pain sometimes go together... that's not necessarily a bad thing."
Numerous complaints over Camp's remarks led to the Canadian Judicial Council to order an inquiry committee to look into the matter in September 2016. The woman Camp's comments targeted reportedly told the committee his questions had caused her to contemplate suicide. "He made me hate myself and he made me feel like I should have done something… that I was some kind of slut," the Guardian reported the woman said during hearings held by the inquiry committee.
At the time, Camp said his comments derived from "unconscious bias" and claimed he had taken it upon himself to speak with a psychologist and a sexual assault law expert in an attempt to educate himself on sexual assault laws and discriminatory attitudes. The council, however, found Camp's re-education efforts "could not adequately repair the damage caused to public confidence."
Camp resigned Thursday, issuing a brief statement in which he apologized "to everyone who was hurt by my comments."
The Alberta Court of Appeals later overturned Judge Camp's ruling in October 2015 and ordered a new trial, which drew controversy all its own when a defense attorney implied the accuser had consented to sex after she saw the size of the accused's penis. The accused was also acquitted in that trial.