Kim K & Kylie Jenner Might Be Releasing A Fragrance Together Soon — EXCLUSIVE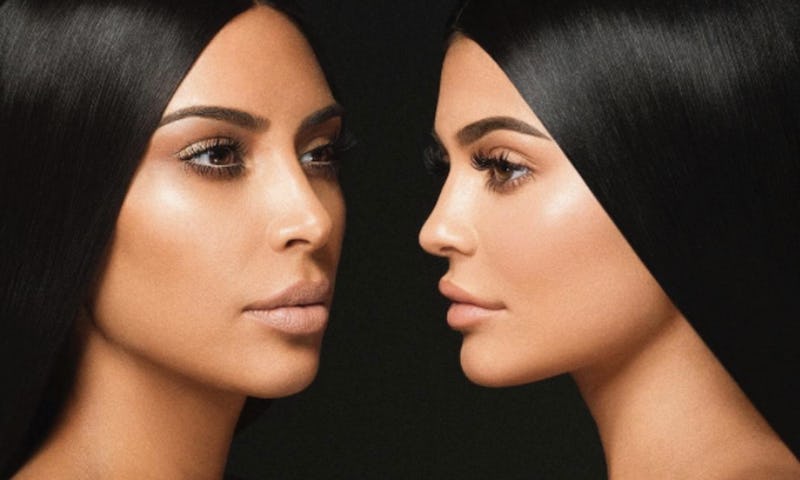 Courtesy Kylie Cosmetics
If you know anything about the Kardashians and Jenners, then you know that they work together pretty often. Kim Kardashian West and sister Kylie Jenner created a makeup line together through Jenner's Kylie Cosmetics in 2017, and now it seems they're working together again. Kardashian West tells Bustle that there is "something coming up" for KKW Fragrance — and that something just might have something to do with Jenner. Kardashian West, who just launched her newest scents for her KKW Fragrance line, says she is open to working with any of her sisters, but is particularly on the same page as Jenner when it comes to fragrance.
"Your senses aren't always the same as people around you...I think Kylie and I have a good similar nose," Kardashian West says. "She's not really involved in the testing process except for on my first crystal. I just couldn't decide between two notes, and she helped me pick that one. But I love surprising her because she always really likes the fragrance."
When asked if this means that a KKW fragrance collaboration with Jenner is in the works, Kardashian West hints that there is exciting news coming soon.
"I might have something coming up that I'm really excited about,f" Kardashian West says. "I don't want to give too much away, but I would definitely would collaborate with all of my sisters."
With her most recent launch of the new Kimoji scents, Kardashian West now has created nine individual fragrances — Crystal Gardenia, Kimoji Hearts, KKW Body, Kimoji Peach, Kimoji Cherry, and Kimoji Vibes.
The Kimoji fragrances in particular are all limited edition (as opposed to the Crystal Collection and KKW Body, which are permanent in the KKW Fragrance line), so the July 17 launch of the new scents is highly anticipated by fans. And if you're wondering how Kardashian West knows exactly which Kimojis she wants to make into scents, she says that was never a huge question in her mind.
"My main iconic emoji is a peach with cream dripping on it...I just thought it would be really fun to do lighter and fruitier fragrances and I actually made a cherry Kimoji because I just loved a cherry scent. I had one specifically drawn and made," Kardashian West says of choosing the Kimojis for this launch.
As for Vibes, which is a departure from the fruity vibe of the rest of the collection, Kardashian West says she wanted a non-fruit-themed scent to balance out the collection.
"I kind of wanted something maybe not as fruity, and I did the word bubble of vibes because I thought it just kind of funny to spray good vibes on you," Kardashian West says.
Part of the appeal of KKW Fragrance is that every launch is so wildly different. While the Crystal Collection was smooth, sleek, and subtle, the Kimoji line is playful, bright, and fun. The KKW Body scent was somewhere in between — combining the playfulness of making the bottle literally the shape of Kardashian West's body with a sleek, neutral color palette (much like the crystal line).
It's clear that KKW Fragrance is more about Kardashian West's brand itself than about creating a consistent, predictable brand of scents. And that's kind of the best part of it.
"The thing I love about fragrances is that, for me, I can basically have the freedom to do whatever I [want]," Kardashian West says of creating this particular KKW Fragrance collection.
It's hard to predict what a KKW Fragrance x Kylie Jenner Collaboration would look (and smell) like, but one thing's for sure — it seems like we'll all be finding out pretty soon.