This Kid-Lit Book Has A Powerful Punk Rock Message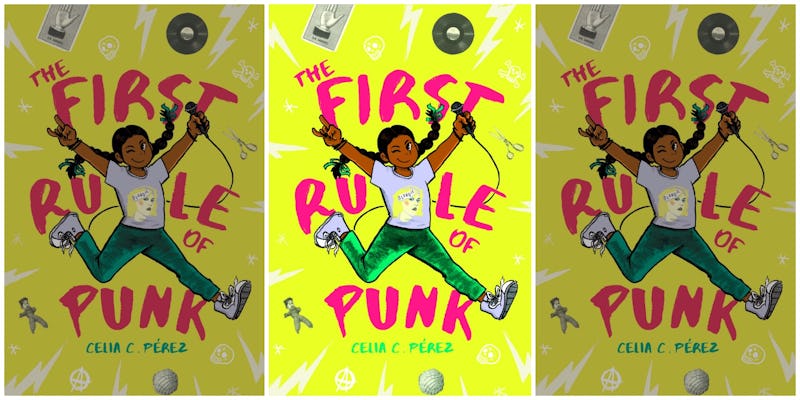 It's a truth of all serious book worms: sometimes we just can't resist reading books that are written for people... slightly... younger than us, a.k.a middle grade books. Especially when that book is a novel about a 12-year-old Latina girl who causes anarchy at her middle school when she forms a punk band. How much do you wish that were that kickass in middle school, am I right?
Celia C. Pérez's debut novel, The First Rule of Punk, is perfect for fans of Victoria Jameson's much celebrated Roller Girl graphic novel. In the same way that Roller Girl illuminates and explores the edgy and intense world of roller derby for middle grade readers, The First Rule of Punk does for the punk music scene.
The story follows 12-year-old Malú, who is surrounded by different generations of women. They give her a framework for exploring her identity as Mexican-American, a zine creator, a musician, and a young woman. It's sometimes hard for her to reconcile her many selves, and she often feels like she's disappointing someone. But she learns to let the first rule of punk ("be yourself") guide her. The story is extremely relatable and creatively inspiring, with a voice that is equal parts witty and sharp. Interspersed with Celia C. Pérez's handmade zines, it will leave readers of all age groups with a desire to express themselves fully through art.
Bustle is proud to present the cover for The First Rule of Punk. Take a look:
The First Rule of Punk by Celia C. Pérez, $17, Amazon
Another insanely cool aspect of this book? Latinas make up the entire core creative group behind the project, from the author to cover illustrator Kat Fajardo, even including both agents and the book's editor. To say that seeing a group comprised entirely of Latina creatives is a rarity in any industry would be a huge understatement. So the fact that it is true for a middle grade novel about a Latina girl finding her creative voice and identity is beyond huge. We can't even imagine how many girls will be encouraged to see themselves beyond stereotypes and fully embrace their own unique visions and goals after reading this book; and that is seriously inspiring us, too.
We cannot wait to fall in love with Malú when The First Rule of Punk hits shelves this August 2017.