Trump's Former Driver Says The President Owes Him Thousands Of Dollars — So He's Suing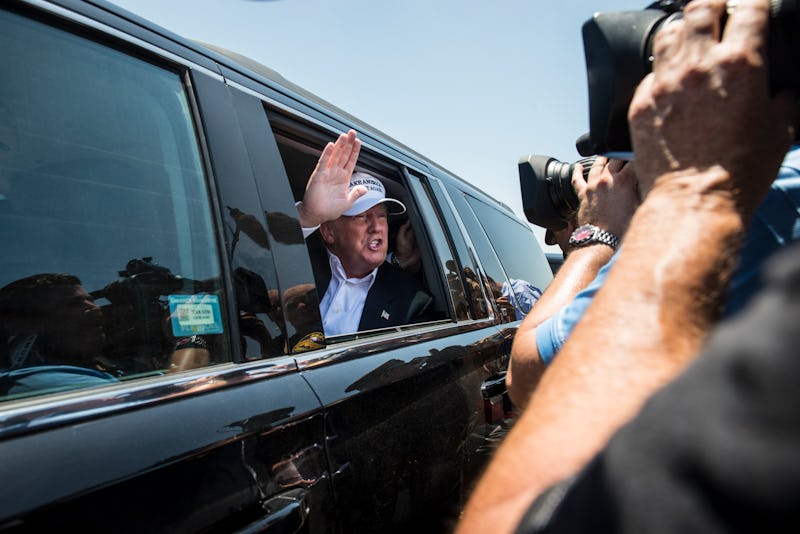 Matthew Busch/Getty Images News/Getty Images
Before the Secret Service, the person driving Trump around was a guy from Queens — and that guy is now suing the president. Trump's former driver sued the president for owed overtime pay in a filing that accused Trump of an "utterly callous display of unwarranted privilege and entitlement."
The ex-chauffeur, Noel Cintron, filed a lawsuit in Manhattan's Supreme Court on Monday, seeking $178,200 for overtime pay and another $5,000 in penalties according to the state labor law. And that's just for the last six years.
Cintron argues that he's owed about 550 hours per year, and 3,300 hours in total over the six years. Any overtime owed before that time cannot be litigated, given the statute of limitations. Bustle has reached out to the Trump Organization for comment.
In the court papers that were filed, Cintron accuses Trump of making him work from 7 a.m. every morning until whenever Trump, business associates, and other members of the family were finished for the evening. Cintron's filing reads:
In an utterly callous display of unwarranted privilege and entitlement and without even a minimal sense of noblesse oblige President Donald Trump has, through the defendant entities, exploited and denied significant wages to his own longstanding personal driver.
Furthermore, the filing claims, Trump only gave him two raises in some 20 years. And the last one allegedly came with the catch that Cintron lost his health insurance, saving Trump $17,866 per year in premiums, the lawsuit argues.
"He was forced to work thousands of hours of overtime without compensation. President Trump's further callousness and cupidity is further demonstrated by the fact that while he is purportedly a billionaire, he has not given his personal driver a meaningful raise in over 12 years!" the lawsuit reads.
The driver made $62,700 in 2003, then $68,000 in 2006, and finally $75,000 starting in 2010. That's the year he lost his insurance through the job.
Cintron still works for Trump as a member of his security staff, The New York Post reported. He is also a registered Republican. Larry Hutcher, who represents Cintron along with lawyer with Josh Krakowsky, told The New York Daily News that with interest and legal fees, Cintron will be owed about $350,000.
Trump is no stranger to lawsuits. Before the 2016 election, USA Today ran a story that covered the 3,500 some "legal actions" he was involved in, in both federal and state courts. As many as 50 remained at play when he was moving toward winning the Republican nomination.
Trump responded by saying that he often wins the lawsuits, and thus this should be a good thing. "Wow, USA Today did todays cover story on my record in lawsuits. Verdict: 450 wins, 38 losses. Isn't that what you want for your president?" Trump tweeted.
Now, though, some lawyers fear his luck has run out. CNN ran an article acknowledging that D.C. lawyers were not interested in representing the president. The article said that lawyers "cited several reasons for declining the president." Some of those were the appearance that he is a "difficult client," "has rebuked some of his lawyers' advice," and is a polarizing figure that other clients might objet to.
"With a figure who is as polarizing as the President, it makes the decision about whether to represent him a more difficult one," Philip West, the chairman of Steptoe & Johnson, a D.C. law firm, told CNN.
Trump has had plenty of need for lawyers, given the Mueller investigation and the moves by Stormy Daniels to get out of her non-disclosure agreement.
One more lawsuit might not be welcome.