A 'Love Actually' Sequel Is Sort Of Happening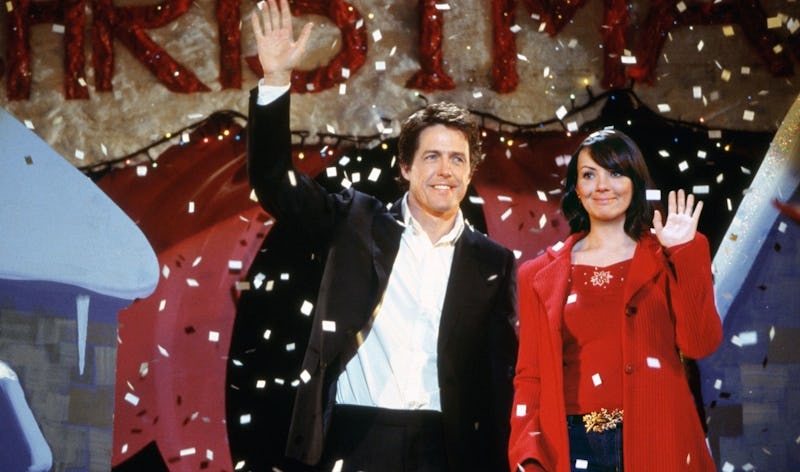 Universal Pictures
The age of endless nostalgia, sequels and remakes is yielding some very juicy fruit: a Love Actually sequel is coming at you this year. That's right kids, not next year, not the year after, but on March 24. How and why? A sequel of sorts is being made to raise money for a British charity. The short, titled Red Nose Actually, is being made for Comic Relief's Red Nose Day fundraiser, which will air on BBC One. But don't despair if you're based in the US; it will also be shown on NBC's Red Nose Day Special on May 25.
But get ready to get even more excited. This isn't some half-hearted semi sequel with two or three of the original talent there and mostly new characters. Original director and writer Richard Curtis has penned the script, and original actors Hugh Grant, Keira Knightley, Colin Firth, Liam Neeson, Bill Nighy, Thomas Brodie-Sangster, Martine McCutcheon, Andrew Lincoln, Lucia Moniz, Olivia Olson, Marcus Brigstocke and Rowan Atkinson will all be back.
But besides all the obvious stuff — the joy of Love Actually, the fun of the cast's chemistry — it's pretty wonderful that we're getting a second installment after all these years. Primarily because this film left so many questions unanswered, and I can't languish in ignorance any more.
Curtis said:
"It seemed like a fun idea this year to do a special sketch based one of my films, since Red Nose Day is now in both the UK and America. I would never have dreamt of writing a sequel to Love Actually, but I thought it might be fun to do 10 minutes to see what everyone is now up to. Who has aged best? — I guess that's the big question… or is it so obviously Liam?"
No disrespect to Curtis, but "who has aged best?" is definitely not the most pressing question if you're a Love Actually fanatic. Here's a few other zillion questions I think should take priority: Like, could Peter remain best friends with Mark, a guy so profoundly obsessed with Peter's new wife that he spent their whole wedding ceremony filming her face in closeup? And would Aurélia and Jamie's marriage — one that was established when neither could speak the other's language very proficiently and that was probably mostly based on physical attraction — go the distance?
Would Hugh Grant's prime minister's cheekiness to Billy Bob Thornton's U.S. President result in icy British-American relations? Would Karl stop being so weird about his potential love interest having a mentally ill brother? That's so not a deal breaker, even in 2003. And of course — given Alan Rickman's tragic death — will character Emma, who was cheated on by Rickman's character, be in love, actually, with someone new?
I have all the questions, and I'm guessing I'm not alone. Here's hoping Curtis can answer them come spring.