A Man Gave This Woman His Credit Card Number, So She Trolled Him By Buying A Bouncy House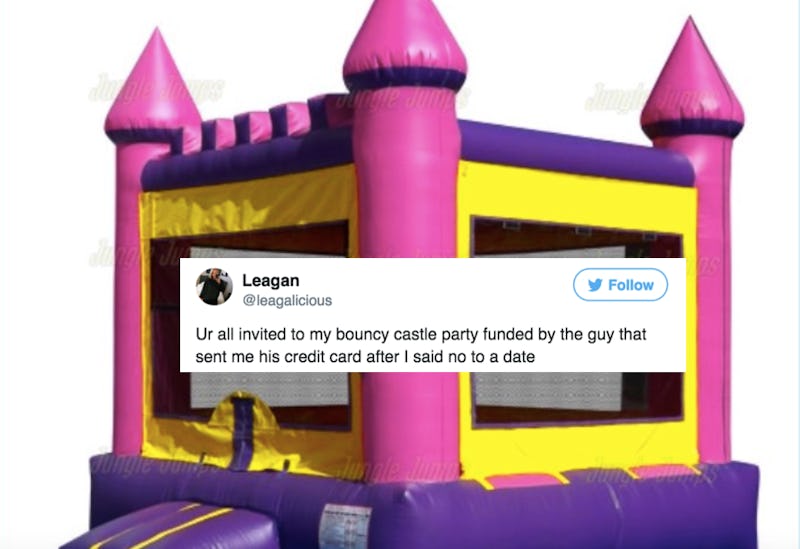 Jungle Jumpers/Twitter
Sometimes, the internet is a wonderful place — and today, it has given us this: A woman bought a bouncy castle after a guy her his credit card, and the screenshots documenting the whole story are priceless. The context is important: He had apparently asked her out on a date, to which she said no. He was persistent, however, choosing at that point to give her his credit card information and tell her to buy anything she liked.
You can probably guess where this is going.
The woman in question here is Leagan, a 17-year-old from Lubbock, Texas who tweets under the handle @leagalicious. On Sept. 20, she launched a tweet out into the world saying simply, "Ur all invited to my bouncy castle party funded by the guy that sent me his credit card after I said no to a date" — complete with screenshots explaining exactly what had happened.
It begins with a text message reading, "I want you to have something." This message is followed by two pictures: The front and back of a credit card. (Leagan blanked out the actual information on the card before posting it.) "Just in case you ever need anything. Anything at all," the next text reads — and just in case there was any doubt about what that means, a further tweet elaborates: "Anything your heart desires."
The next text is priceless. It begins with a screenshot of an email inbox, with the top message from a sender called "Jungle Jumps." "Welcome to Jungle Jumps," reads the subject line.
"Babe, what is this?" the poor fellow asks.
"You said anything, right?" replies our intrepid hero.
Then there's another screenshot — this time of an order confirmation — and the words, "Did you just buy a f***ing bouncy house."
DID SHE EVER.
Specifically, she bought this bouncy house:
As you may have deducted from the screenshots in Leagan's tweet, the inflatable palace is from Jungle Jumps, which is apparently "the U.S.A.'s largest manufacturer of inflatable play structures," according to the company's website. It's based in Pacoima, Calif. in the San Fernando Valley region of Los Angeles. Incidentally, the Pink Bounce House With Panel, as it's called, is on sale right now; you can get the 10 x 10 x 12 size for $938, down from $1,145, and the 13 x 13 x 15 size for $1,143, down from $1,395. Reads the product description:
If you're in the market for an inflatable bounce house for sale, come no further. Meet our princess-pink inflatable bouncer, styled like a castle with a parapet along the front roofline and four inflatable turrets, one at each corner. The durable commercial-grade vinyl we construct our products from is represented here in a gorgeous pink color,accented by bright yellow window frames and a rich purple base. A centrally-located entrance ramp makes getting in and out easy, and the tough construction ensures that your bouncer will last for many years of use, with each product, we provide a step-by-step illustrated manual and repair patches.
It also comes with an air blower, a utility tarp ground cover, heavy duty 18-inch stakes, double D ring straps, a vinyl patch kit with glue, and a manual with instructions on how to put the house together. (Never underestimate the worth of a good instruction manual.)
Is it possible this whole thing is a hoax? I mean, yes; screenshots and text messages are easy to fake. For what it's worth, though, here's Leagan's reply to someone who questioned whether this whole thing was real or not:
I mean, fair.
By and large, though, people aren't questioning Leagan; they just want to be her friend:
And/or score invites to the party:
Speaking of, in an email to Cosmopolitan, Leagan said that she does in fact plan on throwing a bouncy house party (as long as her hapless suitor doesn't cancel the order); "Anyone's welcome to come and I'll throw out the details once the bounce house arrives!" she said. The guy, meanwhile, was "understandably irritated with my purchase," wrote Leagan, "but after realizing he did in fact say 'anything,' we were cool."
Let this be a lesson in the importance of precision of language. And also in gracefully accepting a "no" when someone turns down your romantic overtures.