A General In Charge Of Sexual Assault Prevention Called Harassment Accusations "Fake News"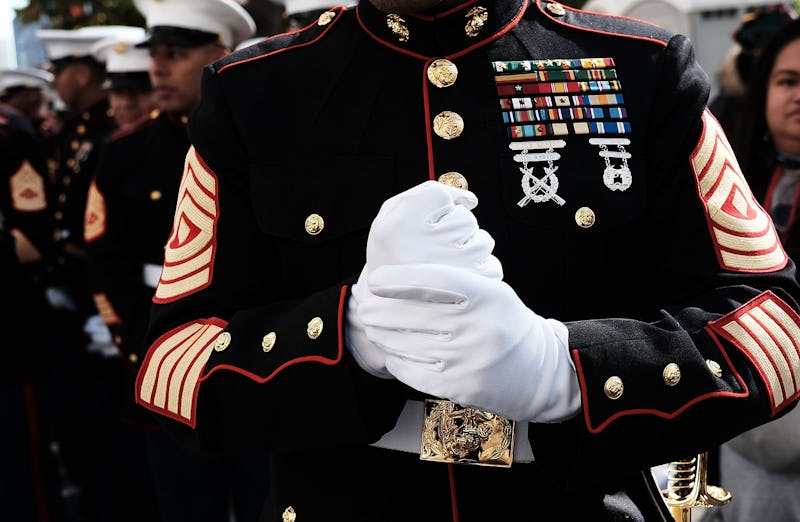 Spencer Platt/Getty Images News/Getty Images
As the U.S. Marine Corps continues to struggle to address issues with nonconsensual nude-photo sharing, a Marine general in charge of sexual harassment allegations has come under scrutiny for casting doubt on accusers. Brig. Gen. Kurt Stein, who oversees the office that handles sexual assault prevention and response for the Marines, was suspended after he reportedly ridiculed sexual harassment allegations as "fake news," according to USA Today.
A Marine Corps spokesperson confirms to Bustle that Stein was placed on administrative leave after the Naval Criminal Investigative Service (NCIS) received an anonymous complaint about his reported comments. According to USA Today, Stein referred to media reports regarding allegations that a Marine officer had made sexual overtures to two civilian employees as "fake news" while speaking April 6 at a town hall event held with Marines and civilian employees at the National Museum of the Marine Corps. Stein also reportedly made jokes about a Navy chaplain who was fired last month after video surfaced of him having sex in a bar, according to USA Today.
"The Marine Corps expects every Marine, uniformed and civilian — and particularly those in leadership positions — to take allegations of misconduct seriously and to promote positive command climates," a Marines spokesperson says in a statement emailed to Bustle. "Leaders have a responsibility to ensure that their Marines and civilian employees believe they will be taken seriously if they come forward with allegations of misconduct of any kind."
But sexual assault and harassment advocates say Stein's reported comments point to how pervasive of a problem sexual assault and harassment is within the Marine Corps. "This is the leader of a sexual assault and harassment response unit and to use language calling assault fake news is very dangerous," Erin Kirk-Cuomo, a Marine veteran and photographer who co-founded Not In My Marine Corps in an effort to combat and raise awareness of sexual assault and harassment among military service members, tells Bustle. "With leaders like this it is no wonder that the Marine Corps has the highest rates of sexual assault and harassment out of any of the services."
The women behind the allegations Stein ridiculed as "fake news" earlier this month have previously accused the Marine Corps of minimizing their complaints. According to USA Today, the women had first complained about Maj. David Cheek in 2017, alleging he had, on multiple occasions, shown them his erection. A second investigation into those allegations was ordered in March. An earlier investigation reportedly concluded the allegations were "unsubstantiated," USA Today reported back in February.
Stein first took over as director of Marine and Family Programs in late 2016 after serving as a naval aviator, executive officer, pilot and aircrew training officer among other things during his decades long military career. According to the U.S. Marine Corps, the Sexual Assault Prevention and Response (SAPR) Office serves to "facilitate support services, address specific needs of victims of sexual assault, promote sexual assault training and awareness, and provide policy and program assistance." The SAPR Office operates as part of the Marine and Family Programs agency.
According to a Marine spokes person, Stein will remain on administrative leave pending the outcome of an investigation. Kirk-Cuomo, however, says she hopes to see "a strong response" beyond suspension to Stein's reported comments from Marine Corps leadership.
"When leadership is ignorant to the responsibility they hold in prevention and contributes to the victim blaming and shaming they must be fired and forced out of the organization," Kirk-Cuomo tells Bustle. "There is no place in the military or the Corps for leadership who diminishes the severity and impact on good order and discipline that sexual assault and harassment has on the organization."