A Meghan Markle Biography Is Coming Out, And It's Being Released Before The Royal Wedding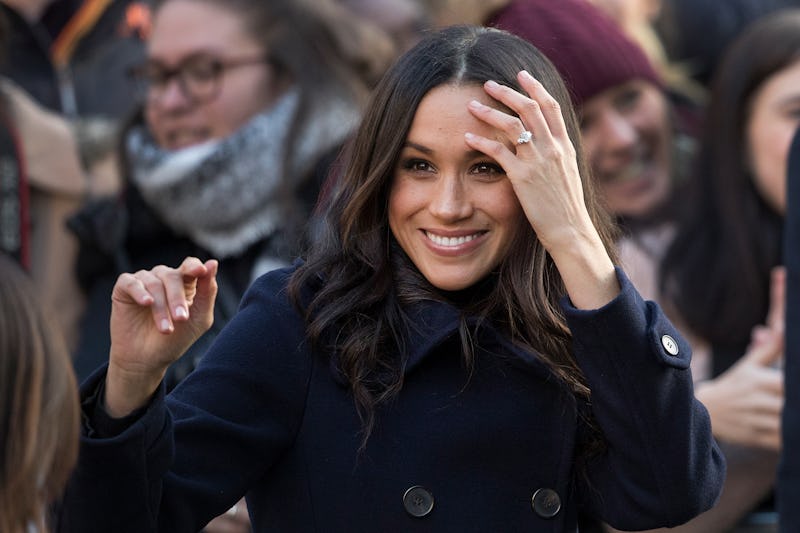 Christopher Furlong/Getty Images Entertainment/Getty Images
It seems like Meghan Markle has truly been living in a fairy tale, and like all the best heroines, she will finally be the subject of her very own book. The author of Princess Diana's controversial biography Andrew Morton is writing an in-depth biography on Meghan Markle, and I don't know about you, but I can't wait to reading about this remarkable woman's fascinating life.
Meghan: A Hollywood Princess is scheduled to be published by Michael O'Mara Books on April 19, 2018, just one month before Markle and Prince Harry's royal wedding at St. George's Chapel in Windsor Castle in May. According to Morton, his exhaustive biography will take a deep-dive into his subject's life before her engagement, which includes a successful film and television career, a prior marriage to actor and producer Trevor Engelson, and a lifelong commitment to gender equality. In the author's own words, Markle and her story stand out as a "dramatic contrast to the blushing, coy royal brides of recent history."
In an announcement on Twitter last Friday, Morton shared the news of his new project and expressed excitement for his subject matter. "She has bags of charisma," the author said. "A royal star who will have tremendous impact on royal family and wider world."
In the past, Morton has penned several noteworthy biographies of high profile men and women. His bestseller Diana: Her True Story was met with controversy following its original publication. Filled with intimate details about Charles and Camilla's now infamous affair, the birth of both of her son's, the pressure of being a part of the royal family, the princess's tragic death, and more, it was rebuked by the royal family until it was later revealed Diana herself was one of Morton's sources for the biography. Morton has also written about the lives of Tom Cruise, Monica Lewinsky, Angelina Jolie, and Madonna, among others. In 2011, he even penned a book about Prince William and Kate Middleton's whirlwind romance, engagement, and wedding. Now, he is ready to turn his attention to another royal subject: Meghan Markle.
Since the announcement of her official engagement to Prince Harry, Markle has become a pop culture icon in the United Kingdom, the United States, and around the world for breaking the rigid stereotypes of the traditional royal woman. Markle stands out from other royals and their partners because she is not only American, a divorcée, and an actress, all characteristics not usually found in the royal court, but Markle is also biracial. The daughter of a white father and an African-American mother, Markle has spoken openly about the role race has played in her life, both professional and personal, and many fans hope she continues to do so as she enters royal life. Some are even hopeful Markle's engagement could signal a big change in the traditionally all-white royal lineage of the Windsor family. As many in the media have already noted, her marriage to Harry could help the U.K. begin a transformative conversation about race dynamics in their country.
A truly modern princess, Markle has already seized the attention of the world, not unlike her fiance's mother once did. "Meghan is an exciting and genuinely charismatic addition to the royal family," notes Morton, "she makes the House of Windsor seem relevant again."
Although the in-depth biography won't be here in time to make your Christmas wishes come true, Meghan: A Hollywood Princess will hit shelves before the royal wedding, meaning you will have an entire month to memorize every detail of the Suits star's life before she says "I do."