How Meghan Markle & Prince Harry's Engagement Could Change Race Dynamics In England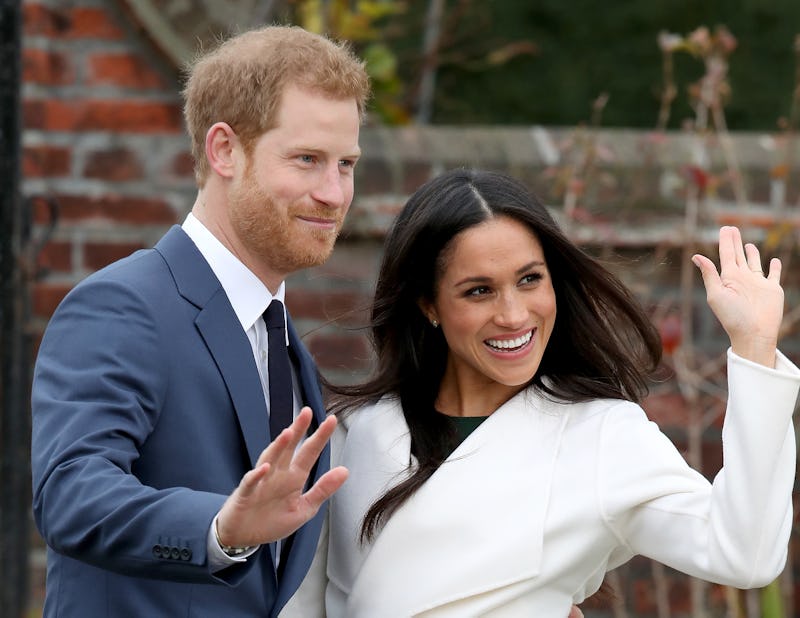 Chris Jackson/Getty Images Entertainment/Getty Images
If you haven't heard already, Prince Harry and Meghan Markle are engaged. The duo announced their big news outside the Kensington Palace in London, where they will live, on Monday, and the wedding will take place in May 2018, according to new reports. This news is exciting, of course, but it's also groundbreaking. Markle is biracial, both Black and White, and her engagement to Prince Harry Making could mean a massive, welcome change to the royal lineage as it's currently known.
This engagement will make Markle become a Duchess of Sussex, because Prince Harry is fifth in line to the throne — and their potential children could be royalty, too. This is a major deal, as in the past, Black, Arab, Latino and Asian Britons have not been featured in the monarchy, due to the royal lineage being predominately White with the Windsor family. Only the Windsors' descendants are eligible to be king or queen, and only their first-borns can be the British heads of state.
So, when the Queen passes away, her role as head of state will pass to her first-born son, Charles the Prince of Wales. When he passes, the head of state title will pass to his first-born son, William, and so on. It'll go from one White person to another — but that will all change if Harry ever becomes king, and Markle enters the royal lineage.
And the fact that Markle is mixed race is a step forward in other ways, too. Her placement in the royal family will bring much-needed representation, the first the country will have seen since 1744 when Queen Sophie Charlotte was the first Black queen of England. Even more, Markle's marriage to Harry could lead to more discussion and action in regards to the U.K.'s racial-social dynamics, even if not all positive. In an interview on BBC's Newsnight, writer Charlie Brinkhurst-Cuff explained how the engagement could expose the ugliness of racial discrimination in England.
"When it comes to the representation of mixed race and Black people, we have to remember that mixed race [people] are the acceptable face of Blackness already – that is why we are already fetishised by the elite. So I am not that excited at the prospect of Meghan Markle marrying Prince Harry because I am aware of the nuances around it and the fact that I suppose there is still a long way to go on the representation of Black people and mixed race Black people," said Brinkhurst-Cuff.
Just like African Americans, Black Britons have experienced the harsh history of enslavement, lack of government support, and financial and societal discrimination for hundreds of years. Minorities in England have lower incomes, job opportunities and suffer a disproportionate number of hate crimes. A prime example is the wealth and employment gap in the U.K; the unemployment rate in 2014 for all ethnic minorities was 11.3 percent, twice as high as it was for their White counterparts, who were at a 5.5 percent unemployment rate. According to statistics from the U.K. government, Black Britons people almost three times as likely to be unemployed (15.5 percent) in general.
It wasn't until 1965 that the U.K. passed a Race Relations Act, which opened up work opportunities that had been routinely been denied for people of color. As The Guardian, U.K. writer Afua Hirsh wrote, Markle's engagement to Harry might help expose and lead discussion around the progress still needed for race and identity in England.
"I struggled growing up with the feeling that the monarchy were fundamental to Britishness, but that the Britishness they represented was one that excluded me. This exclusion mattered. It made other people perceive being truly British, and being Black, as incompatible identities. It represented a giant taboo. Every government that I can remember made some attempt, rhetorical at least, to acknowledge and protect racial diversity. The family at the apex of our society was doing anything but," said Hirsh in a recent article.
Having a greater representation of Black and biracial people in Buckingham Palace will help lead a cultural change on the perceptions of minorities in the U.K. The country's ideas about who has a seat at the royal table can be reshaped by this union, even if some disagree. "She won't be allowed to be a Black princess. The only way she can be accepted is to pass for white. If there are people who are celebrating, it's a bit naive and they'll be very disappointed," Kehinde Andrews, an associate professor of sociology at Birmingham City University, told Newsweek in a recent interview. Some people, like Andrews, don't believe that Markle will be enough to change the centuries of racist British thinking, and perhaps that's true.
But for many of us, this engagement is worth celebrating, because it is starting a much needed conversation about visible diversity in the country's royal government and so much more. We can only hope that Markle and Harry's bond will lead to a change in how race and diversity is spoken about in Britain's government and royal class system.