Here's How Lil Peep's Memorial Service Will Allow Fans To Mourn Alongside His Family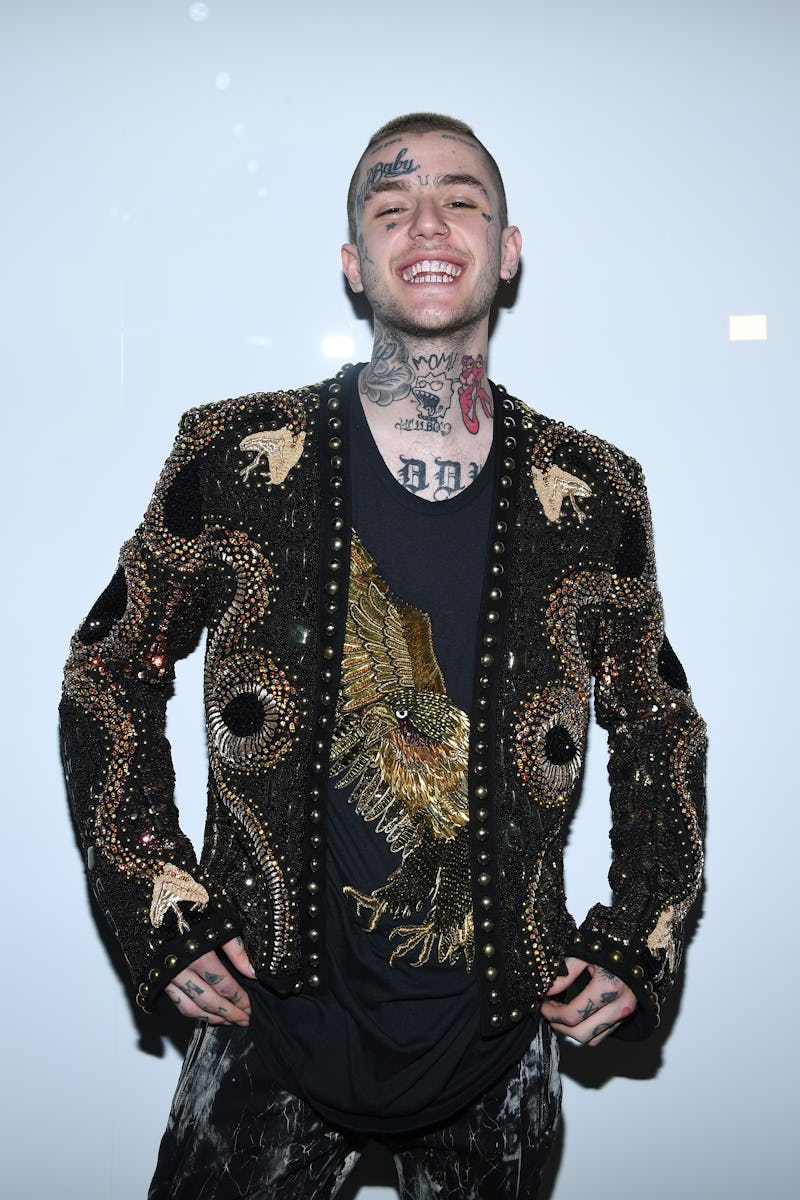 Pascal Le Segretain/Getty Images Entertainment/Getty Images
Lil Peep's family has announced plans for the late rapper's upcoming memorial service, and they're inviting fans to join them in part of the tribute. According to a Tuesday, Nov. 28, post on his Instagram account, Lil Peep's memorial will take place on Saturday, Dec. 2, in Long Beach, New York — the rapper's hometown. The post, which serves as a digitized flyer of sorts, calls on Lil Peep's robust social media followers (all 1.9m of them) to "Join us in celebrating the fascinating colourful life of iconic Gus Åhr (Lil Peep)."
UPDATE: A rep for Lil Peep tells Bustle that the beach portion of the event is open to all, but that the indoor event will have a more limited capacity, but hopefully can be open to fans, as well.
EARLIER: The flyer then continues on (in neon-pink scratch font, no less — a decidedly fitting aesthetic for Peep) to provide fans with the details of his memorial, which is slated to kick off at Long Beach's Allegria Hotel on Saturday afternoon.
"Light refreshments will be served before the speakers begin at 2 p.m.," the text reads, etched over a black-and-white portrait photograph of Lil Peep). "This will be followed by a beach gathering in front of the hotel, and is open to all."
Rather than making the trek to Long Beach with flowers in hand, the organizers behind the memorial are asking that fans instead pay their respects in donations made to OXFAM — the international organization whose primary focus concerns the alleviation of global poverty. Lil Peep's family has not indicated any sort of personal connection between the rapper and the organization, but, if nothing else, it does seem like an opportunity to do a bit of good in the face of an impossible tragedy.
Born Gustav Åhr, the 21-year-old rapper — who, over the course of his too-short career, has been credited with spearheading the so-called "post-emo" revival within hip hop — met a much too untimely death on November 16.
Earlier on Nov. 28, Lil Peep's social media team took to Instagram for the first time since his passing. An original post (preceding the flyer by just several hours) expressed a sincere "thank you" to the rapper's dedicated following, addressing them as "the most amazing fans."
The initial Instagram announcement went on to answer a few questions that have been circulating over the past several weeks: Official Lil Peep merchandise will go on sale sometime in the foreseeable future; all information regarding the rapper's music, merchandise, and pretty much anything else, will be dealt with exclusively via Lil Peep's verified social media accounts; and, perhaps most importantly (at least, from a fan's perspective), all of Lil Peep's social media posts prior to Nov. 16 will remain completely untouched.
Just barely at the onset of his twenties (his 21st birthday was November 15, the day before he passed away), Lil Peep's death came as quite a shock to his friends, family, and the music community at large.
Though a definitive cause of death has not yet been confirmed by a comprehensive toxicology report, a preliminary statement by a medical examiner said that his suspected cause of death was a drug overdose. The Tucson Police Department told CNN that an autopsy will determine the exact cause of his death.
The musician's older brother, Oskar, has insisted Lil Peep's death was an accident. During an interview with People on Nov. 27, the day after his brother's passing, Oskar said, "[Lil Peep] was super happy with where he was in his life."
Since this is gearing up to be a week of commemoration: Lil Peep's mother, Liza Womack, co-signed an Instagram campaign on Monday to push her son's debut album, Come Over When You're Sober, Pt. 1, to No. 1 on Billboard's album chart.
Looks like Lil Peep is poised to leave behind a not-so-little legacy.