This Update On Lil Peep's Death Will Break Your Heart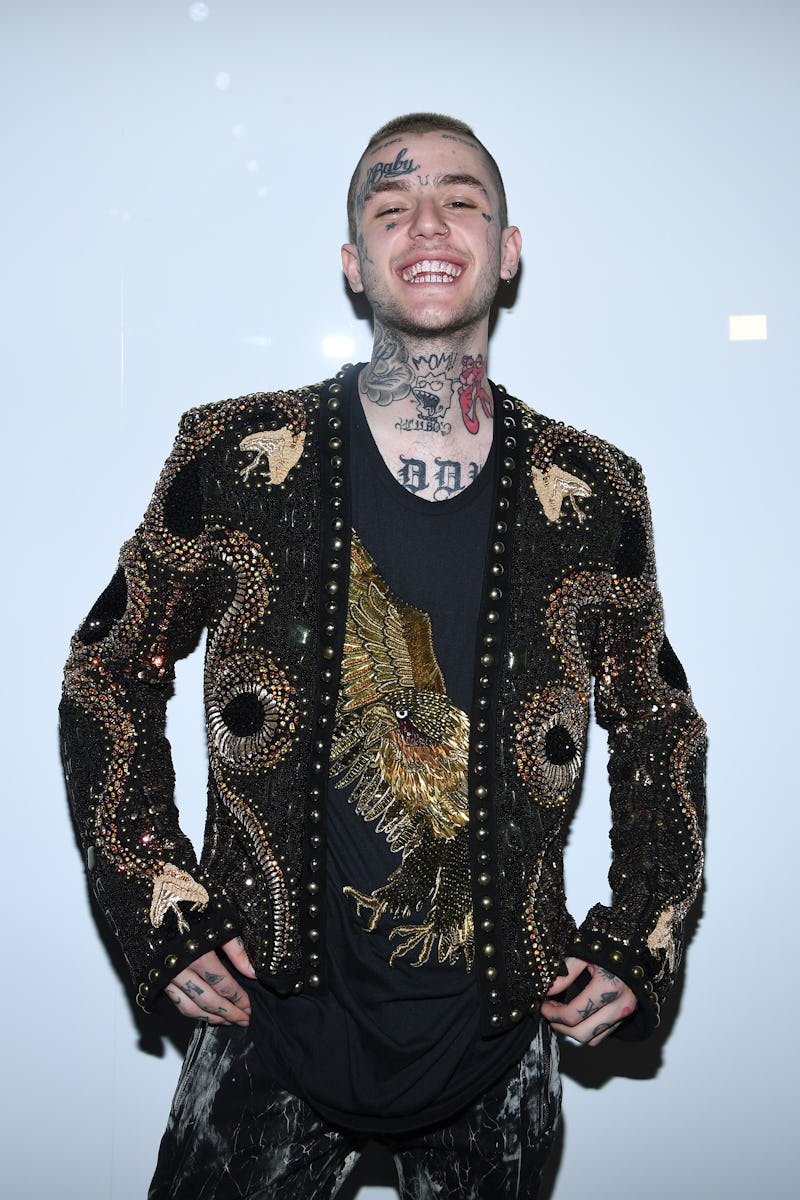 Pascal Le Segretain/Getty Images Entertainment/Getty Images
New information about the untimely death of rapper Lil Peep has emerged. According to TMZ, a police report shows that Lil Peep reportedly never woke up from a nap. The young singer died Wednesday, Nov. 15 at the age of 21. Born Gustav Ahr, police told CNN that Peep may have suffered from an overdose, but an official cause of death has yet to be determined. Bustle has reached out to First Access Entertainment, who partnered with Peep in 2016, about the latest news surrounding the artist's death, but did not hear back at the time of publication.
In a phone interview on Thursday, Sgt. Pete Dugan, a spokesman for the Tucson Police Department, told CNN,
"After speaking with people on scene and going into the tour bus (police) said that there was evidence of a possible drug overdose, most likely from Xanax. Obviously, we're not medical examiners, so there will an autopsy to determine the exact cause of death."
Dugan also told CNN that no foul play was suspected. TMZ reports that one of the rapper's managers said that Peep took a nap before his Tuscon show. She reportedly checked in on him around 5:45 p.m., and he was breathing normally at the time. According to the report, she decided to let him sleep after she was unable to wake him up. Reportedly, Peep's second manager checked on him later that night and found him unresponsive, at which time Peep's team began administering CPR. When the police arrived, they say that they found Xanax pills, loose marijuana, and an unknown tan powder on Peep's tour bus.
Peep's death has saddened the music community, and led to a discussion about mental health issues among his friends and fans. Just hours before the news broke that the rapper had died, he posted a photo on his Instagram page with the caption, "When I die You'll love me." A second photo from Wednesday, Nov. 15, appears to show Peep taking pills.
The rapper was always open about his issues with drug addiction and depression. He incorporated his struggles into his music. In 2016's "White Wine," Peep sang,
"More wine, more wine
Pour another cup
More wine, more wine
Lord why, lord why do I gotta wake up?"
He also discussed his mental health issues on Twitter. In February, he tweeted, "I am a depressed drug addict and I'm nearing my breaking point. Everything I love is disappearing."
Since his death, Peep's fans have been speaking out about the need for an honest discussion surrounding drug use and depression. YouTube user Elijah Daniel tweeted,
"tell ur friends u love them, talk to people about ur problems, let ur friends know they're not alone. know u arent alone. idk. im sad. depression isnt trendy its an awful rotting feeling. lil peep deserved a happy ending."
The response to Peep's death makes it clear that his music resonated deeply with his fanbase and his peers.
Sarah Stennett, the CEO of First Access Entertainment, which partnered with Peep in 2016, told Bustle in a statement on the date of his passing:
I am shocked and heartbroken. I do not believe Peep wanted to die, this is so tragic. He had big goals and dreams for the future which he had shared with me, his team, his family and his friends. He was highly intelligent, hugely creative, massively charismatic, gentle and charming. He had huge ambition and his career was flourishing. I have spoken to his mother and she asked me to convey that she is very, very proud of him and everything he was able to achieve in his short life. She is truly grateful to the fans and the people who have supported and loved him.
While it's easiest to call Peep a rapper, the artist seamlessly moved between genres. His music was at once emo, rap, and rock. Despite being at the start of his career, Peep already seemed to be looking forward to making moves into other industries, including fashion. In an August interview with GQ, Peep said,
"Eventually I want to have my own clothing line. A lot of people are afraid to do what I'm not afraid to do in fashion, so I think the fashion world really needs me right now."
Losing anyone at such a young age is always heartbreaking. Peep seems to have had big plans for his future, but there's no doubt that his music will continue to live on through his fans.